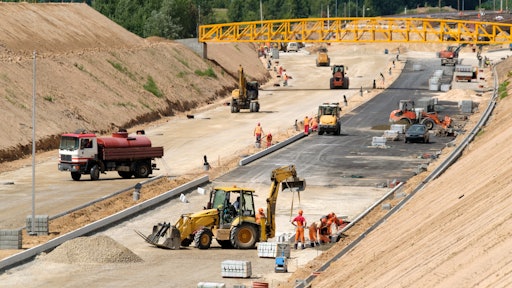 ©Anton Gvozdikov – stock.adobe.com
This article was originally published on July 29 and updated August 10 with new information.
The Hill reports the U.S. Senate has passed a $1.2 trillion bipartisan infrastructure bill after months of debate over the cost and priorities of the bill. Although smaller than the initial $2.6 trillion bill proposed by President Biden, the bipartisan version includes many of the priorities laid out in the President's bill.
It now heads to the House where there is some concern over the bill's fate as Speaker Nancy Pelosi (D-Calif.) wants to ensure a $3.5 trillion spending package with top Democrat priories is passed by the Senate, as well.
Read more from our sister publication ForConstructionPros.com about passage of the new infrastructure bill.
Upon announcement of the bipartisan bill, Association of Equipment Manufacturers (AEM) Senior Vice President of Government and Industry Relations Kip Eideberg issued a statement of support from the heavy equipment industry. "Equipment manufacturers commend the U.S. Senate for passing a bold and bipartisan bill that will make a transformational investment in our nation's infrastructure. The Infrastructure Investment and Jobs Act will create nearly 500,000 new manufacturing jobs over the next 3 years, including more than 100,000 high-skilled, family-sustaining jobs in the equipment manufacturing industry. Investing in our infrastructure will also help us respond to our biggest challenges in ways that improve the quality of life for all Americans, reinforce our global economic standing, and protect our planet.
"We applaud the steadfast leadership and bipartisan work of the Senate negotiators and committees to reach agreement through a collaborative and transparent process. Senators Kyrsten Sinema and Rob Portman worked tirelessly to steer the bill through the Senate and overcome a myriad of obstacles, and we are grateful for their dogged focus on bipartisanship. The Infrastructure Investment and Jobs Act is not only a once-in-a-generation opportunity to rebuild our nation's infrastructure, but an opportunity to restore our economic competitiveness, enhance equipment manufacturers' ability to meet the challenges and opportunities of the 21st century, and improve the lives of all Americans. We urge the House of Representatives to put policy ahead of politics and pass this bill as soon as possible.
"For years, equipment manufacturers have the led the charge for a historic investment in our nation's core infrastructure needs. The Infrastructure Investment and Jobs Act not only reflects many of our industry's policy priorities but is also proof that members of both parties can work together for the benefit of all Americans."
Industry supports infrastructure bill
Associations and groups representing a variety of industries have been voicing their support for an infrastructure bill for several years, as well as in the months leading up to the current bipartisan bill. While construction equipment manufacturers and those who utilize that equipment are obvious beneficiaries of the bill, several other sectors do as well.
In July, a group of U.S. agriculture groups sent a letter to lawmakers encouraging passage of an infrastructure bill. The groups emphasized the importance of having quality roads and bridges for transporting crops and other goods across the country.
Manufacturing in general—not just construction equipment manufacturers—will also benefit from the bill. Component manufacturers and those who make materials used in various infrastructure projects will likely see increased demand for their products, helping boost business and job opportunities.
Alliance for American Manufacturing President Scott Paul said in a statement, "We are particularly encouraged to see that the investment package passed by the Senate includes strong Buy America provisions to ensure that the taxpayer dollars spent on infrastructure will be reinvested right back into American workers, manufacturers, and communities. The House also adopted similar provisions in its infrastructure bill, and Congressional leaders should now ensure Buy America is included in the final legislation."
Associated Equipment Distributors (AED) President & CEO Brian P. McGuire also commended passage of the bipartisan spending package. "I now call on the U.S. House of Representatives to immediately take up and pass the Infrastructure Investment & Jobs Act, sending it to President Biden for his signature. The equipment industry is more than ready to help rebuild this country, creating economic growth, well-paying jobs and putting the United States on the path to future prosperity. Further delay is unacceptable," he said in a statement released after passage of the bill was announced.
Negotiations bring needed infrastructure spending
The Hill reported on July 28 that U.S. Senators and the White House had reached a deal on a bipartisan infrastructure bill. Per The Hill, the deal was reached after overcoming what Sen. Rob Portman (Ohio) said were some major issues with initial infrastructure spending package plans.
Upon announcement of the deal, Association of Equipment Manufacturers' Senior Vice President of Government and Industry Relations Kip Eideberg released a statement applauding the deal. "Equipment manufacturers welcome the agreement by the bipartisan group of Senators on a fiscally responsible infrastructure proposal that makes a once-in-a-generation investment in our nation's infrastructure. This bipartisan infrastructure deal will address our country's infrastructure needs while also growing the economy, enhancing our competitiveness, and creating as many as 100,000 family-sustaining equipment manufacturing jobs. We call on the full Senate to vote yes on the cloture motion to proceed to consideration so that infrastructure legislation can be approved as soon as possible."
Later in the day on July 28, The Hill reported the U.S. Senate voted 67-32 in favor of taking up debate on the bipartisan infrastructure bill with 17 Republican Senators joining the Senate's 50 Democrats to begin the discussion. While there is still negotiating on final text, reaching a deal and agreeing to a debate about it on the Senate floor shows progress on what has been a months-long endeavor to get an infrastructure bill passed.
President Biden first introduced a $2.25 trillion infrastructure spending plan at the end of March with the goal of improving highways, bridges and transit systems in the U.S. However, debate about how much money should be allocated for an infrastructure bill and what that money would be used for has been ongoing between Democrats and Republicans. The White House has made an effort to work with both parties to come to an agreement on a spending package that would benefit the country.
In June, a bipartisan group of Senators announced their own version of the bill that would trim down the total amount of money spent which President Biden agreed to. The $1.2 trillion spending package would provide funding over 8 years; despite an agreement between the Senators and the White House, there were details that still needed to be ironed out.
The newly agreed upon deal has trimmed the $579 billion initially proposed for new spending to $550 billion which also includes removal of an infrastructure bank that was suggested as a means of spurring private investment in large projects, says The Hill.
Funding provided by the bill will still go toward improvements in roads, bridges and public transit, as well as electric buses, clean drinking water and broadband which were important aspects President Biden and many Democrats wanted the bill to include.
Senate Majority Leader Charles Schumer (D-N.Y.) said the Senate will vote on the bill before before leaving for their weeks-long break.
Read more on the deal from our sister site ForConstructionPros.com.
How an infrastructure bill will benefit equipment manufacturing industry
On July 28, AEM also released a study showing the potential benefits an infrastructure bill would have on the heavy equipment manufacturing industry. Construction equipment demand in particular would likely increase to aid with the building and repair of infrastructure, leading equipment manufacturers and component suppliers to increase production to meet this demand.
The IHS Markit study shows an infrastructure bill could help create over 100,000 jobs in the equipment manufacturing industry. These highly skilled, good-paying jobs would provide further boosts to the economy, and be a key part of President Biden's efforts to improve U.S. manufacturing through his American Jobs Plan of the infrastructure bill is a part.
"The new data shows that President Biden can fulfill his campaign promise by working with Congress to advance fiscally responsible legislation that addresses our country's infrastructure needs, creates family-sustaining jobs, protects our planet, and grows our economy," said Eideberg in AEM's press release announcing the release of the study. "It is time for policymakers on both sides of the aisle to put policy ahead of politics and pass the bipartisan infrastructure framework and secure a 5-year surface transportation reauthorization as soon as possible."
Read more: Infrastructure Investment Holds Key to 100,000+ Equipment Manufacturing Jobs.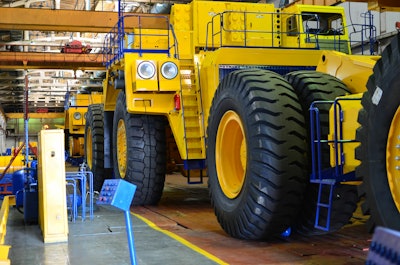 Companies in this article