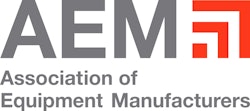 CONEXPO-CON/AGG 2011 and IFPE 2011 are set to open their doors for a five-day run March 22 to 26 as the global industry gathering place for the year and the largest gathering in North America since 2008 for the construction, construction materials and fluid power/power transmission/motion control industries. The triennial co-located shows will be held at the Las Vegas Convention Center in Las Vegas, NV.
CONEXPO-CON/AGG and IFPE show management provide a pre-show report:
For exhibit space, IFPE has set a record with sold-out space, and CONEXPO-CON/AGG is the second largest in the show's history. Attendees will have access to more than 2,400 exhibitors across more than 2.34 million net square feet of exhibit space on the show floor. They'll be able to talk face-to-face with the leading manufacturers and companies and examine the newest technologies, products and services.
Advance registration numbers are tracking positively, and the shows will be more international in scope with registrations already coming in from 135 countries outside the U.S.
Education is an important aspect of the show experience, and there will be a record number of education, training and certification programs to choose from.
There are a record number of co-located events, including the co-location of ICON Expo for the concrete products industry. More than 850 meetings have been scheduled in conjunction with the shows, including several annual conferences of national conventions.
The shows have the support of more than 80 allied industry groups from the United States, Canada and worldwide.
"The advance numbers are very encouraging given that many construction-related segments are still down, after a devastating recession with enormous job losses. As the business climate begins to improve, it's an ideal time to check out the latest product advancements for more productivity and efficiency," states Megan Tanel, AEM vice president of exhibitions and events.
"IFPE exhibitors' products are used in so many diverse applications that they were not as hard hit with the recession, but all exhibitors are looking towards the shows as a way to build momentum. They recognize this is a prime opportunity to get in front of customers, especially global customers, with new product launches for future business," states Melissa Magestro, IFPE show director.
Visit the show websites for more information - www.conexpoconagg.com and www.ifpe.com.