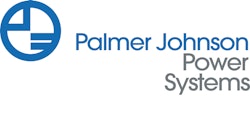 JLG recently announced the appointment of Palmer Johnson Power Systems as an Authorized Service Provider in Northern California. The San Francisco (Hayward) branch becomes the third Palmer Johnson branch awarded JLG Authorized Service Provider status; the Arizona and Kansas branches were awarded authorized status in 2010.
As a JLG Authorized Service Provider, Palmer Johnson acts as an extension of JLG to augment repair and service needs. Services now available through Palmer Johnson include equipment repair, equipment maintenance, annual inspections, mobile service, warranty repairs, annual service agreements and local parts stock. Palmer Johnson's factory trained technicians are able to provide a quick response for affordable and reliable service support.
JLG is establishing a network of Authorized Service Providers to help its direct customers have convenient access to high caliber service support. The program is designed to provide high-quality, responsive and cost-effective support in the field. These third party companies are focused on machine service where customer uptime and reduced maintenance costs are their priority. They are trained and evaluated by JLG to service and repair JLG equipment and in many cases can complete repairs for other types and brands of construction and industrial equipment.
JLG Industries, Inc. is the world's leading designer, manufacturer and marketer of access equipment. The company's diverse product portfolio includes leading brands such as JLG aerial work platforms; JLG, SkyTrak and Lull telehandlers; and an array of complementary accessories that increase the versatility and efficiency of these products.
Palmer Johnson Power Systems specializes in servicing and supplying components for heavy-duty, off-highway transmissions and axles. Palmer Johnson is the authorized distributor and service center for leading manufacturers including Twin Disc, ZF Off-Highway, Spicer Off-Highway, Carraro, Funk, AxleTech, Eaton Airflex and more. The company operates 10 full-service branches across North America with more than 50 factory-trained technicians. Palmer Johnson also operates volume OEM transmission and axle remanufacturing programs out of the company's Madison, WI, headquarters.