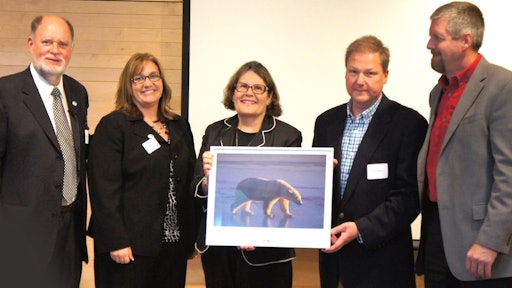 Horton Holding, Inc. has been honored with the Paw of Approval Award for extraordinary accomplishments in CO2 reductions. Given annually to a local business, the 2012 award was presented on May 24 at the Be Cool event hosted by Polar Bears International (PBI), a nonprofit organization dedicated to polar bear conservation, and by the Como Zoo and its partner Como Friends. The award consists of a framed limited-edition polar bear photograph by Daniel J. Cox of Natural Exposures.
Horton Holding, Inc. was nominated by Como Friends and earned PBI's Paw of Approval Award (PAW) for the company's reduction in the use of natural gas and propane, development of alternative packaging and expansion of recycling efforts.
"Horton is honored to receive this esteemed recognition. We are very progressive in our pursuit to conserve resources and lessen our carbon footprint," says Tom Wollin, Horton's director, quality assurance, purchasing and regulatory compliance. "From environmental and resource considerations in product design through the remanufacture of used products, we are always looking for new and innovative methods to decrease resource consumption and pollution."
Featuring a polar bear as part of its corporate identity, Horton is an industry leader in adopting ISO 14001 Environmental Management System Certification.
Horton's climate-conscious initiatives include reaching annual conservation targets to reduce, reuse and recycle. The primary benefit of Horton's fan drives and fans is to lower fuel consumption and operating noise in on- and off-highway vehicles and equipment. In 2011, the company reduced electricity consumption by up to 15% worldwide by changing to T8 fluorescent lighting fixtures. Horton also recirculates water from washers and has a substantial remanufacturing program. These efforts keep materials and chemicals out of landfills.
"The PBI Paw of Approval Award recognizes environmental leadership in our community," says Como's Campus Manager Michelle Furrer. "Horton Holding, Inc. has a long tradition of supporting Como and our polar bears. It's wonderful to be able to support them in their effort to reduce their carbon footprint."
Como Zoo is part of PBI's network of Arctic Ambassador Center Zoos. These centers focus on animal well-being and enrichment, take a leadership role in stewardship and carbon reduction efforts in their communities, and participate in PBI polar bear research efforts. They also take part in PBI outreach programs.