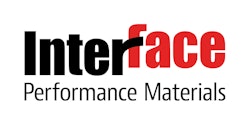 Interface Solutions, Inc. (Interface) announces it has acquired Freudenberg-NOK Sealing Technologies' bonded separator plate business for transmission valve body applications, a move that will directly enhance the company's transmission product portfolio and advance it's leading position as a global, vertically integrated sealing solutions provider. Interface offers customers a wide range of sealing technologies for powertrain, thermal management and other applications in the automotive, heavy-duty diesel, industrial and related industries, unsurpassed engineering and design expertise, along with a global manufacturing footprint.
Interface and its affiliated companies are a portfolio company of Wind Point Partners, a private equity firm headquartered in Chicago, IL. Details of the acquisition were not disclosed.
"The global market for automatic transmission sealing applications is a strategic opportunity for Interface, and we are committed to investing the necessary resources to meet the needs of our global customers," says Interface President and Chief Executive Officer, William Warkentin. "The bonded separator plate business complements our current transmission sealing portfolio, provides additional manufacturing capabilities and sustainable growth opportunities within the market segments we currently serve, including automotive and heavy-duty diesel," explains Warkentin. Transmission technology is rapidly changing in support of demands on the entire powertrain system to achieve lower fuel consumption, reduced mass, internal efficiency and increased vehicle performance. With the addition of the bonded separator plate business, the launch of its new innovative lightweight transmission separator plate technology, VBL-454, and additional existing separator plate solutions, Interface provides a variety of high performance valve body separator plates that meet the most stringent technical requirements. In-depth technical knowledge of application requirements, vertical integration, material expertise and the application of lean principles with advanced manufacturing result in precise, cost-effective products.