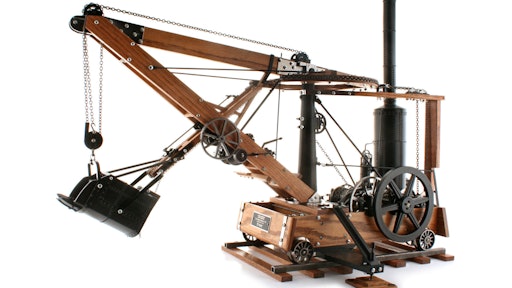 The Historical Construction Equipment Association (HCEA), a 501(c)3 non-profit organization dedicated to preserving the history of the construction industry, announces that one of its 1:10 scale Otis railroad shovel models will be raffled.
Designed in 1835 and patented in 1839, the Otis Steam Shovel is the earliest known land-based single-bucket excavator. Originally built for use in railroad construction by the contracting firm in which inventor William S. Otis was a partner, it remained in production in small numbers until the early 1910s. The design concept of a railroad-mounted shovel whose boom swung approximately 90 degrees left and right was continued by several manufacturers into the late 1920s, and its digging action is seen in today's cable- and hydraulic-operated shovels. 
The 1:10 scale model features a swinging boom, extending and retracting dipper stick, rolling wheels, and operational levers, gears, drums and bucket trip, and comes on a section of railroad track for exhibit. It is the first of a series of scale models being produced exclusively for the HCEA, and was introduced at CONEXPO-CON/AGG 2011.
The model sells for $4,500, but raffle tickets are available for $5.00 each. All proceeds will go to fund development of additional models of historic equipment. Tickets are available from the HCEA at www.hcea.net, or by calling the HCEA office at 419-352-5616. The drawing will be held September 15, 2012, at the HCEA's membership banquet in Bowling Green, OH, and the winner need not be present.