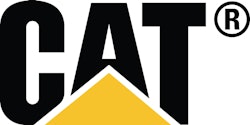 Executives from Caterpillar Inc. and leaders from the state of Texas celebrated the grand opening of Caterpillar's state-of-the-art hydraulic excavator facility in Victoria, TX. The new, 1.1 million-square-foot operation represents a $200 million investment by Caterpillar to increase excavator capacity and production in the United States. The company has already hired about 225 new employees in Victoria, and plans to continue hiring based on demand for products made in Victoria and as it ramps up production with additional models to be produced at the new facility.
"This new facility in Victoria will help us better serve our customers in North America, and I am thrilled to have the opportunity to meet some of our newest employees and to see first hand a factory that I am sure will be among the very best we have anywhere in the world," says Caterpillar Chairman and CEO Doug Oberhelman.
Prior to taking part in the grand opening ceremony, Oberhelman toured the new facility with leaders from Caterpillar's Excavation Division and with Texas Governor Rick Perry.
"Caterpillar's ongoing investment in the Lone Star State is proof positive that the low taxes, reasonable regulations, fair courts and skilled workforce we've worked hard to foster continue to attract world-class employers to create jobs and opportunity here in Texas," Gov. Perry says. "We're proud to welcome this new facility and the hundreds of jobs it supports to Victoria, and wish Caterpillar continued success."
When operating at full capacity, the new Victoria facility will more than triple the current capacity of hydraulic excavators produced by the company in the United States. The excavators to be produced in Victoria are now made at a Caterpillar facility in Aurora, IL, and at a Caterpillar facility in Akashi, Japan. Expanding capacity in the United States at the new Victoria location will position Caterpillar to better serve North American excavator customers with a single, dedicated facility. In addition, the Caterpillar facility in Aurora will focus on other products while the facility in Akashi will be more focused on serving customers in Asia.