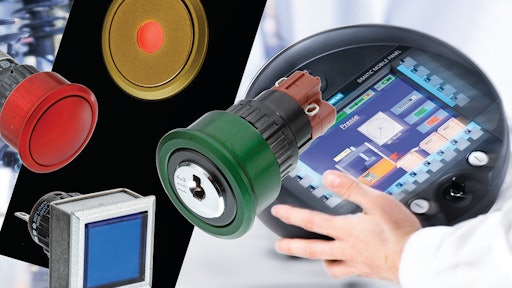 In the past, wires ran directly from a control to the implement it was intended to move which created a complicated web for vehicle designers to route. Now vehicles are networked using serial bus communication systems to relay information.
Brian Downes, Sales Manager at NBB Controls Inc., Richmond, VA, says four out of five applications today use a CAN bus whereas just five years ago it was one out of five. This has greatly reduced the amount of wires used for vehicle control, which in turn has reduced the weight and complexity of vehicles. A keypad might only need six wires to carry information for 20 keys, where previously three wires per key were needed, says Jonathan Eziquiel-Shriro, Senior Concept Designer/Human Factors at Grayhill, Inc., LaGrange, IL.
CAN bus systems have also brought enhancements to the human machine interface (HMI). "You can add more illumination, different types of HMI components, dimming functions, and greater feedback, whether it be audible or visual," says John Pannone, Vice President of Sales for HMI Systems at EAO Corp., Milford, CT. "All of these things add up to an environment that is more intuitive for the operator."
With CAN bus, a product like EAO's illuminated pushbuttons becomes multi-functional. Not only does it control certain vehicle functions, but it also alerts the operator through illumination when there is a problem based on information received from the CAN bus. The pushbutton's switch bezel can light up in sequences to indicate increasing urgency of the problem. It can be animated by use of single-colored or multicolored illumination, chasing or blinking. Once the danger zone has been reached, the center of the pushbutton will stay illuminated, telling an operator the problem needs to be addressed immediately.
Software has simplified how operators control the vehicle, as well. "Before, operators might have used both hands to control a certain situation, but now with software you can run these different routines where you only have to push one button," says Frank Cappatta, Vice President at NBB Controls.
Operator panels get a makeover
The use of CAN bus systems has brought about an increased use of pushbuttons and rotary switches over rocker switches. EAO's Pannone says rocker switches were generally used to handle heavier currents associated with direct wire vehicles. However, the electrical load of CAN bus systems is lower, enabling the use of lighter duty switches. It is unlikely rocker switches will disappear completely though, due to their long presence in the industry and user comfort with the technology. Designers have to be cognizant of choosing the switch which best fits the user's needs and expectations since there are many vehicle functions for which operators expect to see a rocker switch.
Changes to operator control components has also brought changes to how they're placed onto display panels. Flush and back mounting have become more popular methods of installing operator controls due to the aesthetic, integrated appearance they provide. These methods also make it easier to wipe down the panel to keep it clean.
Placing several function keys, buttons or displays in a single integrated cluster has become more prevalent with CAN bus systems, as well. Grayhill's Eziquiel-Shriro says this saves on space and is more conducive to the operator because designers can now focus on ergonomically placing the controls. "Operator considerations in terms of location relative to their seat and visibility of the controls in all conditions are now the primary concern, rather than an afterthought."
The touchscreen dilemma
Increasing use of CAN bus systems in off-road equipment has made display incorporation easier, including touchscreens which has reduced the amount of physical control mechanisms needed for equipment functions. "You get the benefit of multi-functionality," says Dan DiGioia, Marketing Manager at EAO. "You can toggle through different screens, you can have monitoring sections, GPS locating screens and functional screens all built within the same unit."
Jinger McPeak, Director of Display Interface and Development at FW Murphy, Tulsa, OK, says some industries are looking to take switches completely out of the cab's dashboard to simplify the operator interface. "[OEMs want] some level of a display that can do multiple things and have multiple variations across different models."
However, there is some debate in the industry as to which type of touchscreen is best for off-highway equipment.
Capacitive touchscreens, the kind used in consumer products, allow users to perform multiple touches on the same screen and scroll through menus. These types of screens don't always work well in off-highway applications, though, because they are more sensitive to contaminants and vibration, and are difficult to work with when wearing gloves. "Depending on what the vehicle is used for, whether or not operators are using gloves all the time or are willing to take their gloves off determines which touchscreen technology they should have," says McPeak.
Pannone says resistive touchscreen technology tends to be a better choice for off-highway applications because of its resistance to liquids and contaminants. He says that EAO generally recommends using a combination of touchscreen and discrete pushbuttons or switches. "We focus on mixed technology because when you bring everything to the touchscreen, it makes it difficult to differentiate some of the functions." Certain operator functions need to be differentiated for safety purposes. Safety functions can also be difficult to bring into a complete touchscreen. "In discrete units you do not necessarily want to interface with the computer in case of system failure," says DiGioia.
To minimize operator distraction with touchscreens, Eziquiel-Shriro says Grayhill is creating its own display controls that can be used with touchscreens to provide operators with a standard method of screen control that will still allow them to safely operate the vehicle (search
Always wanting more
The use of screen displays in operator cabs will continue to increase in the coming years, as will their size due to increasing machine size and the overall quantity of information an operator is engaging with at a time. "Having more real estate on the screen is easier and more conducive to the overall user experience," says FW Murphy's McPeak.
She also notes that connectivity will be a big part of the operator experience, because operators want to be able to connect personal devices to the machine in order to get information out of the cab, as well as remotely control vehicle functions.
Further increasing operator visibility will be an important aspect to future designs. With more display technologies being added to operator cabs, visibility is diminishing. Eziquiel-Shriro says there are technologies on the horizon which could increase visibility while still providing operators with all of the information they need. See-through displays and sophisticated projectors would enable display data to overlay an operator's field of vision, and eventually also provide real time information about the world outside of the vehicle cab. "Augmented reality" technologies would use cameras on the exterior of the vehicle to work in combination with on-board processors to seamlessly blend exterior information with graphics for efficient and ergonomic operation.
Electronics are heading toward seamless multiple device integration, concludes McPeak, allowing for a simplified overall machine and operator interface system while maintaining machine and operator safety and efficiency.