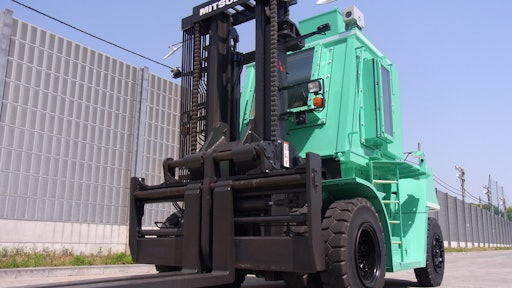 Mitsubishi Heavy Industries, Ltd. (MHI), the parent company of Mitsubishi Forklift Trucks, recently developed two special heavy-duty forklifts with radiation shielded cabins to help handle and dispose of contaminated rubble at the crisis-hit Fukushima Daiichi Nuclear Power Station following the March 11 earthquake and tsunami in Japan. The first of the two units is to be delivered to a joint venture formed by Taisei Corporation, Kajima Corporation and Shimizu Corporation that is handling the clean up at the site, with the second unit to follow later this month.
Developed and manufactured within one month, MHI incorporated its expertise in vehicle systems, filtering, heavy plate welding, and radiation shielding and management into the new unit based on the company's 15-ton heavy-duty forklift. The new forklifts will allow workers to efficiently handle rubble while simultaneously securing a safer environment for the machine operator in areas exposed to radiation.
The first radiation shielded cabin forklift has a fully-sealed cabin constructed using 100 mm thick steel plates and 230 mm thick lead glass, with all sides welded to enable the operator to maneuver the forklift with maximum shielding against radiation. The forklifts are equipped with special filters that remove dust and other radiation-contaminated material, thereby enabling a stable supply of purified air. The air-conditioned cabin is also pressurized by air purifier to prevent external air from entering.
Each forklift measures 7.3 m in length, 2.5 m in width and 3.9 m in height, weighs 30 tons, and has a load capacity of 9,000 kilograms. The forklifts will be supplied with various attachments including hinged forks, bucket, box clamp and pivoting fork. Using these attachments, the forklift will enable efficient transfer and placement of rubble into low-level radioactive waste transfer containers.
To accompany MHI's delivery of the first two radiation shielded cabin forklifts, Mitsubishi Forklift Trucks, based in Houston, TX, and its employees also donated more than $20,000 to the American Red Cross - International Disaster Relief Japan and the Japan Red Cross to be used towards the recovery effort in Japan. Mitsubishi forklift truck dealers Daily Equipment Company Inc., based in Jackson, MS, Wisconsin Lift Truck Corp., based in Brookfield, WI, and The Bailey Company, Inc., based in Nashville, TN, also contributed to the raised funds.