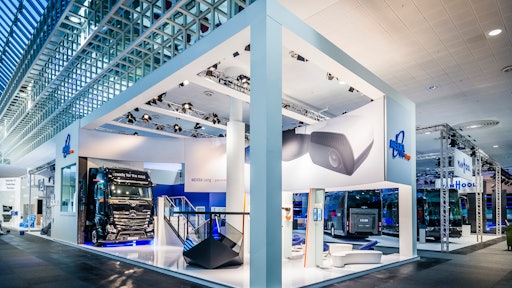 MEKRA Lang GmbH & Co. KG is the leading global supplier of vision systems for the commercial vehicle industry.
At IAA 2018, MEKRA Lang showcases a digital vision system design that is the product of the many years of expertise and know-how the company acquired in the development of exceptional mirror systems. The MEKRA Lang Digital VisionSystem (DVS) sets a new vision standard for commercial vehicles and will go into series production in the new Mercedes-Benz Actros in 2019. "This groundbreaking achievement is based on our long-standing partnership with Mercedes-Benz and has resulted in the first ever application of a digital mirror replacement system in series production," says Dr. Werner Lang, Managing Director at MEKRA Lang.
The DVS replaces both large mirrors outside the driver's cab with aerodynamically optimized camera wings. The resulting reduction in air resistance decreases fuel consumption by up to 2%. Cutting-edge optics and image processing software specifically developed for trucks provide optimized imaging, covering the entire spectrum of driving situations and environmental conditions. With its software- and hardware-based self-monitoring functions, this Digital VisionSystem offers the driver a degree of reliability and safety that is second to none.
The image captured by the cameras is presented to the driver 60 times per second in real time on high-resolution Bosch monitors installed in the driver's cab. Optimized monitor placement within the cab ensures significantly enhanced direct vision and improved safety while driving. The system adapts the view displayed on the screens to the specific situation and provides the driver with dynamic vision while driving forward, optimized vision while backing-up, as well as numerous additional assistance functions.
As a technology leader, the company is committed to revolutionizing the market and doing its part in making road traffic safer for all. MEKRA Lang's new Digital VisionSystem represents an ideal platform solution for commercial vehicles that can be universally applied and adapted. The new camera platform and the BOSCH displays offer solutions for all areas of electronic vision enhancement to provide ideal vision and safety in any everyday situation.
Companies in this article