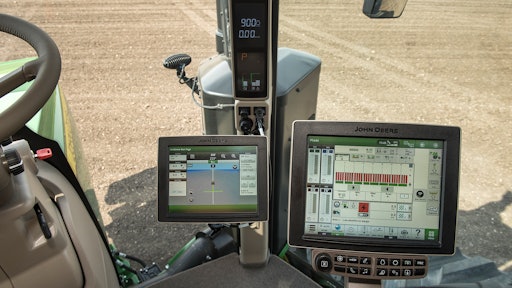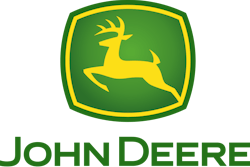 To enhance the farm equipment operator's ability to better monitor and control a wide variety of machine functions and field operations, John Deere introduces two new solutions for 2017.
The new Gen 4 Extended Monitor is available for producers who want an additional in-cab display to more conveniently oversee their operations with two monitors. This solution is ideal for customers wanting to monitor any number of machine, implement and precision ag functions such as planting or product application. In addition, operators can easily move pages and display functions from one display to another.
"We designed the Gen 4 Extended Monitor to be an easy-to-install and easily customizable solution that provides increased flexibility for customers who want a second display as part of their in-cab office setup," says John Mishler, Production and Precision Ag Marketing Manager for John Deere.
"Having a second monitor in the cab enables operators to see and control more information that can be important during high-speed and demanding field operations," Mishler adds. "The Gen 4 Extended Monitor eliminates the potential for mismatched totals or data on two different display operating systems. There's no additional software updates required and minimal setup needed for this solution. And, it's a lower cost to the customer than an alternative display option."
The Gen 4 Extended Monitor is designed to work exclusively with the 4600 CommandCenter to offer a better two-screen solution for monitoring and adjustment.
In conjunction with the introduction of the Gen 4 Extended Monitor, John Deere is rolling out its new Rate Controller 2000 that integrates with many implements for high-resolution product control. The John Deere Rate Controller 2000 is compatible with many different equipment platforms, including non-John Deere pull-type sprayers, liquid and dry fertilizer systems, anhydrous applicators and some planters.
The John Deere Rate Controller 2000 aids in field documentation, map-based prescription applications, and overlap control when used with John Deere Section Control activation. Producers and ag service providers who use the new rate controller can manage the application of up to five different products, liquid or dry, and will have increased section control capabilities when making those applications. Customers will also have the ability to simultaneously apply liquid fertilizers, along with other inputs such as herbicides, insecticides, or granular products, to reduce the number of field passes and improve operational productivity.
"The new John Deere Rate Controller 2000 provides much greater flexibility and utility across numerous equipment platforms for customers who want a single rate controller," explains Mishler. "Customers using other rate controllers can easily and conveniently migrate to a single John Deere Rate Controller 2000 at a lower cost versus adding multiple controllers."
The John Deere Rate Controller 2000 is a drop-in replacement for current GreenStar Rate Controller-equipped implements utilizing a GreenStar 3 2630 Display. It can be used on non-John Deere equipment such as three-point mounted sprayers and drawn sprayers when used with a GreenStar 3 2630 Display or tractors equipped with the 4600 CommandCenter.