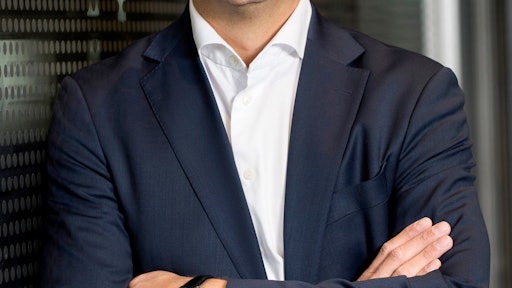 responses submitted by Melker Jernberg, President of Volvo Construction Equipment
Diesel vs. Electric
Do you think there will always be a place for diesel powered equipment for heavy-duty applications? 
Diesel machines will continue to be relevant for some time to come. However, at Volvo CE we believe that there will be a major shift towards electric hybrid technology in the future. This won't happen overnight – especially not for heavy equipment. It will very much depend on the application and the size of the machine. 
What would electric power sources have to achieve in order to replace the diesel engine for heavy-duty applications?
Quite simply, they would have to be good enough – capable of doing the work as well as being cost efficient, of a high quality, safe, robust, reliable, durable etc. To some extent, we can work with the machines and applications to make them better suit electrification. One example where we've done this is with Volvo CE's HX2 autonomous, battery-electric concept machine. We've downsized this prototype machine considerably compared to our articulated and rigid haulers, this makes it more suitable to being powered electrically. In order to maintain productivity, the HX2 is self-driving so we can therefore compensate for the smaller size with a larger number of machines. The HX2 is part of our electric site research project – which is currently being tested by Skanska – and it is not commercially available.
How do the diesel bans in several major cities around the world play into the direction your company is taking for electric vehicle development, if at all?
With the regulatory reform that it is happening in many cities around the world, full electrification will likely impact smaller machines – that are ideal for working on confined job sites in cities – first. Many cities have expressed their plans to achieve zero emissions by 2025. The challenge for us is to understand when and how this will start to affect the segments our customers operate in. At Volvo CE we are already working towards electric machines in close cooperation with our customers and suppliers to make sure we are ready for future regulations. On September 12, Volvo CE unveiled the LX2 electric compact wheel loader prototype at the Volvo Group Innovation Summit in Berlin. The prototype machine delivers zero emissions, significantly lower noise levels, improved efficiency and reduced operational costs, compared to its conventional counterparts. We also demonstrated the EX2 – Volvo CE's fully-electric compact excavator prototype – which also delivers zero emissions, significantly lower noise levels, improved efficiency and reduced operational costs, compared to its conventional counterparts. Because both prototypes are compact, zero-emissions machines with extremely low noise levels, they are ideally suited to working alongside each other in city environments. Both machines are part of a research project and are not commercially available, but they are exactly the kind of innovation that will help us to make construction in city centers cleaner and quieter in the future.
IoT & Connectivity 
How is your company investing in IoT services and opportunities? If you have already implemented some IoT opportunities, how has it affected your company? What are the long-term hopes or goals?
IoT and connectivity is not a new concept to Volvo CE. We have been collecting machine data to improve our customers operations through our CareTrack telematics system for more than 10 years. CareTrack gives customers access to a wide range of machine monitoring information such as fuel consumption, productivity, machine utilization and excessive idling reports. Customers can also maximize uptime by proactively managing their service and maintenance needs, and Volvo dealers can troubleshoot machine faults remotely – minimizing service time. All of this allows customers to optimize their fleet and maximize productivity, saving time and money.
Automation & Smart Systems
What smart systems or components does your company currently offer? If they are application or industry specific, include that detail in the explanation.
Volvo Co-Pilot is an intelligent machine control system that delivers real-time machine data to the screen in cab, helping operators to boost their productivity, efficiency and safety. It offers a range of intelligent machine services – Load Assist for wheel loaders, Dig Assist for excavators, Haul Assist for articulated haulers, Compact Assist for compactors and Pave Assist for pavers – to help operators deliver higher quality outcomes, in less time and with less effort. Volvo Co-Pilot also feeds data to the cloud for remote access to machine information. This makes it a valuable tool for fleet managers too.
How will your portfolio be expanding in the near future? What customer/industry demands drove these future developments?
Volvo CE has developed several prototype machines that utilize electrification, automation and connectivity. Looking at these machines will give you an idea of the future direction the company could be heading in. This includes the prototype machines we are testing in our electric site research project in collaboration with Skanska: the HX2 autonomous, battery-electric, load carrier, a 70-ton dual-powered, cable-connected excavator known as the EX1 and the LX1 electric hybrid wheel loader. We also have the EX2, a fully-electric compact excavator, and the LX2, an electric compact wheel loader. These prototype machines are all part of ongoing research projects which will feed our future product development plans. You can expect to see elements of these prototypes influencing our future products in the coming years.
How do you see the timeline of vehicle automation unfolding in the coming years?
The pace of change and increase in automation is accelerating and we will see increased machine autonomy in construction. We are already starting to see systems that are less dependent on operator skills on the market, ones that support operators with guidance or control primary functions – for example, the Volvo Co-Pilot system. The timeline for automation will depend on various factors including the pace of technological change, customers accepting the technology and regulatory reform. Some tasks are so complex and unpredictable that the operator needs to feel what's happening, and in those cases, we will need operators controlling the machines from inside the cab. However, in the future we will see increased machine autonomy and the operator will act more in a supervisory capacity. This will provide less stressful, more interesting work for operators, with perhaps several machines being controlled remotely by one operator.
Companies in this article