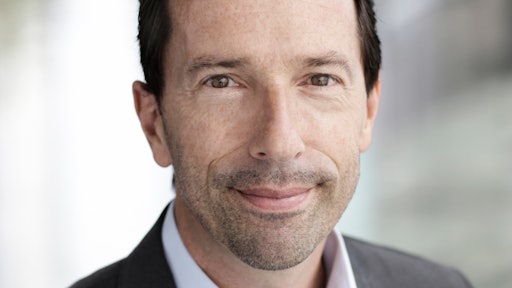 responses submitted by Eric Alström, President, Danfoss Power Solutions
Diesel, Electric and Other Power Alternatives
Diesel is clearly not going anywhere for several decades, but are there ways your company sees its use could further evolve or become cleaner to meet growing demand for fuels which have less of an impact on the environment?
At Danfoss, while we're working hard to develop viable alternative power sources for the off-highway industry, we believe the diesel combustion engine will remain a key technology for the foreseeable future. This is because it still offers the best power and energy density needed for many applications.
At the same time, we see government legislation and regulations pushing the boundaries and inciting change, which has led to viable electric solutions for many applications. In many cases, these solutions also improve productivity.
Furthermore, systems like a diesel-electric hybrid setup have a compelling use case for many applications. Forestry machinery, for example, must be robust enough to provide instant, significant power without damaging the integrity of the trees it's harvesting. Hybrid systems allow for an increase in power and torque without an increase in weight — meaning it can effectively complete the task at hand without damaging the land.
Are the diesel bans in cities around the world having an impact on how your company is designing its products? How so?
Municipalities all over the world are increasingly focused on reducing CO2 and particulate emissions. Street sweepers, city buses and short-range ferries are all applications that are impacted by regulations that limit such emissions. As far as how this impacts Danfoss Power Solutions, we can act on this trend now as our electric propulsion systems are already market-ready. In fact, we've electrified several machine types in various off-highway and marine applications all over the world — such as ferries, buses, excavators, forestry harvesters and more.
In addition, the increased focus on emissions reduction makes us focus on keeping our other core technologies competitive from an efficiency and productivity perspective. While many applications will depend on diesel technology for a long time, we are working with our customers to ensure all our products meet and exceed increasing requirements and regulations.
Are there any new emissions regulations your company sees on the horizon, or anticipates will have an impact on the industry? Europe is set to implement CO2 regulations for heavy-duty trucks in the next few years—does your company foresee a similar regulation affecting other industries, or another emissions element that will become the focus for regulators?
Emissions limits are becoming more stringent in literally all applications we serve. To a large extent, the technical progress is driven by OEMs and suppliers in our industry, but also by government policy. Looking ahead to other potential regulations, Danfoss is well-positioned to have a positive impact regarding most megatrends — whether in reducing food waste through creating a more efficient food supply chain, electrifying on- and off-highway machines, or providing energy-efficient heating solutions. We believe more stringent policies and regulations will impact most of the industries we serve, and it will be a challenge for all players to stay ahead of the legislation.
Read more: Pace of Off-Highway Equipment Electrification Quickens as Government Mandates Increase
How, if at all, does your company see alternative fuels fitting into the heavy equipment industry? Are there specific ones on which either your company is focusing or which have the potential to most benefit the industry?
Yes, we think diesel alternatives will fit into the heavy equipment industry. A few of which have already entered the market, as some applications use liquified propane gas or compressed natural gas. And, of course, off-highway machinery is increasingly becoming hybridized and electrified as appropriate.
We also believe that hydrogen fuel cells will become a viable alternative to the conventional combustion engine (or perhaps even as a fuel for redesigned combustion engines). In fact, we think hydrogen technology could potentially make a large impact on many of the industries we serve, including heating and cooling applications and on- and off-highway machinery. Current barriers to electrifying many off-highway applications include power and energy density, and hydrogen could be one of the potential solutions in overcoming this challenge. Furthermore, hydrogen could become a viable way of storing excess green energy, whether from solar, wind or hydropower.
In all cases, hydrogen fuel cells are one of many optional technologies that could change the landscape moving forward. With our electric system technologies, we're well positioned to support a variety of energy sources and generation types.
What role, if any, is electrification playing in your company's design initiatives?
Electrification has been a core technology at Danfoss for many years. Danfoss Silicon Power is manufacturing power modules for electric cars, and Danfoss Editron has the most comprehensive electric drivetrain systems for marine, on- and off-highway applications. In fact, Danfoss Silicon Power and Danfoss Editron are among our fastest growing businesses, and we have invested more than €200 million in these areas over the past few years. Recently, Danfoss acquired UQM, a market leader in integrated on-highway heavy-duty electrification, which further extends our capability in electrification.
Does your company foresee electrification playing a bigger role in the coming years, and what is needed for it to become a more widespread technology in the heavy-duty vehicle industry?
Yes, we believe electrification will continue to grow, as it's the answer to many of the challenges facing the off-highway industry. This is in regard to efficiency as well as productivity. In fact, most of the applications where we install electric drivetrain systems — whether horizontal drills, forestry equipment, excavators or marine applications — have become more productive as a result.
In combination with our conventional core technologies, we are well-positioned to serve our customers' increasing demands in the area of hybrid and electric solutions.
Are there other power sources beyond diesel or electric you see coming into the industry?
There are many options for alternative power sources and technologies moving forward. At this point, we believe hydrogen fuel cell technology has the potential to succeed as one of these viable options. However, it will take some time to overcome current infrastructure challenges.
In the end, Danfoss is well equipped to serve our customers regardless of the power source.
Data, IoT & Connectivity
What role is data playing in your company, and how do you anticipate it will grow in the coming years?
Danfoss is continuously expanding its offering of connectivity solutions and digital services for mobile off-highway machinery. The heart of the value we deliver to our customers is enhanced productivity, reduced downtime and higher operator safety.
We expect significant growth in this area, as the adoption of this technology is now expanding beyond the large industry OEMs and becoming a "must" for smaller manufacturers of specialty application machinery. Growth will accelerate further as more connected machines enter the market, which will emphasize the need to exchange data between different machines from different brands. This will create a need to standardize interfaces.
What benefits is the Internet of Things (IoT) bringing to your company, and/or the industry as a whole, and how do you see it continuing to be beneficial in the coming years?
Beyond enhancing our manufacturing and supply chain, we use IoT to leverage our long-term experience in mobile control systems. It means we can share our knowledge faster with customers, helping them design new connected machines that can exchange information with our cloud in real time for optimized performance, safety and maximum uptime.
We believe the full value of IoT is captured not only when machines are connected but when the data generated by machines can be linked to the core business systems of our customer. This enables better business decisions in all areas — whether it's the design stage, the supply chain, operator training programs, or monitoring fleet utilization and equipment health.
Are you seeing any new opportunities in regard to connectivity, and if so, what technologies are making these possible?
Yes — the implementation of 5G will be a key enabler for completely new service types, especially for diagnostics capabilities and the remote control of machines in real time. We have several initiatives and studies that are currently in progress in this promising area.
Companies in this article