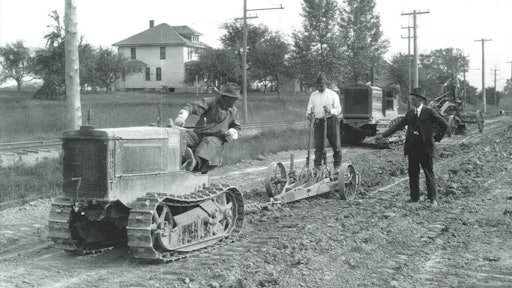 Holt Manufacturing Company image, courtesy of Robert R. Tonkel, HCEA Archives
As with so many other construction tasks, the need to break up hard material for loading and leveling goes back as far as the work itself. Let's look at some early technologies for doing this in construction applications.
The original means of breaking a surface was a simple stock-drawn plow, and several types were developed for the rigors of earthmoving and road repair. The most direct descendant of the plow was the pull ripper, an oversized deep-working plow on a steel frame and steel wheels that was developed in the 1930s. It was pulled by a crawler tractor, and the tractor's cable control unit manipulated the ripper by pivoting it on its axle. It could be set up with up to three shanks, and today's tractor-mounted hydraulic rippers are descended from it.
For tasks not requiring such deep penetration or variable leverage, the scarifier was developed. A scarifier could have one shank, or an array of them. The oldest scarifier known to this author was mounted to a pull grader frame in place of a moldboard as early as 1914. By 1925, it had been refined for use as an attachment, either on a grader in conjunction with the moldboard or for mounting underneath or behind a three-wheeled roller. Scarifiers were useful not only for reworking the surface of gravel, dirt and macadam roads and breaking up bank material so as to avoid damage and stress to the grader and its motive power, but also to prepare subgrades for paving. Use of a scarifier aided and sometimes replaced the form-riding subgrader in this application.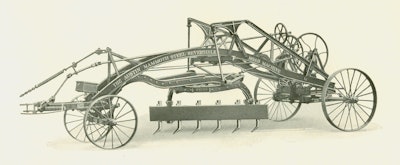 The Historical Construction Equipment Association (HCEA) is a 501(c)3 non-profit organization dedicated to preserving the history of the construction, dredging and surface mining equipment industries. With over 3,800 members in 25 countries, activities include publication of a quarterly educational magazine, Equipment Echoes, from which this article is adapted; operation of National Construction Equipment Museum and archives in Bowling Green, OH; and hosting an annual working exhibition of restored construction equipment. The 2020 show will be August 28-30 in Concordia, KS. Individual memberships within the USA and Canada are $35 for one year, $65.95 for two years and $99.95 for three years, and $45.00 US elsewhere. HCEA seeks to develop relationships in the equipment manufacturing industry, and offers a college scholarship for engineering and construction management students. Information is available at www.hcea.net, by calling 419-352-5616 or e-mailing info@hcea.net. Please reference Dept OEM.