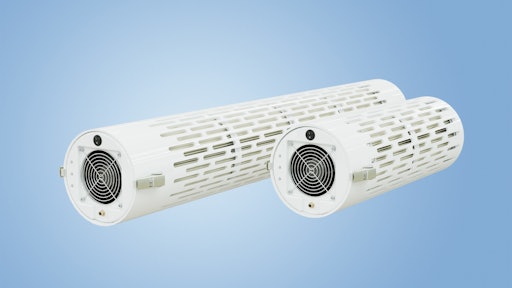 Webasto
*Editor's Note: This article was originally published Sept. 24, 2020, and updated Feb. 10, 2021, with new information.
The COVID-19 global health crisis has brought about many changes in our lives. And while there is much uncertainty still surrounding the virus, one thing remains certain—the need to keep people safe.
As such, many manufacturers have started developing products for use in heavy-duty vehicles and equipment designed to ensure safety during this time and help prevent the spread of COVID or any other diseases.
For instance, Webasto recently introduced its new HFT 300 and HFT 600 high-efficiency air cleaners. They use medical-grade HEPA-14 filtration media and can be installed almost anywhere inside vehicles and in other confined spaces where people may be sharing interior air. High-velocity, twin-axial fan motors ensure rapid air exchange rates capable of meeting or exceeding World Health Organization (WHO), Centers for Disease Control and Prevention (CDC) and European Centre for Disease Prevention and Control (ECDC) guidelines for vehicles such as ambulances.
"Webasto's HFT 300 and HFT 600 high-efficiency air cleaners provide fleet operators with a practical, immediate and reliable solution for vehicles in service and on the road today," said Matt Wheeler, head of HVAC Light & Medium Duty for Webasto North America in the press release announcing the introduction of the new air cleaners. "Our HFT units don't impact a vehicle's existing HVAC (heating, ventilation and air conditioning) system and can complement other pathogen mitigation systems that come up short in meeting CDC, WHO and ECDC air-change recommendations. Their compact size, quiet operation, robust design and ease of installation enables them to be rapidly deployed, providing prophylactic air purification protection for large populations of vehicles – today.
"Our HEPA-14 air cleaners provide the medical-grade atmospheric filtration that is universally accepted as a key to eliminating pathogens from interior environments," Wheeler continued. "And although they can't replace appropriate personal protective equipment (PPE) and social distancing in the fight against the coronavirus and other infectious agents, they can provide a vital means of risk reduction in the battle."
New vehicle design aids vaccine distribution
Daimler India Commercial Vehicles (DICV) announced January 25, 2021, it had developed a specialized reefer truck designed specifically for the safe transportation of COVID-19 vaccines. The BharatBenz 'BSafe Express' is equipped with state-of-the-art connectivity features as well as newly developed refrigeration units to ensure the temperature and stability of vaccines is accurately monitored and maintained throughout all stages of transport.
A lightweight, insulated reefer is mounted on the BharatBenz 2823R heavy-duty chassis. This helps to ensure durability as well as payload capacity for transport of the vaccine to a variety of locations, many of which are remote.
Supplied by Motherson Group, the refrigerated container is made from Glass Reinforced Plastic, XPS Foam and other materials to ensure it is strong, water resistant and not susceptible to corrosion. It also creates a lighter weight container which is highly insulated to protect the vaccines.
Purpose-built IoT (Internet of Things) sensors are integrated inside the container which enables fleet managers to monitor temperature, humidity, shock, tilt and any possible tampering. Fleet managers can adjust the temperature within the container if necessary as well as sound an alarm if they detect problems.
Improving safety during the transport of people
Public transportation is vital for many and ensuring the safety of those who utilize it has increased in importance during the health crisis, especially now as people start going back to work and moving about their cities more.
Grote Industries—better known for its lighting systems—recently introduced a new UV-C disinfecting light which can be installed in HVAC systems on public transport, such as city buses. According to the company, most HVAC systems on commercial passenger buses do not have disinfection capabilities beyond simple filtration. As such, viruses, bacteria, allergens and mold can accumulate in the damp spaces of the system's evaporator compartment and possibly slip through the filters and into the bus, causing health and safety concerns. UV-C technology, however, has shown over the years its ability to reduce bacteria, viruses, molds, and other pathogens in circulated air.
Grote decided to use its experience developing products for heavy-duty applications to design the new disinfecting light, the need for which has grown over the past year due to the continued spread of COVID-19 in various parts of the world. The company says it uses the latest generation of highly efficient and reliable LEDs, as well as cutting-edge, carefully calibrated UV-C technology to deliver powerful disinfecting light at the right wavelength.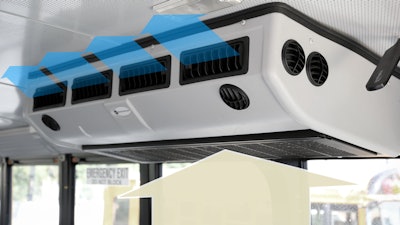 While mercury-vapor lamps have been used as a source of disinfectant UV-C light for decades, Grote says new technology advances are making it possible to use LEDs instead. In addition to the longer lifespan LEDs provide, they also eliminate the need to use fragile tubes of hazardous mercury which can cause safety concerns when replacing the lights. There is also no bulky ballast and power inverters needed to function, offering a simpler and easier solution.
Grote says recent independent laboratory testing has shown the company's UV-C products deliver a 99.987% bacterial reduction and 99.98% viral reduction after 30 seconds of exposure1. Use of the technology would therefore help improve the health of bus passengers, drivers and maintenance workers. Preventing buildup in the HVAC also helps to ensure it continues performing in an efficient manner.
To keep bus drivers and passengers safe, Vision Systems' Safety Tech division developed a protective glass designed to prevent possible transmission of the coronavirus. The Polycarbonate partition is made of a durable and resistant material which can easily be installed and adapted to driver doors.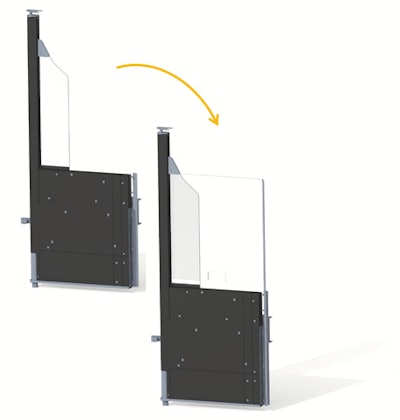 Sanitizing surfaces on buses and other transport vehicles has become ever more critical. However, there is downtime associated with this, which can be a concern for transit agencies. To help overcome this challenge, ARBOC Specialty Vehicles, a subsidiary of NFI Group, is using antimicrobial sidewall paneling from Polser USA for the interiors of its buses. Polser's AMB fiber-reinforced panels feature a permanent coating, like a microscopic bed of nails, that Polser claims actively and instantaneously kills 99.9% of microorganisms on contact. Polser states that the coating works by disrupting the cell membrane, eliminating any possibility of mutation or adaptation, and is non-toxic and does not need any chemical solutions to function.
"In these uncertain times, sanitation is a particularly major concern for most of the population that our bus customers serve. We are pleased to provide an effective feature intended to efficiently increase safety and sanitation," said Doug Minix, general manager of ARBOC, in the press release announcing the company's use of the paneling.
According to ARBOC, the antimicrobial walls have positive hygiene effects on other items inside the bus as well. Greg Glanders, President of Polser USA, explains, "Because AMB is so effective at killing pathogens on contact, there are fewer active pathogens nearby in both the air and on the floor. Pathogens move between surfaces and also through the air, where they can settle on another surface." Polser's AMB walls remove this sizable surface from the equation, disrupting the cycle of pathogen growth. "In short, pathogens move around and multiply. Our walls actually pull in and destroy both surface and nearby airborne pathogens, killing them before they can multiply and contaminate other surfaces," adds Glanders.
TORSUS recently developed the 'Anti-COVID-19' social distancing pack for is TORSUS PRAETORIAN heavy-duty off-road bus to ensure passengers can feel safe and follow social distancing guidelines. The adaptive seating option takes advantage of the modularity of the PRAETORIAN. The bus' double row seats on each side can easily be removed to leave only a single coach seat on each side. Each seat is then encased in its own protective pod crafted from 3.5 mm (0.14 in.) thick clear plastic, specifically molded to slot into the now vacant seat rails without causing any damage. When social distancing is no longer required, the bus can be simply reverted to its full capacity interior with no unsightly holes or damage.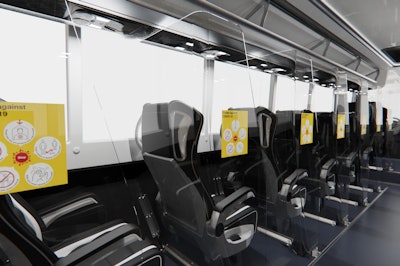 In Daimler Buses' Mercedes-Benz and Setra brand coach buses, improvements in air flow and protective devices are now available. The company says its standard air conditioning systems already protect against the risk of infection through rapid air exchange on-board the vehicle. However, now this system can be adapted further. The maximum fresh air content of the air conditioning systems can be increased by as much as 33 or 40% by additionally extending the outside temperature range for maximum fresh air supply upwards and downwards.
In addition, new active filters are available for certain Mercedes-Benz and Sentra bus models. The company says the multi-layer, high-performance particle filters also include an anti-viral functional layer capable of filtering out the finest aerosols. Physical tests and microbiological analyses confirm this effect. The active filters are used for the roof-mounted climate control systems, air-recirculation filter and also for the front climate control box.
Daimler Buses has also developed professional driver protection doors made of safety glass and high-quality plastic polycarbonate. They are available for both new and existing bus models.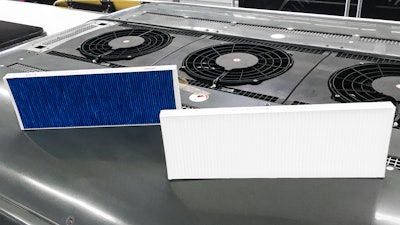 Contact-free operations help protect employees
Because germs and viruses of all types can live on surfaces such as door handles, Phillips Industries—best known for designing heavy-duty truck parts—developed the STA-SAFE hands-free door extension which can be attached to public door handles. The company says it immediately took action to protect the safety of its employees when the coronavirus pandemic began, while also doing what it could to protect those outside of the company. During COVID-related downtime in Phillips factories, employees were encouraged to be creative in devising uses for idle equipment, leading to the creation of the STA-SAFE door handle extension.
"With the kernel of an idea for a hands-free handle attachment that could make a real difference in slowing the spread of COVID-19, our team in Mexico quickly designed the STA-SAFE extension. They produced engineering and tooling drawings that utilized our temporarily inactive CNC equipment to make them," explained Rob Phillips, President and CEO, in the press release announcing the product's development.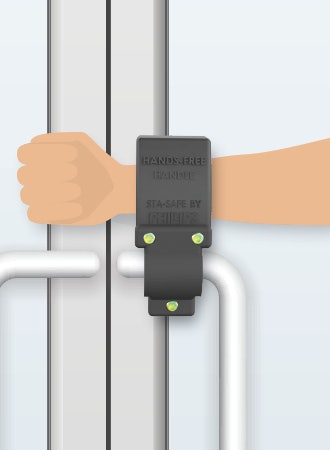 The forearm operated door handle is hands-free and quick and easy to install with no drilling required. It includes three inserts to ensure a perfect fit on most door pull applications, and comes with a sticker to put on the door which shows how to use it so as to avoid any confusion. Made with recycled, non-corrosive material, the STA-SAFE is durable and UV and weather resistant.
For those renting and using heavy equipment, Irdeto has developed a smart access management and rules enforcement technology which can be used on a mobile device. Iredeto's Keystone enables contactless renting with a digital key, as well as enforcement of daily inspections, reminders for operators to clean frequent touchpoints regularly, and helps ensure thorough examinations and maintenance are undertaken every day.
"The importance of good safety and equipment hygiene to reduce the risk of personnel becoming infected has never been more top of mind for leading construction companies," said Niels Haverkorn, General Manager of Connected Transport at Irdeto, in the press release announcing the introduction of Keystone. "Construction companies, including rental providers, need a flexible, secure rental access management solution. Our Keystone solution provides a suite of controls helping them with booking, handovers, operations and end of rental or daily checks, all done with good health and safety measures."
With the need to sanitize and disinfect surfaces and even entire rooms becoming more critical than ever, many companies have rapidly developed disinfection robots as part of their efforts to help combat the coronavirus. Siemens is one such company which partnered with Aucma to develop a robot within weeks.
Since these machines can operate quickly and autonomously, humans who might have otherwise had to manually do the sanitizing no longer need to and therefore can remain safe.
Eaton's Vehicle Group employed robots of various types, including cobots and autonomous mobile robots, to keep its operations going while ensuring the safety of employees during the pandemic. The company says using them not only allowed employees to remain at a safe distance, but also helped to improve the flow of materials and improve manufacturing processes.
Use of robots and automation technologies have increased with the onset of the pandemic; while not new technologies, the global health crises has further brought to light the need for these technologies to aid humans and possibly even take over tasks when they are unable to do them or it is unsafe to do so.
Only time will tell how things will work out with the coronavirus and what long-lasting effects there may be, but one thing is for certain—industries will continue innovating and making new products to meet the challenges of today and the future.
1 Bacterial reduction of Staphylococcus aureus is 99.987% in 30 seconds and 99.995% in 120 seconds, viral reduction of Human Coronavirus 229E is 99.98% in 30 seconds and 99.99% in 120 seconds.
Companies in this article