Grote Industries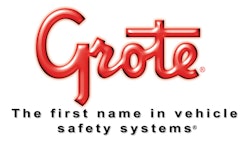 Grote Industries has developed a safe and effective UV-C disinfecting light for HVAC systems on public transportation.
Helps public transit and bus companies disinfect[1] circulated air to keep people safe
Installs quickly and easily into HVAC system's evaporator compartment, safely functioning during normal bus operations to effectively destroy microorganisms as they pass through evaporator
Utilizes latest generation of highly efficient and reliable LEDs
Carefully calibrated to deliver powerful, disinfecting UV-C light at exactly the right wavelength
Resistant to vibration and moisture present in bus' HVAC system
Provides a simpler and easier solution compared to mercury-vapor lamps as there are no fragile tubes of hazardous mercury to replace, and no bulky ballast and power inverters needed to function
Delivers 99.987% bacterial reduction and 99.98% viral reduction after just 30 seconds of exposure[2]
Continual disinfection of evaporator compartment inhibits mold and biofilm growth on the A/C evaporator fins
Cleaner internal environment allows HVAC system to function more efficiently, increasing overall airflow and heat transfer capability, thereby conditioning bus air more effectively and requiring less system cleaning and maintenance
[1] All references to "disinfection" are referring generally to the reduction of pathogenic bioburden and are not intended to refer to any specific definition of the term as may be used for other purposes by the U.S. Environmental Protection Agency. The disinfection technology as incorporated in Grote products is not for use as, or for, medical devices.
[2] Bacterial reduction of Staphylococcus aureus is 99.987% in 30 seconds and 99.995% in 120 seconds, viral reduction of Human Coronavirus 229E is 99.98% in 30 seconds and 99.99% in 120 seconds.
Request More Information
Fill out the form below to request more information about
Grote Industries Disinfecting Light for Bus HVAC Systems