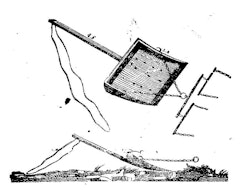 American Farmer (Baltimore), Vol VI No. 1, March 6, 1824
In 1951, railroad contractor James L. Allhands (1879-1978) published Tools of the Earthmover Yesterday and Today Preserved in Pictures, likely the first major book written with the intent of educating the general public about construction machinery. One section of this groundbreaking, as it were, work discusses the origins of scrapers, and over the next three issues we'll see a summary of his material.
The scraper was invented as a manually-assisted self-loading and self-dumping device for increased earthmoving efficiency by eliminating shoveling. Allhands traces the scraper's origin to the stone boat, a stock-drawn sled for transporting rocks dating back to very early Egypt circa 3000 B.C. and used as late as the 1910s. At some point it was surely tried on logs or rollers for friction reduction, then evolved into a cart by adding a wheeled axle.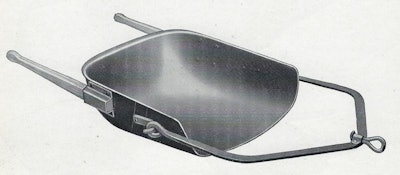 The earliest scraper known to Allhands was the mouldebaert (also rendered as "mollebart" and "mollebaert"), a Flemish horse-drawn agricultural implement resembling a large shovel. The March 26, 1824, issue of American Farmer (Baltimore) explains its operation. The operator manipulated the handle to load it, pressed down to keep the iron cutting edge clear of the ground for transport, and then dumped the load by releasing the handle, causing the cutting edge to dig in and flip the device over. The handle would end up on the double singletrees by which two horses or mules were hitched to it, and the operator would haul it back to loading position with the attached rope. American Farmer cited an advantage it had over shovels and wheeled carts—it left no ruts to impede the animals.
Allhands' next step in scraper evolution was the drag, or slip, scraper. He also nicknamed it a pig, for its resemblance to a rooting hog. He described this machine as "a sort of glorified stone boat with side-boards" that "extended into a pair of handles at the rear." He calls it, along with the wagon and cart, "man's first practical mule- or horse-powered tool," and dates its first use in the United States to the Erie Canal in 1825.

The first major improvement on scraper design Allhands cites was developed in 1831 by Dudley Marvin of Canandaigua, NY. Marvin raised the scraper's sides for added capacity, and added iron or steel teeth to the cutting edge and front ends of the sides. This reduced the need for plowing ahead of the scraper, which increased productivity by giving the animals pulling it a better footing. Hybrid designs with iron bottoms and sides and wood backs followed, and Allhands cites the circa 1880 design of S. F. Welch, plant superintendent of Western Wheeled Scraper Company, as the first all-steel scraper.
The Historical Construction Equipment Association (HCEA) is a 501(c)3 non-profit organization dedicated to preserving the history of the construction, dredging and surface mining equipment industries. With over 3,800 members in over a dozen countries, activities include publication of a quarterly educational magazine, Equipment Echoes, from which this article is adapted; operation of National Construction Equipment Museum and archives in Bowling Green, OH; and hosting an annual working exhibition of restored construction equipment. The 2020 show has been postponed to August 27-29, 2021, in Concordia, KS (learn more, 10598970). Annual individual memberships are $35.00 US within the USA and Canada, and $55.00 US elsewhere. HCEA seeks to develop relationships in the equipment manufacturing industry, and offers a college scholarship for engineering and construction management students. Information is available at www.hcea.net, by calling 419-352-5616 or e-mailing info@hcea.net. Please reference Dept OEM.