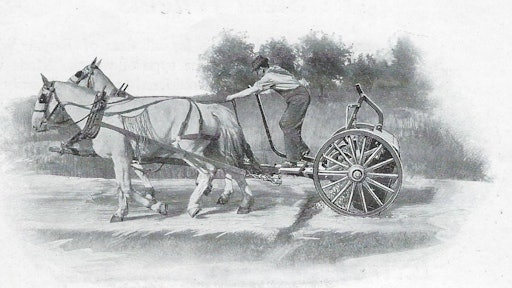 Smith & Sons Manufacturing Company catalog, n. d., HCEA Archives
In 1951, railroad contractor James L. Allhands (1879-1978) published Tools of the Earthmover Yesterday and Today Preserved in Pictures, likely the first major book written with the intent of educating the general public about construction machinery. One section of this groundbreaking, as it were, work discusses the origins of scrapers, and that history is summarized and corroborated herein. Last issue, we looked at his study of the origins of the original scrapers. This time, we'll see how he traces the wheeled scraper.
Allhands traces the wheeled scraper all the way back to 1805, when the oddly named book, The Abortion of the Young Steam Engineer's Guide: Containing an Investigation of the Principles, Construction and Powers of Steam Engines by Evans Oliver, presented an Earth Leveller (sic) invented by Gershom Johnson. It operated on the same basic principle as the drag scraper, but rode on a small axle and had a larger "fore wheel" connected ahead of the scraper by iron bars. Three animals pulling it provided enough power to handle two loads a minute. Decades ahead of its time, it too seems to have faded into obscurity.
After various ideas were tried in the 1860s and early 1870s, the wheeled scraper hit its stride as a matter of necessity. Allhands tells of a contract let by the Chicago, Burlington & Quincy Railroad for approximately 40 mi. (64.4 km) of grading between Leon and Mt. Ayr, IA. The job combined substantial earthmoving with a very tight deadline. Allhands reports that many thought the job impossible with the drag scrapers, wheel barrows, carts and hand shovels available at the time.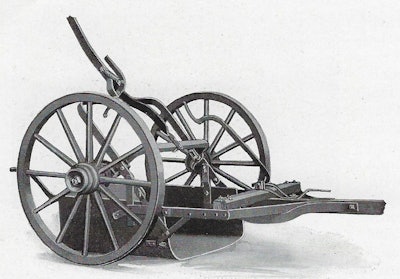 The low bid was placed by C. H. Smith & Company, whose executives knew of a tiny, 3 cu. ft. (0.08 cu. m) capacity wooden scraper with a steel bottom and an axle that kept the front end off the ground. Allhands does not identify the manufacturer of this little machine, but he says that Smith had a blacksmith shop in Mount Pleasant, IA, and started building them. Smith ultimately massed 600 of the little scrapers, supported by 100 plows, on the job, and finished it on time.
As other contractors expressed interest in the device, Smith began producing them for resale, and in late 1879 the Western Wheeled Scraper Company was founded in Mount Pleasant. This firm relocated to Aurora, IL, in 1891.
Allhands cites one major improvement to the stock-drawn wheeled scraper. Most were set up so that the teamster walked alongside his team, and a laborer loaded and unloaded the scraper. Sometime around the turn of the century ("Better than 45 years ago," as he puts it in 1951), an inventor in Kansas City designed a riding scraper. The operator stood on a platform astride the rear end of the tongue; although there was no comfort seat or CD player, it was fully air conditioned, although emissions could be rather fragrant! Called the Kansas City Platform Wheeler, the scraper was painted blue, and was eventually built in at least two sizes (9 and 22 cu. ft./0.3 and 0.6 cu. m).
Allhands states that this line was acquired by "Smith Brothers," but sales literature for Smith & Sons Manufacturing Company of Kansas City, MO, lists a Royal line of riding wheeled scrapers. According to this literature, the Royal scrapers were designed for one-man operation rather than two as on non-riding scrapers, and a modified version could be run in sets of up to four behind a tractor.
The wheeled scraper led to numerous other scraper innovations, and the concept continues today in modern tractor-drawn wheeled scrapers.
The Historical Construction Equipment Association (HCEA) is a 501(c)3 non-profit organization dedicated to preserving the history of the construction, dredging and surface mining equipment industries. With over 3,800 members in over a dozen countries, activities include publication of a quarterly educational magazine, Equipment Echoes, from which this article is adapted; operation of National Construction Equipment Museum and archives in Bowling Green, OH; and hosting an annual working exhibition of restored construction equipment. The 2021 show will be August 27-29 in Concordia, KS. Annual individual memberships are $35.00 US within the USA and Canada, and $55.00 US elsewhere. HCEA seeks to develop relationships in the equipment manufacturing industry, and offers a college scholarship for engineering and construction management students. Information is available at www.hcea.net, by calling 419-352-5616 or e-mailing [email protected]. Please reference Dept OEM.