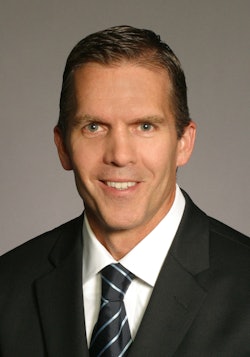 Each year, our State of the Industry issue looks at the top trends and technologies within the heavy equipment industries. We also dig into current and future market conditions, as well as regulations which may currently or in the coming years have an impact on how the industry will go about designing its equipment.
To get the best insights, we speak with executives from a variety of companies working in the industry—everyone from associations, to OEMs to component suppliers. Below are responses provided by Nick Block, Director, Global Marketing & Sales, John Deere Power Systems.
Read all of this year's executive Q&As.
Diesel, Electric & Other Power Alternatives
How, if at all, do you see the role of diesel engines evolving in the coming years?
There are still many opportunities for continued advancements in diesel engines. From the technology side, we've leveraged new catalyst technologies and emissions control calibrations to enable the downsizing of aftertreatment. Our newest aftertreatment solutions deliver greater package flexibility and offer easier installation while providing significant reductions in size and weight. We will continue to focus on improving overall package size, reducing overall engine weight and integrating new generations of electronic control systems.
One trend that will continue to evolve in the next few years is less reliance on physical sensors. This is because engine control units continue to become more advanced and enable greater engine control and diagnostics performance. Furthermore, engines will become smarter and more capable — not only in terms of lower emissions or higher power, but by being more reliable to run in the way applications demand.
What alternative fuels do you foresee entering the heavy equipment industry in the next 5-10 years?
We believe biodiesel and renewable diesel fuel to be the most viable alternatives to diesel fuel for heavy-duty off-highway engines. John Deere engines operate efficiently using ultra-low sulfur diesel as well as biodiesel blends. It's the right thing to do from a long-term economic standpoint, as well as environmental, energy-security and rural-development standpoints.
The primary advantages of both biodiesel and renewable diesel are their renewability. As renewable energy sources, biodiesel and renewable diesel fuel can help reduce dependence on petroleum imports. Biodiesel (B100) is nontoxic, biodegradable and suitable for sensitive environments.
In addition, we are exploring ethanol as another potential renewable fuel option for our off-highway customers. Ethanol enables up to a 40% reduction in net CO2 emissions from heavy-duty diesel engines. It is also widely available and can offer a high-efficiency, liquid alternative fuel option.
How will electrification—or other alternative energy/power systems—continue to advance in the heavy equipment industry?
John Deere is well-versed in the integration of electrical generators and/or motors, power electronics, and mechanical drivetrain interfaces. With more than 2 million operating hours of proven performance in the field, John Deere electric drivetrain components are available in multiple configurations to help OEMs implement electric and hybrid drive systems in their off-highway applications.
Implementing alternative power systems like drivetrain and electric solutions in off-highway equipment will depend on being able to optimize an overall power solution — balancing mechanical, hydraulic and electric power systems and cost. That is why we've focused on providing scalable, flexible and modular solutions to generate and deliver the variety of power solutions needed in off-highway applications.
What new emissions regulations do you see on the horizon, and how might they impact future product development?
Similar to years past, we anticipate the additional NOx reduction standards that are being considered for on-highway will eventually make their way to off-highway regulations. This will impact the industry as manufacturers continue to keep track of nuanced regulations from country to country while helping their customers manage necessary transitions.
Data, IoT & Connectivity
What will be the best use cases for the Internet of Things (IoT) and data in the coming years?
The John Deere Smart Industrial strategy is designed to unlock new value for customers and help them become more profitable and sustainable, while simultaneously revolutionizing the agriculture and construction industries through the rapid introduction of new technologies. Our track record of technological innovation puts us in a position to anticipate, respond and outpace the industry by offering cutting-edge solutions to enhance customers' productivity, profitability and sustainability.
As a part of this strategy, we utilize IoT and machine performance data to develop new solutions, particularly for our dealers and customers through John Deere Connected Support™. The technology in the Connected Support suite of tools has empowered a shift from reacting to problems after they occur in the field to a proactive approach of anticipating and preventing machine downtime — increasing productivity by increasing uptime.
What advancements do you see on the horizon for connectivity and machine learning in the next decade?
By studying telematics data generated by the machine, we can gain a better understanding of how current systems and technologies are being utilized by our customers in their various applications. This analysis will help improve the next generation of solutions, further enhancing our customers' experiences.
Regarding how the role of data will grow in the coming years, I believe we're still in the early stages of the power and applications for telematics solutions. We're currently piloting our John Deere Connected Support solutions with end-user customers of our OEMs so they can experience the benefits of additional uptime.
Advancements in machine uptime and streamlined repairs are made possible by the ability to connect more machines. In the coming years, the importance of identifying trends within fleetwide machines (even around the world) will play a major role in how the use of IoT will progress. More data equates to machines being optimized for their applications and increased productivity and uptime.
Automation & Smart Systems
What role will telematics continue to play in the heavy vehicle and equipment industry?
Healthy machines result in satisfied customers. John Deere provides a range of hardware telematics solutions for equipment owners and operators. The range begins at an entry-level value offering and builds to a premium option. The key element is machine uptime: monitoring machine health and making sure customers are able to perform at the highest level.
Our telematics solutions have been designed specifically to give customers the ability to upgrade with minimal effort. For example, customers can start at the value end to get comfortable with the technology., Then, if they decide they would like more machine data they can upgrade to premium, which has additional capabilities to execute more machine calculations and provide more machine data.
Another benefit of John Deere telematics is that our premium offering has certifications in more than 70 countries, with the potential for future expansion.
As both a manufacturer and as an OEM, John Deere understands the unique challenges its customers face in implementing telematics solutions. We're not only making components, we're helping shape the machines of the future. We understand our customers are moving toward a fully connected jobsite — a jobsite that connects people, information and equipment — across the project chain, regardless of where they are located. In order to do this, they need a central control center that offers a real-time stream of information.
We made it possible for customers to monitor multiple machines in a fleet no matter where they're located using a mobile app so they always have access to that machine's data. We made this possible through Wi-Fi meshing.
The future of telematics and connectivity technology is bright. Leveraging these evolving technologies and advancements, John Deere is going to continue to meet our customers' next needs.
Challenges & Opportunities
Are there any technologies or trends which you are currently excited about in the heavy-duty vehicle industry, or most looking forward to seeing in the coming years?
As owners and operators of off-highway equipment continue to face ever increasing demands for improved emission performance, fuel economy and productivity, many are looking at emerging technologies. Electrification is on the rise, machines are becoming smarter and more connected, and control solutions are becoming more powerful and precise. In addition, renewable fuels are becoming increasingly viable for heavy-duty applications. These advancements create an ideal landscape to introduce electrified and renewable solutions that are efficient and easy to operate.
John Deere's continued investments in electrification and future-forward technologies will give its OEM customers a competitive edge in the off-highway market. The comprehensive lineup of solutions continues its position as a reliable source for powertrain technologies.