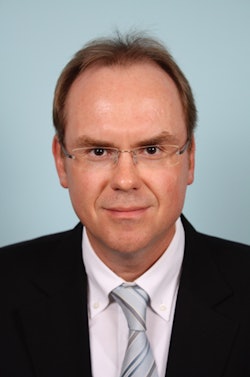 Each year, our State of the Industry issue looks at the top trends and technologies within the heavy equipment industries. We also dig into current and future market conditions, as well as regulations which may currently or in the coming years have an impact on how the industry will go about designing its equipment.
To get the best insights, we speak with executives from a variety of companies working in the industry—everyone from associations, to OEMs to component suppliers. Below are responses provided by Hendrik Lange, Director, Heavy Equipment Industry, Siemens Digital industries Software.
Read all of this year's executive Q&As.
Diesel, Electric & Other Power Alternatives
How will electrification—or other alternative energy/power systems—continue to advance in the heavy equipment industry?
The urgency to find solutions for the climate change crisis will soon unleash many emissions regulations for the off-highway industry. Carbon dioxide (CO2) emissions regulations will become a significant issue for the heavy equipment industry, just like it did for the automotive and marine industries over the past decade. Plus, more stringent pollutant emissions regulations will be put in place in emerging countries.
Electrification, including full-electric with battery-powered, fuel-cell, or still hybrid equipment, is an alternative to a fuel-powered engine and should be investigated by OEMs. To remain competitive in the very fast-changing landscape, OEMs must predict the performance of their new machine designs before they introduce them to the market. Indeed, the electrified equipment must allow operators to keep working in the same, if not better, conditions. Operators aim at reaching the same operability and productivity regardless of the technology the OEMs offer. They may wonder: will my TCO (total cost of ownership) remain stable? If I opt for a battery, what will be the charging times? Will this technology shorten my operation capacities and, if so, make me less productive?
We believe that using a smart combination of simulation and testing can help them meet both future emissions regulations and end-user expectations.
Automation & Smart Systems
What further benefits will automation bring to the heavy vehicle and equipment industries?
Heavy equipment manufacturers are being challenged by their customers, competitors, and government regulators, to develop smarter, safer, more eco-friendly equipment in an increasingly challenging economic climate. This combination pushes agriculture, construction, and mining equipment manufacturers to embrace disruptive technologies to increase automation for improved capability and efficiency. The need for innovative, smarter equipment leads to increasingly complex machines with more variants that are software- and electronics-driven, with increased connectivity to other systems and machines, enabling autonomous operations.
For OEMs to be competitive, they will have to consider automation of their equipment as well as engineering and simulation processes. To ensure the design "right the first time," companies should increase accessibility to simulation for designers and engineers to virtually assess the product performance of their entire portfolio. This access is especially critical in developing new, highly complex systems to meet the demands for EV and AV technologies. Doing so reduces the number of physical tests required and eliminates poor performance, resulting in quicker launches and earlier market share capture. For example, you can seamlessly transition your NX CAD model into the Simcenter 3D environment, utilizing automation scripts, templates, integrated attributes, and embedded knowledge sharing to implement a "push-button environment" for the design engineer. Access to such automated simulations allows for a faster comprehensive exploration of the design space available that identifies more innovative and optimized concepts.
Challenges & Opportunities
What are some of the biggest opportunities you see in the industry?
The industry faces many challenges: new and changing regulations, population growth and related needs (food, housing, energy), workforce shortages, and, finally, multiple working environments for the operators to navigate. We see these challenges as an excellent opportunity for the OEMs from the agricultural, construction, and mining sectors to change how they engineer their more complex products.
The most successful heavy equipment companies will embrace that complexity via digitalization and turn it into a competitive advantage. This is centered around creating a digital twin to simplify design exploration and verification processes, leading to a faster and more cost-effective validation of product performance in harsh conditions. Our solutions allow our customers to create the most comprehensive digital twin that combines the best of virtual and physical methods, leading to a key process enabler for accelerating heavy machinery development.