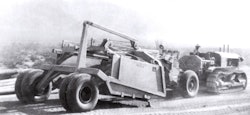 R. G. Le Tourneau Inc. image
Robert G. LeTourneau was responsible for some of the most important innovations in construction, mining, forestry and oil production design as well as welding and manufacturing processes.
Although he had already been thinking outside the box on equipment design, especially scrapers, he was limited by available technology to putting his scrapers on steel wheels. Steel wheels were certainly durable, but they had two huge disadvantages—weight and ride.
The more a scraper weighs empty, the less payload it can carry if drawn by a given tractor; try to get around that and use a more powerful tractor, and you invite breakage and failure. Indeed, manufacturers of drawn equipment in the early 20th Century very often specified the maximum power, be it number of horses or a tractor's horsepower, that could be used on their machines without risking damage as the machine failed under the strain of power versus load. The lighter the scraper without sacrificing strength, the more payload can be carried.
Without any form of suspension in the machine, a steel wheel offered absolutely no cushioning against a rough ride. While the tractor operator was spared being bounced around as the steel wheels rolled jarringly over rocks, ruts or what have you, the impacts were still rough on the scraper. And, related to how the wheels rode, they had very little flotation on soft surfaces.
The first pneumatic tire was developed in 1888 for the specific reason of softening the ride, in that case on a tricycle. It took time for the technology to progress far enough to be capable of what LeTourneau had in mind, but when it was ready, so was he.
His first use of pneumatic tires on a scraper was in 1932. He had introduced an improved scraper, the A Carryall, that year. The A was equipped with steel wheels, but by August he retrofitted one with pneumatic tires, singles in front and duals in back. At least one more of the half-dozen A Carryalls built had single pneumatics in the rear and the stock steel wheels up front.
In 1933, LeTourneau used Goodyear "Airwheel" military surplus aircraft tires as nothing else suitable was available; tires of this type were used when needed on graders, scrapers and proofrollers when more flotation was needed than a normal tire afforded.
LeTourneau standardized on heavy-duty tires of a more conventional design. That all-rubber version of the A Carryall cast the pattern for all scrapers that followed.
The Historical Construction Equipment Association (HCEA) is a 501(c)3 non-profit organization dedicated to preserving the history of the construction, dredging and surface mining equipment industries. With over 3,800 members in 25 countries, its activities include publication of a quarterly educational magazine, Equipment Echoes, from which this article is adapted; operation of National Construction Equipment Museum and archives in Bowling Green, OH; and hosting an annual working exhibition of restored construction equipment. The next International Convention and Old Equipment Exhibition will be September 23-25, 2022, at the National Construction Equipment Museum in Bowling Green, OH. Individual annual memberships are $35.00 within the USA and Canada, and $55.00 U.S. elsewhere. HCEA seeks to develop relationships in the equipment manufacturing industry, and offers a college scholarship for engineering and construction management students. Information is available at www.hcea.net, or by calling 419-352-5616 or e-mailing info@hcea.net.