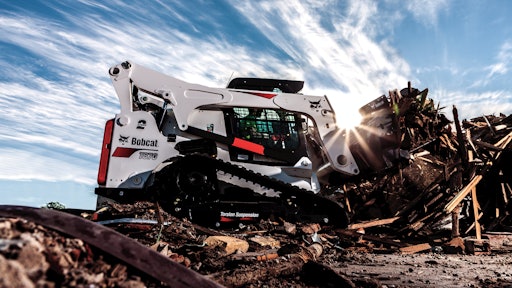 Bobcat
With operating weights up to 16,000 lbs. (7,257.5 kg) and engine outputs in excess of 100 hp (74.6 kW), the large end of the compact track loader (CTL) market continues to redefine the term "compact." And this market shows few signs of slowing down any time soon.
"The large CTL segment continues to grow on a year over year basis as more and more contractors demand the added productivity that these larger machines bring to the jobsites," says Luke Gribble, Solutions Marketing Manager, John Deere Construction and Forestry. "Even though the machines are larger, they still have excellent maneuverability and transportability when comparing them to other pieces of common construction machinery. The overall affordability of the machines is another factor that continues to draw in new customers from many applications when comparing to other common earthmoving machines."
The direction is clear. "The compact loader industry is trending toward larger, more powerful compact track loader machines," says Jorge De Hoyos, Senior Product Manager - Loaders, Bobcat Company. "That said, the key here is making sure these machines remain compact. Harnessing near the power and capability of a wheel loader but still having the ability to fit through barn doors and through double gate openings or load onto a deck-over trailer is part of the versatility of the machine itself, not to mention the ability to leverage multiple attachments."
It is about delivering the highest productivity in a relatively compact package. "A defining characteristic of a CTL is the ratio of weight to power as we see CTLs expand further over 100 hp and with an increase in auxiliary hydraulic power," says De Hoyos. "The machines can now handle next-level high-definition attachments and jobsite tasks like brush cutting, mulching and milling as well as the ability to move earth."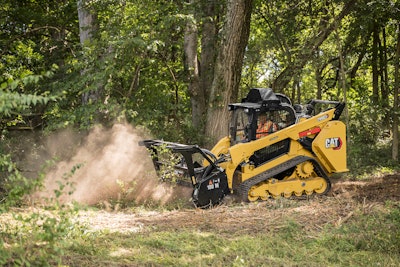 New Applications Emerge
These machines now compare favorably to other machine types. "In general, large-frame CTLs offer a greater or similar rated operating capacity (ROC) comparable to compact wheel loaders, but with the increased versatility of attachments and a more compact frame size," says De Hoyos. "It's hard to beat a large track loader's combination of power, nimbleness and versatility."
These larger CTLs typically don't compete with their smaller siblings. "There are different applications and operations that these larger CTLs go into than the medium- to small-frame sizes," says George MacIntyre, Product Marketing Manager, CASE Construction Equipment. This is due to the heavier lift capacities and high-flow hydraulics. "This enables them to load into high-sided dump trucks and handle heavier attachments."
Customers are continually discovering innovative uses. "Much of this is driven by the wide variety of work tool attachments that these machines can be fitted with combined with the benefits of their compact size, stability, traction, lift capacity and low ground pressure," says Kevin Coleman, Product Specialist, Caterpillar. "This means a customer can have a machine that not only can be used to grade, but can also be utilized to power hydromechanical work tool attachments such as trenchers, brooms, grapple tools, cold planers (milling heads) or mulching heads."
Their higher ROCs enable these CTLs to handle the heaviest loads. "They perform very well in grading and material-handling applications," says Coleman. "Many customers are also looking to the larger, high-horsepower machines to deliver high performance and productivity when paired with... hydromechanical work tools. The largest Cat CTL, the 299D3 XE, can be paired with a cold planer that has a working width of almost 4 ft. (1.2 m), delivering a powerfully efficient combination of machine and attachment. "
"Even when talking about larger frame machines, the overall compactness of CTLs allows them to shine wherever they are working, especially within tight spaces," notes Gribble. "Will smaller and mid-frame sized machine be able to operate in even tighter spaces? Yes. But the ability to make quick turns and maintain a smaller footprint than other larger pieces of construction equipment gives even the largest machines a unique advantage."
Increased pushing power and breakout force minimize cycle times and allow customers to complete most tasks much quicker than if they had a smaller machine. "One area that we continue to see a lot of demand in with the large-frame machines is vegetation management," says Gribble. "Due to the hydraulic performance of optional high-flow hydraulics, more and more CTL owners and operators are configuring the machines with brush cutter or mulching attachments to clear wooded areas."
He adds, "Other attachments that come to mind with the increased power from CTLs include cold planers, brooms, augers, trenchers and snow blowers. Equipping your machine with any of these attachments not only ensures that you have the right tools to do clearing work, but also gives you the benefit of completing work in the winter."
"Land clearing is an application that is currently dominated by compact track loaders, which wasn't necessarily the case several years ago," notes MacIntyre. "Grading blade attachments are really making inroads for grading flat surfaces for driveways, parking lots, running paths or athletic fields."
The Ultimate Finish Grade Tool
"A large-frame CTL can replace a finish dozer in some instances," says De Hoyos. "A contractor must ask themselves if a finish dozer is the appropriate tool — will the primary application be for dozing or can they best benefit, now or later, from the versatility of a large compact track loader?"
There has already been a market shift. "The smaller sizes of dozers, that market is not there anymore," MacIntyre states. "It has already been replaced by CTLs with grading blades. Even a CTL with a bucket can do a pretty good job. It is not a precise grade, but in many cases it may be good enough for the operation at hand."
Contractors are now taking the next step. "They're going to precision grading blade attachments which allow the 2D or 3D blade guidance systems," MacIntyre explains. "Then, you can get to really precise grades. The downside to using the CTL with those precision grading attachments vs. a dozer would generally just be the pushing power of the CTL versus a dedicated dozer with steel tracks on it. One of the advantages of the dozer is you have more track on ground. That's one of the reasons why, when we went to the bigger CTL, we wanted to have as much track on ground as possible with our design."
Some larger CTLs are also available with steel tracks, which helps tailor the machine for grading applications. Case Construction Equipment plans to introduce two different steel track options the second quarter of next year. "We'll have a 14-in. (35.6 cm) version with single grousers, more like a dozer-style grouser type, and then we will have 18-in. (45.7 cm) tracks that will have triple grousers, more like what you see on an excavator. There is not as much cutting into the ground," MacIntyre points out.
Large CTLs provide an entry point for emerging contractors. "Customers looking to get into the business can complete many tasks like general site preparation and grading, which used to require a small dozer," says Gribble. "With the added versatility that attachments bring to the equation, as well, customers are not limited to the type of work they can do throughout the entire year."
And contractors are now able to perform precision grading tasks. "[John Deere's] largest CTL, the 333G, can now be configured from the factory as a SmartGrade machine," says Gribble. "The SmartGrade 333G CTL is the industry's first fully integrated 3D grade control solution on a compact track loader. This solution installs and integrates precision 3D grade control technology at the factory while maintaining the existing versatility and productivity capabilities of our existing 333G CTL. The factory integrated solution also leverages key features like our newly designed dozer blade attachment, EZ Grade software, Dozer Mode and factory calibration — all of which assist in the overall ease of operation of the machine and help ensure that you are productively and accurately hitting grade every pass, specifically getting accuracy to within one-tenth of an inch."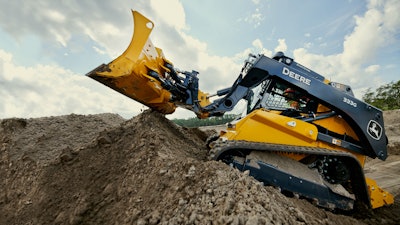 You do need to understand the basic differences between a dozer and CTL when making a decision between them. "A dozer has some characteristics which set it apart from other pieces of equipment for certain tasks," says Coleman. "Because of its size, width and weight, a small dozer shines in applications where more aggressive below-grade excavation is needed or a wider grading path resulting in fewer passes is desired. A small dozer usually also features tracks that are wider and longer, resulting in additional stability on slopes."
The benefits of the dozer need to be weighed against the versatility of the CTL. "Using an attachment in combination with a CTL is the definition of versatility," says Coleman. "Not only can you finish grade with the machine, but you can do an innumerable number of other tasks by simply changing the attachment connected to the machine. Other more dedicated grading pieces of equipment, like dedicated dozers, do not provide that versatility for maximum asset utilization." Cat CTLs offer two grading solutions — the Smart Dozer with Assist and Smart Grader Blade with Assist — both of which can be used across multiple models/sizes of CTLs in the line.
"Speed is also an advantage," says Coleman. "The smaller, nimbler compact track loader has more travel speed that can be utilized vs. a small dozer and can be easier to transport. Lastly, but most important, is ease of use. The Cat D3 Series compact track loaders have Smart Technology as standard, which will easily integrate with the new grading Smart Attachments, the Smart Dozer with Assist and Smart Grader Blade with Assist."
Redefining Compact
"In some ways, the largest compact track loaders are no longer even qualifying as a compact machine," MacIntyre acknowledges. They require CDLs, larger trailers and semis to move the machines, similar to larger equipment.
However, he notes, "Those customers that are buying these compact track loaders are not the ones who are so concerned about the lower end of the weight ratings because [they] are going to buy different models that meet those weight standards. The largest compact track loaders are also not really well suited to operating inside buildings like the compact machines are."
Attachments are also getting heavier and bulkier. "The attachment types have not changed a lot, but one of the main changes is they are becoming much bigger," says MacIntyre. "One of the reasons customers go to [these machines] is because of the pushing power for larger CTLs. They would work better with six-way dozer blades. They also work well with grading blades and any attachment that requires more flow.
"The industry is moving toward more specialized machines, even within the compact track loader market, to make sure that they are well-suited for the particular application," he continues. "The Case DL550 is a really good example of a specialized unit. It is positioned to do grading type applications and also land clearing. You can do some stumping with that blade. There are some other things you can do with that machine that would not be as well-suited for other CTLs."
Consider Towing Regulations
Weight becomes a concern as CTLs continue to grow in size. "When the machines get to the point of being too heavy or too large to easily load onto a trailer or without getting permits or requiring a CDL, then these machines start to lose some of their true 'compactness,'" says Gribble.
Towing is always a consideration with compact equipment. "Each state has its own set of regulations in addition to federal requirements for a CDL, so it is important to research and understand the laws in your respective state," Coleman advises. "A Class A CDL is required for any combination of vehicles with a gross combined weight rating (GCWR) of 26,001 lbs. (11,793.9 kg) or more, providing the gross vehicle weight rating (GVWR) of the vehicle being towed is more than 10,000 lbs. (4,535.9 kg)"
Maximum weights for transport can vary from region to region. "The weight amounts that we often hear from customers is they want to stay within 10,000 or 12,000 lbs. (5443.1 kg)," notes MacIntyre. "Usually, they want to have a CTL, a bucket and a set of forks be able to go on their trailer and be below that 10,000-lb. threshold.
"These larger CTLs are all above that 10,000-lb. rating," he says. "When customers are looking at the weight of the machine, they should take into consideration the weight of their attachments, as well, that they want to put on that same load."
If meeting weight requirements is important for your operation, a mid-size CTL that can be loaded on a trailer with a bucket and forks while still weighing under 10,000 lbs. may be a better fit.
Towing considerations transcend the legal requirements. "Owner-operators would be wise to consider weight restrictions and towing capacity of their current truck and trailer system before upgrading to a larger machine or attachment," De Hoyos advises.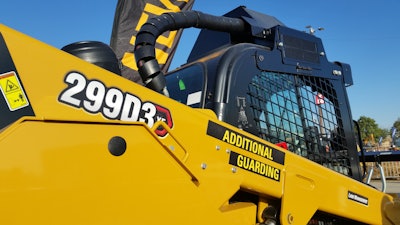 Growing Into the Future
"It wasn't that long ago that there were very few who envisioned a compact track loader with the size and horsepower that are available today," says Coleman. "I'm not sure if we will ever approach the 200-hp (149.1-kW) level, but customers are always looking for larger models with higher rated operating capacities, higher horsepower and auxiliary flows for increased work tool performance.
"If customers continue to demand higher horsepower solutions in a 'compact' machine (compact usually defined by the physical dimensions and operating weight), I'm sure manufacturers will continue to evolve and find ways to fulfil the need," he adds.
The skid-steer and CTL markets are diverging. "Skid-steer loaders have possibly started to plateau in size, but the compact track loader market — given the CTL's ability to distribute ground pressure — seems to have more momentum in continued depth and breadth of products to meet ongoing consumer demand," says De Hoyos.
"We anticipate the evolution of the CTL will continue to meet the growing demands of the jobsite, along with the growing demands of owners and operators," he continues. "With new technologies and materials, we are able to build more durable and powerful compact loaders that can serve multiple functions on the jobsite. If your business specializes in one task on a jobsite, buying a machine for a specific task can be efficient, but having a multi-function large-frame CTL on your jobsite along with an arsenal of attachments, a customer will find new efficiencies in ownership and in fleet management."
CASE Construction Equipment recently released a CTL with a 16,000-lb. operating weight. "We do believe that there is room for the compact track loaders to actually grow," says MacIntyre. But there are some design considerations. One is the width of the machine. It cannot be wider than attachments available in customers' fleets.
"If you have several 84-in. (213.4 cm) buckets and other attachments and the machine width is 90 in. (228.6 cm), all of a sudden all of those attachments that you had might not be able to be used, depending upon the attachment," MacIntyre points out.
Machine width is also a constraint for transport. "You certainly don't want to have a compact track loader that requires a wide width permit," says MacIntyre.
In addition, customers need to be aware of the increased flow and pressure ratings produced by the largest CTLs. "A lot of customers already have attachments. When they buy a new compact track loader, especially on the upper end, they have to be careful not to run an attachment on the machine that exceeds the capacity of that attachment," MacIntyre states. "As the manufacturers continue to increase the pressures and increase the gallons of flow per minute, they need to be careful not to exceed what the attachment suppliers have out there."
Manufacturers are starting to address this with adjustable flows and pressures similar to that available on larger machine types. "We now offer adjustable flow with our EH machines that have our LCD display," says MacIntyre. "As you run the machine, you can actually adjust the flow within the cab."
Companies in this article