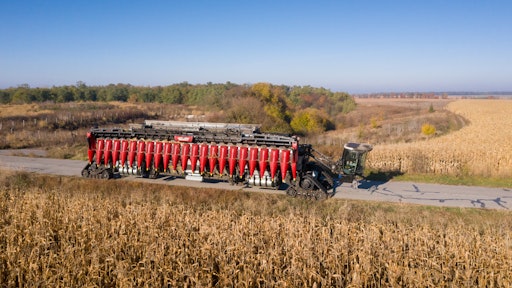 DLG (German Agricultural Society)
Winners for the 2022 Agritechnica Innovation Awards have been announced. Although DLG (German Agricultural Society) which organizes the event recently announced the 2022 show will no longer take place, still honoring winners of the award provides an opportunity to acknowledge the innovation which takes place in the agricultural equipment industry.
There were 164 submissions for the 2022 award in which one winner was named for the gold award and 16 for the silver. The Agritechnica Innovation Gold Award is given to those technologies demonstrating "a new concept in which the functionality has changed decisively and gives rise to a new process or marks a substantial improvement to an existing process" states DLG in its press release announcing this year's winners.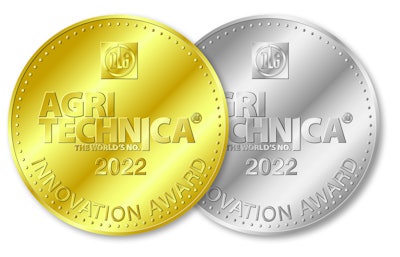 Key criteria for the gold award includes:
Practical significance at farm level
Operating profitability and efficiency benefits
Improvement on the environment and energy consumption.
Work load reduction and improved health and safety
The Agritechnica Innovation Silver Award is given to technology innovations "for an for an existing product such that a significant improvement in functionality and process is achieved" but does not fully meet the criteria for the gold medal.
Key criteria for this award includes:
Relevance at farm level
Work load reduction and enhanced work quality
Improved reliability
NEXAT carrier vehicle wins gold award
NEXAT GmbH has received the gold award for its carrier vehicle which can be used for a variety of crop production work. It is an electrically driven wide-span interchangeable vehicle offering an all-in-one solution for soil cultivation, sowing, harvesting and other tasks.
All necessary components for different tasks are included on the machine and can be easily swapped due to a quick-change system on the vehicle. It has a constant working width of 6-24 m and is prepared for fully autonomous operation. With the 14 meter version, the system is designed such that 95% of the total field area is never driven on in the envisaged bed mode, resulting in high yield potentials with good soil and environmental protection explains DLG in its press release announcing the Innovation Award winners.
"Minimizing the number of machines required through the modular concept enables a reduction in acquisition costs as well as energy savings potential of 20-40% compared to conventional machines," explains Managing Director Felix Kalverkamp of NEXAT in the company's press release announcing its received the award. "On the yield side, increases of 10-20% are possible, which can mean an increase in profitability of 20-50%. In addition, there are significant savings in terms of time and manpower."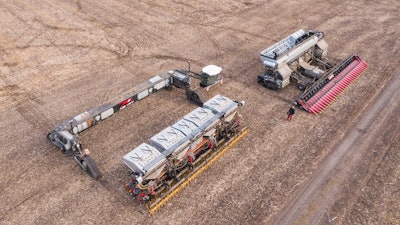 More on the NEXAT carrier vehicle from DLG's press release:
The NEXAT is designed as an autonomous working machine and is equipped with a peripheral monitoring system. A cab that can be rotated by 270 degrees is available for process monitoring. This establishes the basis for fully automated machine operation and enables manual vehicle guidance during transport. The integrated implements are mounted between the four large, electrically driven track running gear units, which can be rotated by 90 degrees for road travel. At present, power is supplied by two independent diesel engines, each offering an output of 400 kW (545 hp) with generators. The vehicle is designed for alternative drive technologies such as fuel cells.
With the integrated NexCo combine harvester module, the NEXAT achieves grain throughputs of 130-200 t/h for the first time. A 5.8-m-long axial rotor mounted transverse to the direction of travel is used in the innovative threshing concept. The flow of harvested material is introduced centrally into the rotor and at a tangent to achieve energy efficiency. The rotor divides it into two material flows. This enables roughly twice the threshing performance of conventional machines and establishes the prerequisite for uniform straw and chaff distribution with two choppers, even with a cutting width of 14 m.
Sixteen innovations awarded silver
A total of 16 technologies received Agritechnica Innovation Silver awards. These included newly developed components and systems as well as full machine designs. Those technologies most applicable to the OEM Off-Highway audience are listed below, and the complete list of winners can be found in DLG's press release announcing the winners of the 2022 award.
New Holland Agriculture receives two awards
New Holland Agriculture is the recipient of two silver medals for its Baler Automation System and Combine Residue Automation System.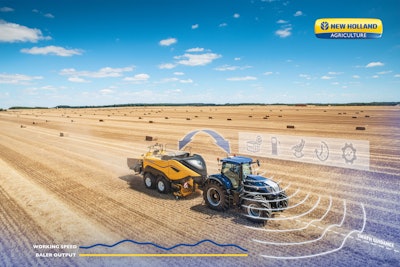 The Baler Automation System is designed to provide a step toward fully automated farming the company says in its press release announcing it received the award. Automatic guidance and speed adaptation help to increase productivity and efficiency in the field through the use of lidar and an inertial measurement unit. Advanced algorithms allow operators to set their desired bale weight to ensure consistent baling.
As New Holland describes, the sensors detect the position and cross section of the swath, and the system automatically adapts the forward speed accordingly. The tractor's GPS system further improves the guidance accuracy.
With this system, the operator can achieve hands-free baling to improve comfort and safety. Overloads of the baler are prevented as well helping to ensure there is no need to manually unblock it.
New Holland's Combine Residue Automation System uses 2D radar and a patented closed loop algorithm to provide an accurate, easy-to-read spreading pattern image of residue particles behind the combine. Per New Holland, this assures even residue distribution to increase uniformity and yield for the following crop which leads to improved profitability for farmers. In addition, it helps to improve soil conditions, reduce ground compaction, as well as reduce fuel consumption and carbon dioxide (CO2) emissions as rework is minimal or completely eliminated.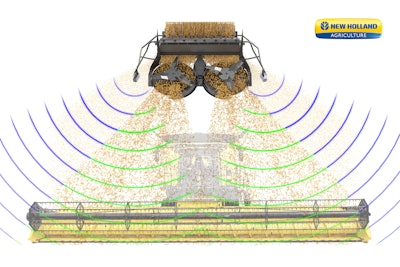 Continental Agro ContiSeal
To help prevent flat tires from causing unplanned downtime, Continental AG has developed the Agro ContiSeal system. It consists of a viscous polymer on the inner side of a tire which seals a leak if a puncture occurs. This allows the vehicle to continue operating and the tire to be repaired or replaced when convenient.
In addition to productivity improvements, safety is enhanced as well by preventing the tire from possibly blowing and farmers to return to a safer environment before fixing the tire.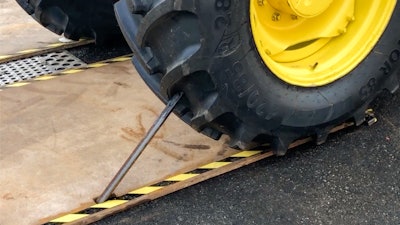 CLAAS receives two awards
Agricultural OEM CLAAS has also received two silver medals, one of which is for its development of a tool to notify operators about the potential risk of soil compaction during their current operating conditions. Information is sent to a terminal within the cab for easy visibility.
Soil compaction risk is determined by the CEMOS driver assistance system which looks at soil type and condition, axle loads as well as tire pressures in conjunction with the new Terranimo tool. Terranimo simulates soil loading and load bearing capacity, and considers dynamic axle load shifts to determine how high a risk of soil compaction there is.
On in-cab display indicators such as red color help to alert the level of compaction risk so operators can change how they are using the machine and minimize the risk.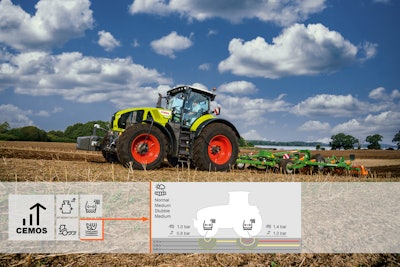 The other innovation is the CEMOS AUTO HEADER, an adjustment control technology for auger cutter bars. Per DLG's press release, a laser scanner continuously registers the height of the crop. Once the operator has specified the nominal immersion depth of the reel into the crop and the nominal horizontal position, they are adapted automatically as the crop height changes.
Automatic adjustment eases operation for farmers and helps ensure more productivity as well as better crop yield.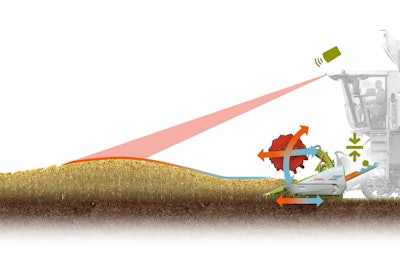 AGCO Fendt automatic dust extraction system
The AGCO Fendt automatic dust extraction system keeps engine air filters clean to ensure optimal machine performance. It does so by monitoring the filter's soiling level during operation and automatically cleaning it without the need to remove the filter. Two short, powerful pressure pulses are enacted on the inner side of the air filter to push any material out of the filter.
A vacuum then sucks out the dust; it is produced upstream of the hydrostatically driven cooling air fan whose speed is temporarily increased explains DLG in its press release.
Automatic cleaning of the filter is initiated once the vacuum in the intake system falls below a limit value specified by the increased amount soiling.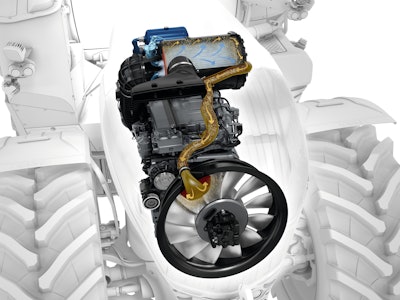 Agro Intelligence broccoli harvesting robot
Agro Intelligence ApS, Denmark has developed the RoboVeg Robotti as a means of reducing the labor necessary for broccoli harvesting. This autonomous robot is a combination of technology from Agro Intelligence and RoboVeg Ltd.
Powered by two engines providing a total power output of 104 kW—40 kW of which can be used for the power take off shaft—the robot features a lifting capacity of 750 kg using two arms which can be swiveled around six axes. High-resolution 2D cameras and 3D sensors aid autonomous operation of the machine.
The robot is expected to provide a high level of productivity for farmers. While manual harvesting typically produces about 300-360 units of broccoli per hour the robot has demonstrated a harvesting performance of 2,400 units per hour.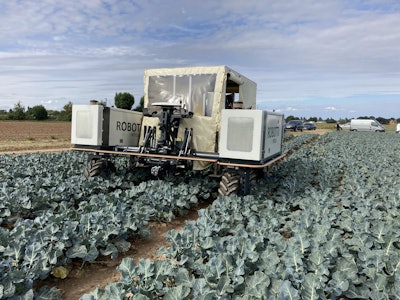 Rostselmash RSM Ok ID
As a means of keeping machine operators safe during more monotonous field work, Rostselmash has developed a drowsiness warning system, also referred to as an attention assist system, known as RSM Ok ID.
It constantly monitors an operator's state—including the operator's pupils, blinking, head position and pulse—and immediately sends a notification if it detects drowsiness or other changes in behavior that could inhibit proper machine operation. A loud noise is used to alert drivers and the machine is automatically stopped to ensure safety. A message is also sent to a farm management system.
A camera is used to monitor and recognize the typical indications of drowsiness such as frequent blinking, eyes looking downward or closure for more than 3 seconds, a drop in heart rate as well as yawning and rubbing of eyes. Connection with the machine's ISOBUS makes for easy transmission of information and stopping of the machine.
Reminder: Read DLG's full press release to learn more about all of the winners.
Companies in this article