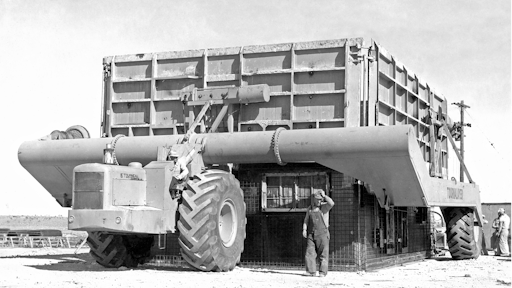 R. G. LeTourneau Inc. image courtesy of Eric C. Orlemann
The intent of these columns is to look at how different types of construction machinery were developed to meet specific needs. As you may have gathered if you've been following these columns, no one in the industry had greater genius for devising machines to meet needs than Robert G. LeTourneau.
In the last installment, we looked at one of his most important breakthroughs, the Tournapull single-axle wheel tractor and its use with a pulled scraper. Of course, Mr. R. G. being Mr. R. G., he didn't stop at using his creation with only a scraper. Not by a far cry. By the end of 1941, a year after he had introduced the most successful of the Tournapulls, the C Series, he had designed or was conceiving an amazing variety of other rubber-tired attachments, primarily for the C series.
One class of attachments was cranes. The Tournacrane was a single-axled crane that was originally developed for use with crawler tractors, but he quickly began using them with Tournapulls. A large variety of these machines evolved, culminating in long-reach gantry models for the largest Tournapulls that were designed to clear disabled aircraft from runways but could handle any lift for which the operator had enough room to maneuver.
There was also a variety of wagons. Bottom dump, end dump, side dump and positive ejection wagons were offered for earthmoving and bulk materials. There were also flatbed wagons for general purpose work (and in later versions, with an overhead trolley hoist), and wagons designed for hauling cut sugar cane.
Forklift attachments included the Tournalift, which could be outfitted with forks or an arched boom and grapple; the Tournamule, which rode on steel casters instead of tires for close-quarters work; and the Tournaloader, which mounted a 10-yd. bucket to a forklift mast.
There were also the so-called Tournajerk, which yanked up unused streetcar rails for scrap; the Tournasaw, which wielded a horizontal blade as large as 124 in. (3,150 mm) to fell trees and a tool that could either push the tree over or ream out the stump; and the Tournalogger log skidder.
Some of the attachments bordered on the fantastic. The super-wide Tournalayer contained all the outer forms for a house's exterior walls, and concrete was poured in with the cannon-like Tournamixer, which mixed the concrete and forced it up and over the top of the forms. The Tournamover was designed to pick and transport entire buildings.
Even wilder ideas that he ordered built but never put into production included equipping a Tournapull with a drum roller on the front and a dozer on the back; the Land Battleship, with a 155 mm (6.1 in.) howitzer on a platform between two A-6 Tournapulls; a crane or backhoe on the back of the Tournapull itself with a front dolly axle; the Tournabiter bottom dump wagon that loaded itself like a giant clamshell bucket; an oversized wheel trencher; and a grader moldboard, rippers and plows.
The HCEA is a 501(c)3 non-profit organization dedicated to preserving the history of the construction, dredging and surface mining equipment industries. With over 3,800 members in 25 countries, our activities include publication of a quarterly educational magazine, Equipment Echoes, from which this article is adapted; operation of National Construction Equipment Museum and archives in Bowling Green, OH; and hosting an annual working exhibition of restored construction equipment. The next International Convention and Old Equipment Exhibition will be September 23-25, 2022, at the National Construction Equipment Museum in Bowling Green, OH. The HCEA is raising funds for construction of a new purpose-built building to house its equipment collection, and the convention will feature groundbreaking for it.
Individual annual memberships in the HCEA are $35.00 within the USA and Canada, and $55.00 US elsewhere. HCEA seeks to develop relationships in the equipment manufacturing industry, and offers a college scholarship for engineering and construction management students. Information is available at www.hcea.net, by calling 419-352-5616 or e-mailing info@hcea.net.