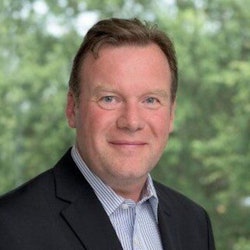 Our team was happy to talk with Darren Tasker, vice president of industrial sales, Volvo Penta, about our industry in 2022 and what to expect heading into 2023.
What was your biggest challenge in 2022?
Mitigating the impact of the global supply chain shortage has been a challenge for us this year, as it has with many other players in the industry. Behind the scenes, our team has done a great job maintaining our production lines with increasing demands. It can tax our costs and resources, but we see it as necessary to ensure we're always going above and beyond to meet expectations.
Maintaining a close relationship with our partners is key to resolving this challenge. Understanding their needs and having open communication allows us to collaborate quickly when issues arise. This experience will strengthen our expertise and help us build momentum together with our partners.
In what technological areas do you see the potential for the most innovation?
Significant innovations are taking place right now around alternative fuels for diesel engines. For example, solutions like hydrotreated vegetable oil now offer a high-quality fueling option that can help lower carbon dioxide emissions in applications by up to 90%. We expect to continually invest in these kinds of advancements as they can serve as a valuable bridge in the industry's push for greater sustainability.
In the long run, technologies will continue to evolve toward electric and hybrid solutions. Today, we have two fully electric driveline customers with others in transition that complement our traditional engine business. We're also working with hydrogen fuel cell power, and this could be a game changer, playing a major role – alongside alternative fuels and electrification – in creating the carbon-neutral solutions of tomorrow.
We're excited to be working with partners on upcoming joint projects ranging from pilots to small-scale industrialization of new hydrogen dual-fuel technologies. This October, we just announced our collaboration with CMB.TECH to accelerate the development of dual-fuel hydrogen-powered solutions. We see these industry collaborations as critical first steps in establishing dual-fuel hydrogen solutions as a low-carbon interim option before suitable zero-emissions alternatives become more viable.
What innovations or improvements do you anticipate in the off-highway industry in 2023?
Innovation in renewable fuels and electromobility will continue to advance in 2023. We will also see an increase in connectivity and telematics that allow companies to enhance efficiency within their operations. For example, by shifting maintenance processes from a traditional framework, companies will be able to use data insights to make more accurate, informed decisions.
We are also seeing a lot of improvements being created within the supply chain, which will carry over into next year. Providers have grown smarter and more flexible in their strategies to serve customers, enabling them to build wider networks with local and third-party suppliers to help meet increased demands. It has been a good reminder that there are opportunities, despite the challenges facing the industry, and innovation is the solution.
Which industries face the most hurdles in the move toward electrification? Automation?
Remote applications in industries like agriculture, mining and forestry face the biggest hurdles when it comes to electrification. These applications typically have less access to charging infrastructure than those closer to on-road segments, such as terminal tractors, making them slower adapters to electrification. Hybrid models may become the best option for these remote applications in the future.
Regarding automation, the agriculture sector has faced fewer barriers and has advanced more quickly than many other industries. Autonomous harvesters are an example of this. These machines have been around for around 15 years, proving that automation has long been adopted in the agriculture industry. Ultimately, we expect many off-road segments will benefit from automation as they continue to refine solutions that are often originated in the on-road space.
Do you perceive that most OEMs recognize and respect their roles as stewards of the climate?
Most OEMs recognize the need to reduce harmful emissions and are willing to do their part to become more sustainable. From our experience, we've been transparent about Volvo Penta's sustainability ambitions and find our OEM customers receptive and appreciative of these objectives.
We also understand that we have a role to play in empowering OEMs to be climate stewards. It's a commitment that must be evaluated strategically across the value chain from economic, social, and environmental points of view. By collectively embracing this mindset, we can drive advancement in state-of-the-art technology solutions while moving toward a sustainable future.
Volvo Penta's transition toward new sustainable technologies is strengthened by our own shared experience as part of the Volvo Group, which is working intensively to explore solutions to reduce – and ultimately eliminate – greenhouse gas emissions. We strive to team up with suppliers, partners and customers to accelerate the journey into fossil-free fuels for both on-land- and off-land applications.
What will be the biggest challenge in 2023 for the industry?
For many, the biggest challenge in 2023 will be determining how to balance business and environmental objectives. We expect infrastructure legislation to continue incentivizing the adoption of new technology across the wider economy, however it wouldn't be a surprise if the market tempers as the year progresses.
In a downward-trending economy, companies are more pressured to find cost-effective ways to meet demands. Most organizations have a roadmap to help reach their carbon reduction objectives, but the strategies and solutions they implement must also be economically viable. We believe that challenges are the breeding ground for innovation which should drive exciting developments in the industry in the next year and beyond.
Check out the full report.