bauma
About 3,200 exhibitors from 60 countries and more than 495,000 visitors from over 200 countries traveled to Munich for one of the largest trade fairs for construction machinery, building material machines, mining machines, construction vehicles and construction equipment. The OEM Off-Highway team joined them to connect with attendees, clients and new friends during the event. Some trends we noted were:
Every engine manufacturer presented power solutions that were an alternative to traditional diesel internal combustion engines.
Connectivity and digitalization are becoming required in off-highway equipment
Technology in the cab is continuing to be innovated.
Continue reading to learn more about what we saw and who we talked with.
Caterpillar Featured Sustainable Solutions
A full array of products was shared at the Caterpillar booth. The company focused on these three main factors:
Powering today
Extending lifecycles
Driving tomorrow
New at this show was three electric battery prototypes.
Volvo Penta Launches Two New Power Products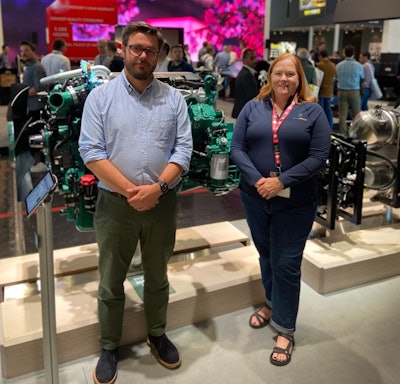 During a press conference on Day 2, Volvo Penta featured two major new additions to its portfolio: the new cube battery and the dual-fuel hydrogen engine. Both were met with excitement because they offer flexibility to OEMs.
The cube battery measures 768 mm x 684 mm x 668 mm and has a lighter design. It delivers 90 kWh of energy, while the updated flat-pack battery delivers 94 kWh of energy.
Volvo Penta partnered with CMB.TECH to develop the dual-fuel hydrogen engine. CMB.TECH provides and trials the hydrogen add-on kit and tank system that works together with the Volvo Penta D8 engine and software. Currently, the engines are operating in test cells to optimize the hydrogen-diesel injection strategy for maximum reliability and emissions savings. Learn more from this article.
Briggs & Stratton launches Swappable Battery at bauma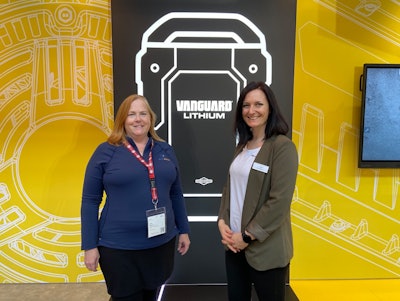 Power specialist Briggs & Stratton officially unveiled its new Vanguard 1.5 kWh Swappable Battery at Bauma 2022, the latest addition to its battery range. The launch comes as part of Briggs & Stratton's continued commitment to the EMEA region as it expands its offering for OEMs. The new battery will focus on convenience for the end user, enabling them to easily swap the battery between applications on the jobsite, ideal for those in the rental industry. The ability to swap between multiple machines helps to reduce equipment downtime and streamlines the service offering by removing the need for different battery types. With a built-in latching system, the swap is seamless as the battery securely clicks in and out of place. Learn more from the Briggs & Stratton release.
Perkins Celebrated 90th Anniversary and Launched Modular Batteries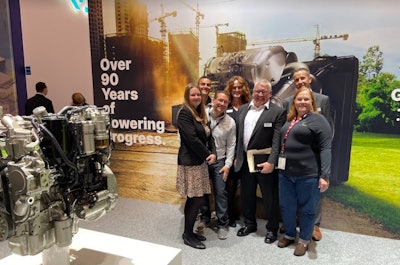 When our team talked with the Perkins team, they shared exciting news: they were celebrating their 90th anniversary during bauma. This included having signage built into their booth displays to mark the event.
The team also discussed their full line of Stage 4 Final engines, which are dual certified. In addition, they launched their modular batteries during the event, which they were exhibiting.
Autonomy Product Lines and Digital Displacement Pump Were Featured by Danfoss Power Solutions
At the expansive booth, Danfoss Power Solutions presented once per hour, discussing the featured technologies. We were pleased to sit with the team and discuss some of the technology that the team was excited about.
Among the technology discussed were:
A digital displacement pump that produces zero emissions
Autonomy product lines
Connectivity and telematics
e-steering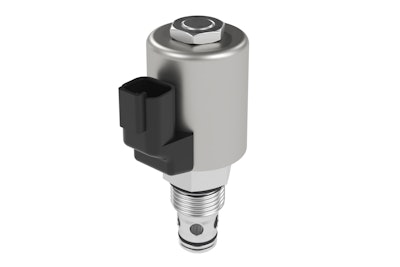 They also launched the SLP13 two-way, two-position poppet-type solenoid valve. It is a low-power, low-pressure-drop solution for compact equipment. The SLP13 cartridge valve features patent-pending technology that significantly reduces power consumption while increasing flow rating, which can help original equipment manufacturers meet efficiency targets and reduce manifold size and cost.
Yanmar Introduced Carbon-Neutral Electrification Strategy at bauma
During a press conference, the Yanmar team announced its new strategy for carbon-neutrality. Yanmar will establish itself as the all-in-one systems integrator for smart electrified power solutions tailored to the application-specific needs of individual OEMs. In its capacity as a systems integrator, Yanmar will implement system engineering, design and manufacturing of e-powertrains, while also providing control development, system evaluation, procurement, manufacturing and quality assurance.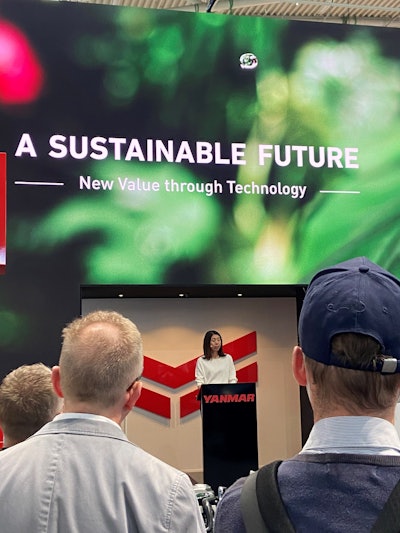 To ensure a sustainable future, Yanmar announced the launch of its E-powertrain solutions during the press conference. The team thinks electrification is the future.
"As Yanmar looks to meet the challenges of the coming century, our transformation will encompass new products with alternative fuel technologies. Our aim, together with our dealers and OEM partners, in this strategy is to build stronger relationships and create even greater customer value with new-energy technology. We will work hard to support our OEM partners and customers to achieve their environmental and performance goals," said Tomohisa Tao, President Yanmar Power Technology Co. Ltd.
Learn more from the Yanmar press release.