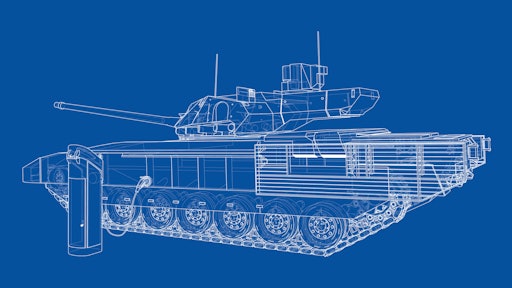 ©cherezoff – stock.adobe.com
I recently had the opportunity to attend the Defense Strategies Institute (DSI) Military Vehicles Summit. While not able to report on any specifics from the event, it was a great opportunity to learn about the current technologies and trends in the industry.
Like many of the other heavy-duty equipment industries we cover, the U.S. military is looking to add more efficient vehicles to its fleet. It is evaluating the use of electric powered vehicles as well as autonomous operation to achieve this. Currently there is a huge push to modernize the military noted one speaker during the event.
As the military looks to transform its vehicle fleet, it is also advancing the way it goes about working with industry and designing vehicles. Digital engineering is gaining ground as a means of improving design time and efficiency. Automating processes is a large part of this to help speed up design efforts while eliminating any inconsistencies.
Modular, open system architectures are an area of focus as well to help ease development and vehicle procurement. Typically the military is dependent upon a single supplier for changes or updates but with a modular and open architecture all they need to know is how a component will interface with its vehicle and systems and then it can quickly and easily upgrade to new technologies as they become available.
READ MORE: Will Open Architecture Challenge Military OEMs?
The potential for electrification and automation
Several presentations during the summit focused on current and potential future development efforts for electric powered vehicles as well as use of automated systems.
Electrification could offer many benefits for military vehicles. In addition to providing a lower emissions option, electric vehicles provide lower maintenance and often faster speeds which can be critical to the safety of military personnel. In addition, electrically powering the machine can provide quieter operation—again vital for safety—as well as provide power for systems that either need to be carried by the vehicle or used on site.
However, as with many other industries, infrastructure for recharging and where the electricity will come from remains a challenge that has to be determined. This is an especially important aspect for the military because of the security involved and the sometimes remote locations in which personnel are operating. Creating a secure energy supply chain is vital, and almost more important than development of an electric powered vehicle noted one speaker at the conference.
Battery swapping, commonly used in mining applications, is a potential solution but could pose challenges with high levels of power utilized as ensuring proper connections are made is critical to performance and safety.
Hybridization is seen as a possible means of a more immediate term solution. Doing so will allow the military to take advantage of some aspects of electrification without worrying as much about recharging.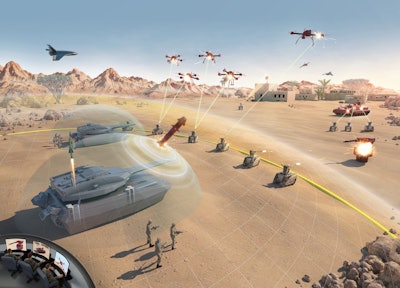 To aid development of electric and hybrid vehicles, speakers at the event said they are looking at what is being done in passenger car and commercial vehicle applications. It is seeing what technology is available that could be utilized as well as where there are gaps and what further developments are needed to meet the specific requirements of the military.
Use of automation and robotics could also provide many benefits to the military. Full vehicle and system automation are currently under evaluation. As with electrification, there is a major safety and security element that has to be kept in mind in addition to development of the systems themselves.
Cybersecurity of the systems is vital to ensure no one is able to access them and cause harm to military personnel or others. Also important is ensuring target accuracy; the system will need to be able to differentiate between military and civilian targets just like a person would so as not to cause problems or escalate international relationships.
As a part of the military's automation efforts, integration of smart systems like those found in on-highway vehicles such as cameras is also under consideration to help improve safety and comfort for military personnel.
And that is the overall goal for the military's modernization efforts—create safer vehicles to protect personnel and those the military is looking to help.