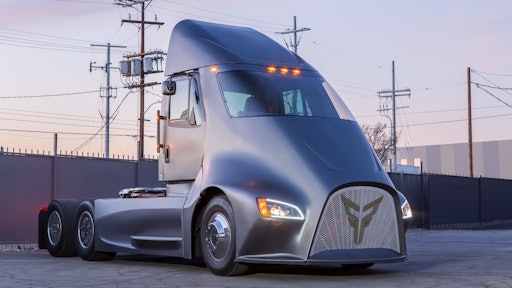 Thor Trucks
In October, AxleTech announced it was developing a heavy-duty e-Powertrain system for Thor Trucks. The fully electric powertrain will consist of Thor's proprietary battery technology and AxleTech's e-axle technology.
According to Jason Gies, Director of Business Development at AxleTech, the powertrain is a brand-new design and very forward thinking compared to what's currently available in the market. "Essentially it is an e-axle system that fits in the same space as a standard axle today, and provides more performance than any diesel powertrain on the road today."
Creating an electric powertrain
The battery technology being used for the system was designed in-house by Thor Trucks. Giordano Sordoni, COO of Thor Trucks, says it is composed of lithium-ion cylindrical cell packs designed from the ground up specifically for tough commercial vehicle applications. "Thor's battery engineers took a design approach that focused on reliability, durability, serviceability, and safety," he explains.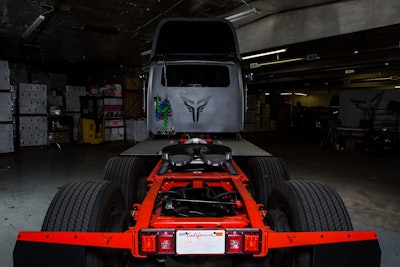 "The proprietary design is different in its layout and cooling process compared to most electric batteries. These key engineering differences offer industry-leading energy-density and efficiency," he says.
AxleTech is developing an on-highway fully integrated e-axle system which it will then pair with the Thor Trucks batteries to create the overall powertrain system. "Together with Thor, we're making the complete system work efficiently," says Gies.
Sordoni says the e-axle offers several benefits such as increased efficiency due to motors being directly integrated into the axle. In addition, it offers weight savings by removing the driveline typically used in traditional vehicles. There is also now more space between the frame rails into which other components or extra batteries can be incorporated.
"The beauty of our electric powertrain is that it actually offers more torque than a traditional diesel engine, making it fully capable at 80,000 lbs. (36,287.4 kg)," he says. "Plus, with a sustainable peak torque, the truck is far [easier] to drive."
In addition, Sordoni says the system operates at high voltage for increased efficiency.
Both AxleTech and Thor say the two companies have been working together very closely on the development of the e-Powertrain. "Thor Tucks will benefit tremendously from working with an established partner like AxleTech that brings industry-leading powertrain expertise to the table as we work to meet the market's increasing demand for electrification," says Sordoni.
"We are also able to offer our powertrain system to other OEMs looking to electrify heavy-duty trucking applications, on- and off-road," he adds. Because of this, a key element of the design has been ensuring the system will not require manufacturers to change their current vehicle architecture—such as frame rails, wheel ends and brakes.
The system is designed to work with a standard suspension. Depending on the application and load requirements, Sordoni says a customer can opt for one e-axle and a standard axle, or have two e-axles.
Gies says they wanted to keep things as standard as possible and make the system a bolt-in solution. "That being said, putting a multispeed transmission, electric machines, cooling and entire system in that same space has [posed its challenges]."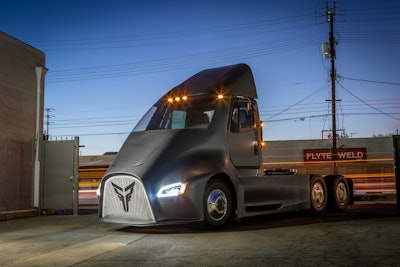 By working closely together on the design, though, the companies have been better able to overcome these challenges. The system is in development and testing phases, and AxleTech is busy preparing to launch the product and meet Thor's customer demands, says Gies.
He notes the world the industry, and AxleTech especially, has been used to has been very mechanical. "And we are going into a world that is very software based," he says. Because of this, the company has a complete software team which works with Thor's team to ensure they are getting "the most optimal performance out of [the Thor Trucks] battery, and out of our system to give customers what they need."
"In the past, if you bought a 15 L diesel it had x amount of horsepower and [that's what you got]. It's fine, and that's what customers are used to," says Gies. "With the system we are developing, it's extremely high power, high torque; we're able to take a system and through software and controls development tailor it to a customer's needs. We're doing that with Thor for some of its upcoming customers."
Sordoni says being able to control, adapt or modify the performance of a vehicle for other applications through software is one of the advantages and opportunities with electric vehicles. "The axle can be calibrated for heavier or lighter duty applications, to handle steeper grades, rougher terrain, etc."
When developing the e-powertrain, Sordoni says an application-specific design and modularity were key considerations. "It's important to match your powertrain with the task at hand. The benefits from our battery system are derived from the fact that we purpose-designed the system for commercial vehicle applications, rather than adapting a passenger car battery system for a commercial vehicle.
"Both AxleTech and Thor are designing solutions that can scale across different commercial vehicle weight classes and applications," he concludes.
Companies in this article