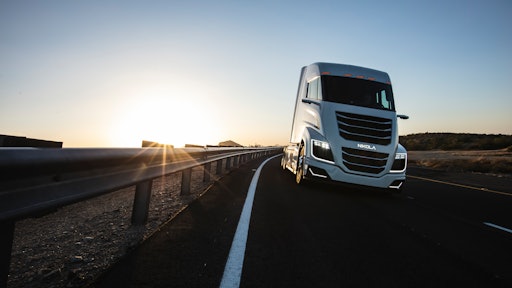 Bosch
The Advanced Clean Transportation (ACT) Expo is held each year in Long Beach, CA, near the end of April. The event is focused on alternative powered vehicles such as propane, natural gas, hydrogen and various forms of electrification.
Of all the available vehicle propulsion technologies at this year's ACT Expo, electrification absolutely stole the show. Most of the keynote speakers were focused on commercial battery electric vehicles (CBEV), along with candid-speaking Trevor Milton, CEO of Nikola Motor Co., who presented the company's hydrogen truck and fueling station technology. Milton is matter-of-fact about the difference between the technologies, one time quoting "100 CBEVs will put a grid down in a city," whereas "no one will notice 100 hydrogen vehicles."
Read more about the latest Nikola hydrogen fuel cell Class 8 truck.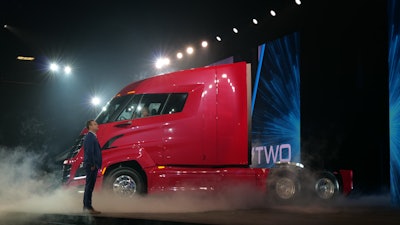 As noted in a workshop run by the North American Council on Freight Efficiency (NACFE), medium-duty trucks are another market in which battery electric vehicles make sense. According to an NACFE study, this is because many medium-duty trucks are not weight sensitive, they run 50-100 miles (80.5-160.9 km) per day, and are used in regional routes that return to home each night, so they do not need a charging network.
Amidst the excitement and prospect of CBEV development, OEM leaders and large fleet managers planted plenty of seeds of caution of the time and due diligence required to bring this concept to reality. For instance, Daimler Trucks North America's President and CEO, Roger Nielsen, said, "We will need to [conduct] millions of miles of testing to ensure a safe product," and, "Economics and weight need significant improvement — looking for half the cost and twice the power density." An executive from Waste Management said "it's a 20-year journey."
Natural Gas Technology
In the natural gas realm, a notable innovation is one by OnBoard Dynamics that brings the compressor to the source of the fuel. This technology uses an 8-cylinder engine to compress gas; some cylinders are fueled by incoming gas while the remaining cylinders compress the gas for storage. Essentially, OnBoard brings affordable gas compression to any location with a gas line – no electricity required – which means it ought to be especially useful in regions of the world where natural gas is plentiful, and the electric grid is not robust.
Read about additional alternative fuel technologies launched during the show:
Power Solutions' 8.8-L Propane Engine Featured by TICO During ACT Expo
Volvo Presents Future of Sustainable Transport Solutions at ACT Expo 2019
Electric Vehicle Technologies
Axles
In vehicle electrification, the technology that caught many's attention were the electrified axles, or in one case, electrified wheel-ends by ConMet, and their partnership with Protean Electric. This is an elegant solution to propel each wheel individually.
The axle products ranged from electric motors bolted onto a medium-duty axle, to a complete powertrain integrated into an axle. Two such systems, one suited for a low floor bus, and the other for a truck, were developed by AxleTech. Coincidentally, AxleTech's electrification business unit was acquired by Allison Transmission, an announcement made one day prior to the expo.
Allison Transmission introduced its AXE Series Fully Integrated Electric Powertrain System. The axle is being provided to Peterbilt for use in its Model 579E electric Class 8 truck.
Batteries
Battery density is an important factor for the development of CBEVs. In a conversation on the topic between two refuse truck OEMs and a large refuse fleet during the show, key factors noted were:
operational cost in the refuse market is $2.80/kWH;
current cell costs are $250/kWH, yet with the packaging and battery management system, it's 50% higher, or $375/kWH;
the total pack is projected to cost $150/kWH by 2025, indicating prices are expected to decrease;
current battery weight is 25 lbs./kWH (11.3 kg/kWH), with a target of 18 lbs./kWH (8.2 kg/kWH);
and a 500 kWH pack weighs 12,500 lbs. (5669.9 kg).
In the light-duty EV market, there is considerable development on the battery box, which is the structure that houses the battery modules. The box also incorporates the cooling system, and the mechanical structure necessary to support the batteries' weight, while providing the durability necessary to withstand structural fatigue, road debris, and corrosive environmental conditions, as well as ensuring a lifespan of 10-15 years.
There are many prospective material and process technologies in development to produce a battery box which is more durable and lighter in weight to meet the needs of the industry.
In heavy-duty trucking, there is still a need for a robust battery structure, yet there is a predicament—the required volume of batteries is much larger than the space available between the frame rails. The current frame configuration was designed for the IC engine, transmission and driveline. At ACT Expo, many vehicles positioned the batteries hanging like saddle bags outside the rails.
Upon speaking with an engineer who had done considerable testing on EV batteries under impact, he was astonished to see so many battery boxes outside the protection of the frame rails. With this insight, an OEM was questioned in one of the expo's sessions: "Are we about to experience a thermal event caused by a passing car running into an EV truck and crushing a battery cell?" The OEM said that it is not safe, yet the batteries are so big, and [because] the truck frame is designed for an IC engine, there just isn't room for the batteries between the rails for most applications."
One OEM summed it up, saying "[Battery] cells are easy, motors are a commodity, and packaging is difficult and expensive."
Safety
When asked about the development of production vehicles, a speaker from Daimler cautioned that the top three priorities are safety, safety, safety. This emphasis on safety includes the driver, charging, as well as the mechanics and the shops in which they work.
As an example of the safety precautions that must be taken, at a Formula E event in Mexico City, a mechanic was seen putting on a thick pair of rubber gloves before he performed a task on a vehicle's powerpack, and standing behind him was a co-worker with a large J-shaped stick to pull the mechanic from the vehicle in case of emergency.
What About Weight?
When talking about CBEVs and weight, understand that this new powertrain is very heavy, even taking into account the 8,000-9,000 lbs. (3,628.7-4,082.3 kg) removed from a traditional diesel powertrain. So, how do we deal with the EV powertrain weight? The first suggestion is to select an application that is not running near the allowable weight load, and with the previously noted NACFE research, one of these are last-mile, medium-duty trucks.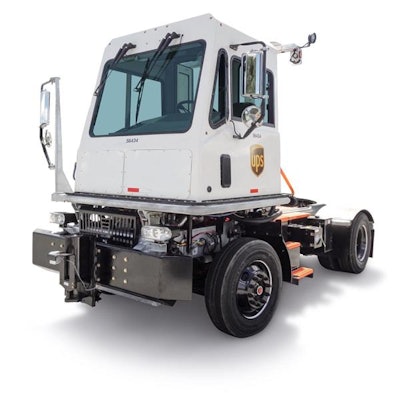 Battery chemistries need to improve to reduce battery weight, or if the battery charging technology improves to be able to charge significantly faster, trucks may require fewer batteries.
The design and integration begins at the OEM, and perhaps the first major task is to redefine the vehicle structure for an CBEV, one that incorporates the batteries safely packaged within the frame rails. For the supply base, the emphasis needs to be on weight efficiency, achieved by design and by material selection. Examples include:
A high-strength steel frame rail which will reduce mass, especially when optimized with cross members made with thin-wall steel, extruded aluminum or magnesium, or a polymer composite.
Gearbox housings utilizing a strong aluminum alloy that can carry more structural load, eliminating the need for support brackets.
Motor housings made with extrusions can provide a leak-free, heat dissipating structure that also incorporates attachment points and structural members.
When regenerative braking is proven to be reliable, new technologies such as bi-metal brake discs and drums, or even smaller size brakes will reduce weight. New developments in cast iron containing niobium may also enable a lower weight, long-lasting brake disc.
Lightweight glazing (glass) offers as much as 40% weight reduction.
Lightweight trailers.
The NACFE lightweighting report covered many technologies common to ICE and CBEV trucks, yet the market take rate was low. Will CBEVs increase the demand for the many lightweighting technologies that are already available?
That is yet to be seen, but with this year's ACT Expo it was evident CBEVs are a growing part of the vehicle industry which still have challenges to consider and will require continuous development over the coming years.
This article was contributed by Andrew Halonen, President of Mayflower Consulting, LLC, a consultancy focusing on market research, sales and business development of lightweight material solutions. Halonen serves on the editorial advisory board of OEM Off-Highway magazine, and is the lightweighting consultant to the North American Council on Freight Efficiency (NACFE).
Read additional news from this year's show you may have missed:
TransPower and Meritor Complete Two Electric Vehicle Demonstration Projects
Agility Unveils High-Performance Battery Packs and Electric Drivetrains for Trucks