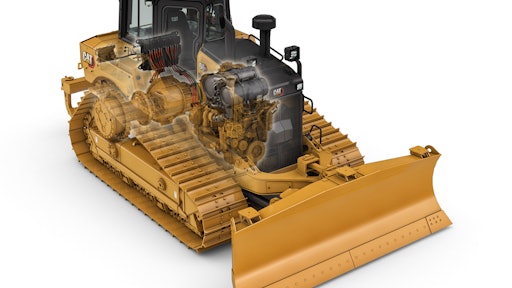 Caterpillar Inc.
Advancements in the components and systems which power electric vehicles have helped bring about more electrification in the heavy-duty market. As the technologies have advanced, so have methods for implementing electrification and the types of applications in which it can be applied.
During last year's EIMA International, Carraro Agritalia debuted its hybrid tractor which has the same dimensions as a traditional tractor but pairs a downsized diesel engine with a 105 hp (78.3 kW) electric motor to power it. Read more about hybrid engine designs in the article "Powertrain Optimization via Mixed Technologies."
With this type of system, the right amount of power is provided for the work required—saving fuel and reducing emissions—and operators can choose the operational mode which best suits their needs. Pure electric mode allows for emissions-free operation, especially beneficial if working around animals or within a building; diesel-only mode provides the right amount of power for roadway travel; and hybrid mode uses the engine and electric motor together to provide the power necessary for tasks such as towing.
While reducing emissions is a benefit systems like Carraro's provide—and an important one as more emissions regulations are introduced around the world—many manufacturers are looking to implement electrification for other reasons, such as the fuel efficiency and performance improvements which can be achieved, as those are typically the factors customers most look at when purchasing machines.
Meeting the three pillars of customer value
For its new D6 dozer, Caterpillar Inc. offers the choice of an Electric Drive or Fully Automatic powertrain. According to Sam Meeker, Product Application Specialist at Caterpillar, the two dozers are nearly the same—aiding component service commonality—with the exception being the electric drive dozer (known as the D6 XE) has a generator on the back of the engine instead of a torque converter. This generator spins with the engine to generate electricity which is sent to an inverter.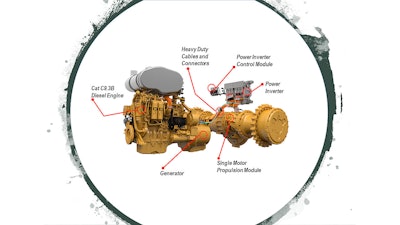 The inverter conditions, manages and controls the electricity, and sends it to a single motor on the transmission which does all of the forward and reverse propulsion. The generator and the motor used in the D6 XE use switched reluctance technology. Meeker says it is an alternating current (AC), three phase, brushless type of technology which helps minimize wear. The switch reluctant motor provides more power in a smaller size, and is more efficient. "It's the latest and greatest in terms of an electric motor design and efficiency," he says, which is why the company upgraded to using that technology from what was previously used in its D7E.
Meeker says Caterpillar has been working on the electric drive dozer technology for several years, and what it's learned is that electric drive in a dozer is the ultimate powertrain. "It gives you the power that you need to do heavy dozing tasks," he explains. "But then when you're doing the lighter dozing work, it's crazy efficient; it [hardly burns] any fuel" because the engine can be controlled to run at a lower rpm. The electric drive itself is more efficient, as well, because there are fewer gears and moving parts, reducing parasitic load, and enabling efficiency gains to be achieved in all operating modes.
Caterpillar says the D6 XE is able to provide up to 35% better fuel efficiency than its previous three-speed D6T. Meeker says this is due to the combination of tightly controlling engine rpm and the electric drive being more efficient.
Ease of use is also a benefit the powertrain provides. Use of the electric drive means there are unlimited speed ranges as the motor can operate at whatever speed it wants. Meeker says for those who need to do finer work or be more nimble, the electric powertrain enables that finer control. "The electric drive combined with hydraulic differential steering gives them really nice speed and turn radius control," he says. "It makes it a lot easier for a customer to jump in this tractor and run this machine, even without a lot of experience running a dozer because it's just so simple to operate.
"Power, efficiency and ease of operation, those are the three key value points that customers look at and are happy to see."
Cleaner, safer working environments
Earlier this year, Normet Oy introduced its SmartDrive fully electric system to help reduce emissions in mining applications. As there is no engine, but instead a battery, electric motors and power electronics, emissions are eliminated. Safety and operational expenses are improved, as well, by eliminating the need to bring fuel underground or install ventilation and cooling in the mine. "If you can design your tunnel inside a mining site without ventilation and cooling, you will save a lot of operating expenses," said Samu Kukkonen, Technology Director, Equipment Business Line at Normet, during the launch of the system at bauma 2019.
SmartDrive features long-life, industrial grade lithium-ion batteries; Kukkonen said Normet chose this battery type as it wanted to make sure the batteries were as safe and durable as possible. No battery swapping is necessary with this system as there is an onboard charger which can be plugged into normal industrial AC circuits to make charging as easy as possible for customers. Fast charging is also possible, requiring only a few minutes of downtime to recharge the batteries, further increasing productivity for customers.
Other benefits offered by the SmartDrive system include faster uphill tramming speeds and reduced brake wear and maintenance as motors are used to brake the vehicle. A regenerative braking system helps recoup energy when driving downhill, extending the range of the vehicle by storing that energy in the batteries for use when needed.
SmartDrive is integrated in a direct drive architecture in which a permanent magnet electric motor is located in the middle of the machine. Mechanical outputs are located on both sides of the motor to connect it via a shaft to the front and rear axles. Kukkonen says this is a high efficiency architecture because the gearbox and dropbox are eliminated.
For its tunneling machines, Normet uses a single 75 kW (100.6 hp) electric motor and 30 kWh battery. According to Kukkonen, the motor provides more speed and acceleration than equivalent diesel equipment. In mining machines, the SmartDrive system has two electric motors providing 200 kW (268.2 hp) of power and a 90 kWh battery. Two motors—one for each axle—are included in these machines because of their more demanding uphill driving needs.
The mining machines also have a redundant design. If one of the electric motors should malfunction, customers can still drive the machine using the other motor until it can be serviced. The same is true for the batteries, said Kukkonen. On the rare occasion there is a malfunction in the battery, the SmartDrive system will automatically isolate that part of the battery so operators can still drive the machine with the other two thirds of the battery. "With these kinds of solutions, we are maximizing the uptime for these machines," he said.
From the beginning, Kukkonen said Normet knew SmartDrive needed to be designed in a way that would allow electrification of any machine, which is why it made the system modular and capable of being installed in any vehicle within its portfolio.

Normet's SmartDrive system helps meet the trends being seen within the mining industry, said Mark Ryan, Vice President of Equipment Offering and R&D at Normet, during the launch of SmartDrive. Mining operations are having to go further underground because much of the landmass and easily accessible materials to mine have been used up. Going further underground makes conditions more dangerous for workers, and emissions a greater concern.
"We need to make sure that we sustain our environment for future generations," said Ryan. "This technology answers that code.
"Our customers demand zero local emissions, [and] that's what we're able to [offer]," he concluded. "We're able to provide increased safety, less noise, less heat…these are all the things that our SmartDrive systems are able to achieve."

Companies in this article