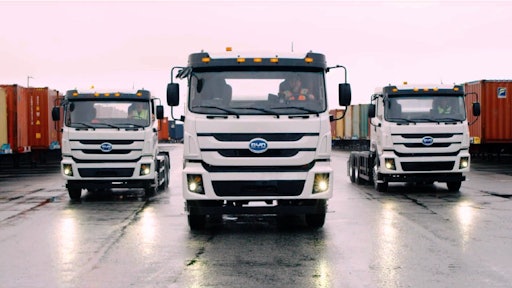 GSC Logistics became was the first company to haul commercial cargo using an electric semi over the Diablo Mountain Range on October 22. It traveled through the Altamont Pass using a BYD 8TT heavy-duty electric truck.
The zero-emission BYD truck transported cargo from the Port of Oakland to Tracy, CA, and picked up a return load to take back to the port. According to BYD, the truck was able to maintain a speed of 55 mph up the 8% grade of the Altamont Pass.
When returning to the port, the truck's battery still had around a 40% state of charge which is enough to power the vehicle for the remainder of the workday.
GSC has three BYD 8TT electric trucks in its fleet. It is the largest motor carrier at the port, hauling 120,000 containers of cargo across Northern California and Nevada annually. "BYD has proven itself to be a great partner," says Brandon Taylor, Director of Transportation at GSC Logistics. "And our drivers really love the electric trucks."
Battery-electric trucks like the 8TT helps lower operating costs as fuel costs—which are constantly fluxuating—are eliminated. Air quality is improved, as well, due to the replacement of the diesel engine with batteries and electronic components.
"This is a major milestone in electric trucking," says John Gerra, BYD Motors Director of Business Development. "We've now proven that BYD electric trucks are ready for the next phase of hauling cargo greater distances with true zero-emissions."
Companies in this article