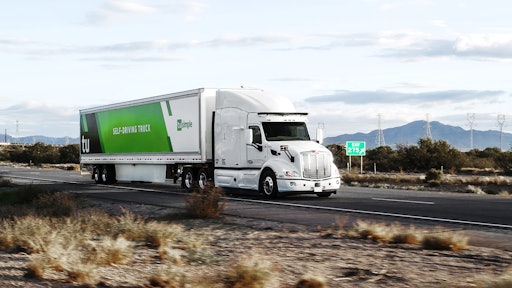 TuSimple
The Heavy Duty Manufacturers Association (HDMA), the commercial vehicle division of the Motor & Equipment Manufacturers Association (MEMA), will present a technology panel discussion moderated by MEMA Chief Technology Officer Brian Daugherty at Heavy Duty Dialogue (HDD), a completely virtual event on Tuesday, September 15, 2020 from 10:00 am – 3:00 pm EDT.
The panel, titled "The Electric Vehicle & Advanced Technology Roadmap," will feature Robert Brown, head of government & public affairs, TuSimple; Kevin Grove, research associate, Center for Truck and Bus Safety, Virginia Tech Transportation Institute; and Richard Beyer, vice president, engineering and R&D, Bendix Commercial Vehicle Systems LLC. The panelists will discuss the diverse viewpoints on the pace and progress of advanced vehicle technologies and their adoption in the industry.
The panelists will share feedback on topics including:
Advanced Driver Assistance Systems (ADAS) and the roadmap to L1, L2, L2+, and L4 automated systems
Commercial Vehicle Electrification
Connectivity
Cybersecurity
eMobility
HDD is a business conference developed specifically for executives in the global and domestic commercial vehicle industry. HDD conference attendees will hear experts discuss strategies, learn about trends and new developments in the market, and enhanced industry knowledge to sustain business in worldwide changing economic conditions.
Other session topics will include:
New Energy Vehicles & The Future of Power
Government Affairs in Relation to CV Technology as the Election Approaches
A Global Economic Outlook
The Electric Vehicle Market
Other speakers currently scheduled will include:
Robert Bryce – Energy Analyst and Author
Jeffrey Rosensweig – Director, John Robson Program in Business, Public Policy, and Government, Goizueta Business School of Emory University
Ann Wilson – Senior Vice President, Government Affairs,

MEMA

Jason Roycht – Vice President, Technology Development and Strategy, Nikola Corporation
Ken Davis – Founder, Greentree Advisors LLC