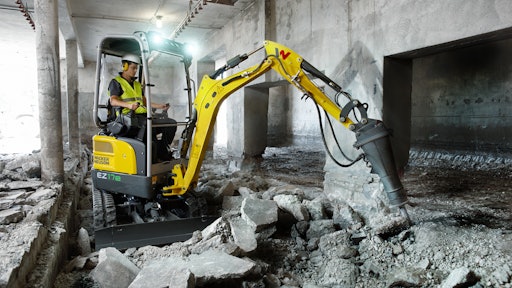 Wacker Neuson presented its first fully electric, battery-powered mini excavator at this year's Intermat from April 24 through 28, 2018. The EZ17e performs and handles like a diesel-powered model. Wacker Neuson's range of zero emissions solutions are extremely ergonomic and environmentally friendly – without compromising on machine performance.
Wacker Neuson is strengthening its position as an innovation leader in the zero emissions segment with machines such as the EZ17e. No other manufacturer offers such a broad portfolio of electrically powered light and compact equipment. The zero emissions lineup from Wacker Neuson currently comprises two battery-powered rammers, a dual power excavator, two electric wheel loaders, an electric track dumper and a battery-powered vibratory plate. The electric, zero-tail EZ17e mini excavator is the latest addition to the range and will be available from 2019. With its zero emissions series, the company aims to offer a genuine alternative to conventional drives in each of its main product groups.
The EZ17e from Wacker Neuson can run entirely on its battery. But it can also be operated while connected to the mains – and even charged while in operation – thanks to its smart charging management system. This makes it the ideal solution for environments where emissions and noise have to be kept to a minimum, for example in urban areas or for indoor work and on sites close to schools and hospitals. Combined with the other products in the Wacker Neuson zero emissions range, this machine can thus contribute to construction sites that want to reduce noise and eliminate emissions.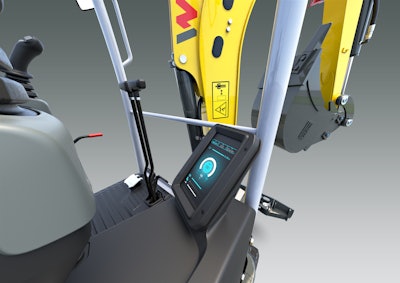 The mini excavator is also a zero-tail model and therefore offers zero overhang. Operators do not have to worry about damaging the machine when working close to walls or in confined spaces because the tail of the electric excavator never extends beyond the undercarriage. This also makes the EZ17e ideal for tunnel construction, demolition and redevelopment work in confined spaces, and for restoration projects inside buildings. These are precisely the type of environment where contractors need powerful, compact machines that can be operated without producing any emissions.
"Wacker Neuson has been manufacturing innovative, practical and cost-efficient light and compact equipment for 170 years. We've channeled our many years of experience and expertise in zero emissions products into our first mini excavator with battery and electric drive technology. Our development work always focuses on usability and customer value. Which is why we make no compromises when it comes to performance, with power ratings matching those of our diesel-powered model," explains Martin Lehner, CEO of Wacker Neuson SE.
All hydraulic functions are as powerful as those of the conventional model. The battery is integrated in the existing engine compartment. The EZ17e weighs almost exactly the same as the diesel version and can therefore be easily transported on a trailer.
The EZ17e is powered by the latest lithium-ion technology, which Wacker Neuson has been using and continuously developing for many years now. Long battery life is one of the key features here, allowing the fully electric excavator to be operated for a full working day. The battery can be charged overnight via a domestic socket (110-230V), or in just four hours using a high-voltage current. Service teams do not need any extra training for servicing the machine, making the electric excavator particularly attractive to rental parks.
"Electric drives are becoming increasingly important. For rental companies in particular, these solutions are an interesting supplement to existing fleets as many of their customers rent products for specific projects such as renovation work inside buildings or tunnel construction," adds Alexander Greschner, CSO of Wacker Neuson SE. "Electric drives are also low maintenance. This is a huge benefit as it reduces maintenance time and costs and maximizes machine availability."