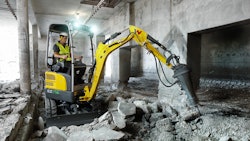 Wacker Neuson SE
The global construction market is growing and is expected to increase rapidly over the next several years. In 2019, the market size was 129.32 billion USD and is projected to reach 160.84 billion USD by 2027.
It's well documented that the construction market is the biggest driving factor of ozone emissions and a contributor to deteriorating air quality. To curb this trend, countries, including Canada, the U.S, China and those in the European Union, are taking steps to reduce the effects of global warming through stricter emission regulations.
While future regulations may force manufacturers to transition all equipment to electric battery powered systems, companies can get ahead of the curve and drive market leadership by electrifying their equipment and vehicles early.
Watch our interview with Delta-Q Technologies to learn more about their thoughts on the growing use of electrification in off-road equipment.