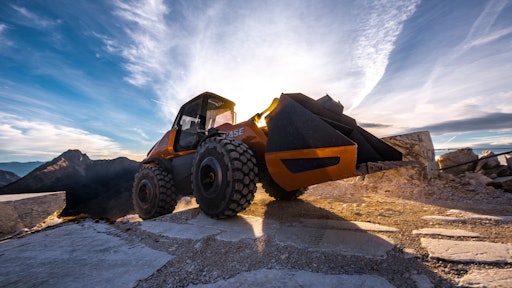 CASE CE
During bauma 2019 in Munich, Germany, CASE Construction Equipment (CASE CE) introduced its latest concept vehicle, ProjectTETRA, as a demonstration of its commitment to and vision of a sustainable future for the construction industry (learn more, 21063368). Designed to match the performance of the 821 diesel-powered wheel loader, the loader is able to operate using either biomethane or natural gas.
The ProjectTETRA methane-powered concept wheel loader will benefit industries and individuals from waste management and construction, both of which leverage their carbon footprint to win bids and retain contracts. The wheel loader would be able to operate in urban environments, as well as indoors without need for additional ventilation because of its substantially lower emissions output.
The power
Benefitting from existing research and development of CASE's sister brand New Holland Agriculture for off-road methane usage, the concept wheel loader is powered by an FPT 6-cylinder, natural gas (NG) engine from the company's NEF family (learn more, 21064883). With 20 years of natural gas technology development history, FPT Industrial has produced upwards of 40,000 NG engines, running on both compressed natural gas (CNG) and liquefied natural gas (LNG).
Able to perform similar to a diesel engine, the 230 hp (172 kW) NG engine features a smoother and quieter drive than its diesel equivalent, plus the added benefit of up to 30% fuel savings.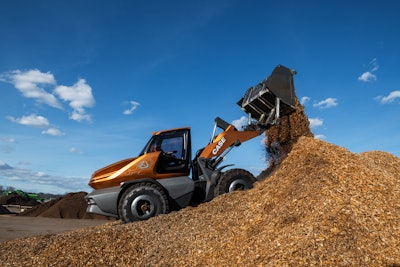 By using CNG, CO2 emissions are reduced by 15% and particulate matter by 99% compared to a similar diesel-powered engine. According to a press release by FPT Industrial, the NEF engine uses stoichiometric technology to ensure a proper chemical balance is struck between the air and methane for every working condition in order to deliver clean combustion for lower emissions output.
By optimizing the combustion process, the engine is able to run more efficiently, thus delivering cost savings of upwards of 30% over diesel equivalents. The efficient combustion process, ensured through a stable spark-ignition process, also lends itself to reduced vibration and noise (up to 5 dB) compared to standard diesel engines, equal to a 50% reduction in drive-by noise.
The emissions reduction achieved by the engine system also ensures a smaller overall engine system package which features a simplified aftertreatment system with a maintenance-free single standard catalytic converter.
The fuel
While the FPT Industrial NEF engine can run on both natural gas and biomethane, the CASE CE ProjectTETRA mission is to create a truly 'virtuous cycle' whereby biomethane is produced using a cyclical system that does not produce CO2 emissions. The ideal scenario where CASE sees the most potential for this self-contained process is agricultural and waste handling applications where the raw material to produce the biomethane is managed. The biomethane producer would thus be fuel sufficient, while also being energy sufficient by using the biomethane fuel to generate the electricity to power and heat its property buildings.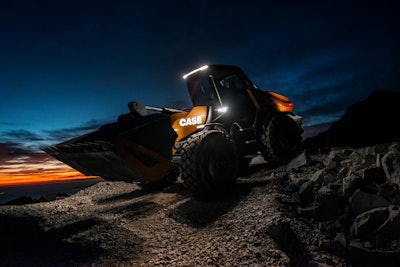 See the affiliated sidebar, Biomethane 101, below to learn more about the fuel creation process.
The ability to produce and use a CO2-neutral fuel like biomethane allows the producer to insulate themselves from a fluctuating oil market. The potential for an additional revenue stream selling biomethane to third parties for fueling their vehicles is an added benefit.
According to CASE CE, the ProjectTETRA wheel loader, when run on biomethane fuel, produces 95% less CO2 emissions, 90% less nitrogen dioxides, and 99% lower particulate matter than a diesel powered equivalent—a total of an 80% reduction in overall emissions.
The design
The future of wheel loader design was integral for the international design team's approach to the blank-sheet re-envisioning of the operator cab and the vehicle's overall look. Operator visibility saw a 16% increase compared to a standard wheel loader, including a high visibility roof panel to give the operator an improved view of the bucket throughout the entire loading arc.
The lighting system was integrated into the vehicle's design with lights in the loader arms, front fenders, front- and rear-mounted roof work lights, rear lights in the rear fenders and engine cover, and stop and hazard lights within the counterweight. Operators can either select auto mode, in which all working lights are automatically activated in low ambient light conditions, or manual operation in which they select the required lights.
Of course, operator comfort and ergonomics were of the utmost importance for continued improvement. The armrest-integrated monitor controls a myriad of functions from a face-scan start-up sequence to a jobsite map with route optimization to real-time weather reports. The screen on the armrest monitor can be swiped up onto the A-Pillar screens if the operator prefers.
The company's ProjectTETRA press release highlights the A-Pillar screens organization and functions:
The top right and left screens display the front and rear camera feed. Cab-mounted cameras replace traditional wing mirrors, and the display is automatically linked to the direction of travel, changing in sync with machine shuttling.
The central right A-Pillar screen features all key machine operating parameters including machine speed, engine speed, fuel level, engine and oil temperature, selected gear, engine hours and time.
The lower right screen can be customized, and enables operators to select, using the armrest color touchscreen, the desired view.
Even voice control has been integrated into the cab to allow the operator to verbally dictate cab temperature settings, select music, answer calls and send messages. Operators can remote start the TETRA with a retina scan from their synced mobile device. Biometric facial recognition technology integrated into the access and start-up sequence ensures only qualified operators have access to the vehicle. A door-mounted facial scanner sensor scans the operator's face upon approach to activate door opening. Once the operator is in the cab, a second scan conducted from the armrest monitor confirms the operator's identity and initiates the vehicle's start-up sequence.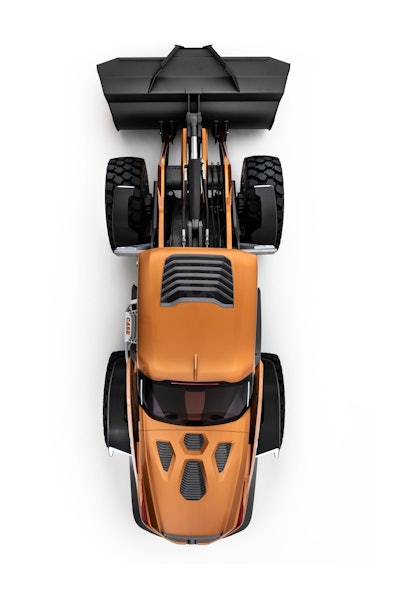 The wheel loader concept wouldn't be complete without telematics integration for optimized machine usage and direct communication between fleet management and the vehicle. Read more about telematics technology launches at bauma 2019 in the article, Telematics Participation is Mandatory at oemoffhighway.com/21065150.
From inception to completion, from naming convention to engine selection, every detail of the CASE CE ProejctTETRA methane-powered wheel loader concept has been poured over, designed and selected for a purpose. A more wholistic vision of construction equipment's role in societal and environmental constructs is achieved through a closed-loop fuel production and usage cycle, a cleaner engine package, and connected vehicle system.
Read Editor Sara Jensen's blog, bauma 2019 Shines a Spotlight on Sustainability, Efficiency, to learn about additional vehicles and systems aimed at improving efficiency and reducing emissions launched at the triennial event, at oemoffhighway.com/21064874.
Companies in this article