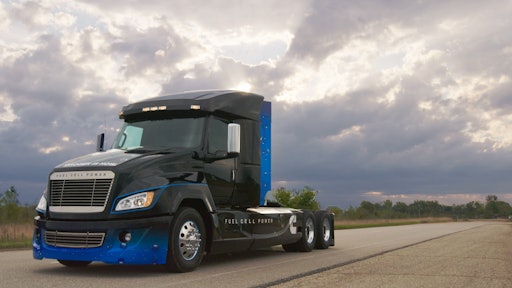 Cummins Inc.
It's never been a more important time to think about environmental sustainability than it is right now, said Tom Lineburger, Chairman and CEO of Cummins Inc. during the company's announcement of its new PLANET 2050 strategy.
Cummins will use science-based goals to target net-zero carbon emissions by 2050. It will do so by focusing on three priority areas:
addressing climate change and air emissions,
using natural resources in the most sustainable way, and
improving communities.
Within these three priorities are eight specific goals the company aims to achieve by 2030, as well as aspirational targets for 2050.
The company created its sustainability plan after consulting the United Nations Sustainable Development Goals, analyzing best practices globally, considering the needs of its stakeholders, and undertaking significant internal review.
Overall, Lineburger said Cummins aims to achieve carbon neutrality, and near-zero pollution at its facilities and operations. It will also continue developing products to power customer success with carbon neutral technologies that address air quality.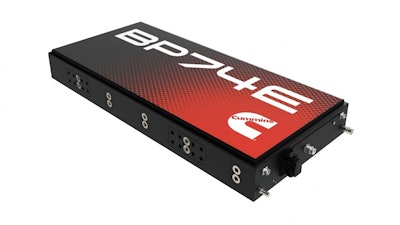 "It's our duty to help," said Lineburger. "Our products have a large environmental footprint. They contribute significantly to climate change, and also economic growth and strong communities.
"We have to be part of the solution," and do our full part to improve the environment, he said. As such, the company knew it needed to aim higher and do more than its previous sustainability goals.
Lineburger said building its plan all the way out to 2050 is the only way to see the full extent of what must be done to achieve a carbon-zero future, and the urgency of starting now as well as the full effort required.
A new set of goals
Cummins' new, specific 2030 goals relate to its parts, products, and company-managed facilities and operations. To meet the goals of addressing climate change and air emissions, the company will:
Reduce absolute greenhouse gas emissions from facilities and operations by 50% (science-based target).
Reduce absolute lifetime greenhouse gas emissions from newly sold products by 25% (science-based target).
Partner with customers to reduce greenhouse gas emissions from products in the field by 55 million metric tons.
Reduce volatile organic compounds emissions from paint and coating operations by 50%.
Brian Mormino, Executive Director Worldwide Environmental Strategy and Compliance at Cummins, said the first two goals are science-based targets. They were developed under the Science Based Target Initiative. This initiative provides a framework for the calculation of greenhouse gas (GHG) goal for products and facilities that are aligned with recommendations by climate scientists. "[We are] using a vetted approach rooted in what the experts say is needed," he explained.
These experts have laid out the decarbonization paths for sectors which Cummins applied to its areas of business and operations. "Those targets have been validated and approved by the Science Based Target Initiative," said Mormino.
To use natural resources in the most sustainable way, Cummins will:
Create a circular lifecycle plan for every part to use less, use better, use again.
Generate 25% less waste in facilities and operations as a percent of revenue.
Reuse or responsibly recycle 100% of packaging plastics and eliminate single-use plastics in dining facilities, employee amenities and events.
Reduce absolute water consumption in facilities and operations by 30%.
Mormino said the progress of the company's goals will be periodically evaluated, including whether more can or should be done in line with global energy and environmental challenges.
"We believe this framework allows us to deliver on real gains and adjust to the changing world," he said. "If we can move faste, we will.
"Right now, our work is focused on figuring out how to achieve these 2030 goals, because we don't have all of the answers today," he continued. "We know that the 2030 science-based goals meet or exceed the goals in the United Nations Paris climate change agreement. And by 2050, Cummins is targeting net-zero carbon emissions."
Cummins will also launch in 2020 a strategic community environmental program as part of its sustainability efforts.
An important part of the strategy is recognizing Cummins cannot achieve its goals alone, said Mormino. As such, it will work with various partners including governments and others to advocate for policies that are in line with its 2050 targets. "We are advocating for tough, clear and enforceable regulations around the globe to address air emissions, and for science-based, economy-wide climate policies.
"We recognize that achieving our strategy requires strong publication and enforcement of regulation that drive down economy-wide air and GHG emissions," he continued. "And we will continue to work with trade associations, customers and suppliers, community leaders and other stakeholders to advocate for these policies."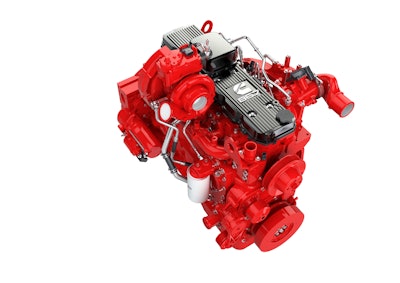 More sustainable product offering
Lineburger noted the necessity of reducing the environmental impact of all products in Cummins' portfolio today, as well as those that may be developed in the future. Everything from diesel and natural gas engines to electrified power systems and fuel cells will need to be evaluated.
He said today about 99% of Cummins' greenhouse gas (GHG) footprint comes from its products once customers are using them.
As such, the company will look at the entire lifecycle of a product—where materials come from and where they go, how they are processed and whether they can be reused or disposed. "[Cummins is thinking] about a 'well to wheels' impact of these technologies," said Lineburger. "Carbon neutral products are our ultimate ambition."
Steel manufacturer SSAB is also initiating efforts to reduce emissions, including in its steel making process. The company has formed a joint venture for fossil-free steel production. Such an initiative would make it easier for a manufacturer like Cummins to meet its sustainability goals as the material being sourced to make a product would be made in a more sustainable manner.
Evaluation of what happens to products once they are past their useful life will be an important factor, as well. Batteries in particular are of interest to find uses or better recycling for due to the materials currently utilized to make them. Cummins is one of several companies currently evaluating the potential of second-life batteries. While they may not be of use any longer in a vehicle, there is still enough energy in the batteries for other applications such as grid storage.
Lineburger said Cummins will continue to invest in zero-tailpipe technology as a means of achieving its sustainability goals. These include a variety of types including electric power systems and most recently, fuel cells.
The company announced in September its investment in Loop Energy, a provider of fuel cell electric range extenders, to help fund product development and further growth of the technology. Not long after that Cummins announced it will collaborate with Hyundai to combine its electric power technology with Hyundai's fuel cells.
It was also noted during the announcement of the PLANET 2050 strategy the internal combustion engine cannot be overlooked as a bridge to a cleaner future. Therefore the company will continue working on enhancing the efficiency of diesel engines, as well as natural gas engines.
Advancements in powertrain, biofuel and connectivity solutions will also drive efficiencies further and reduce carbon, said Lineburger.
"Barriers exist in every pathway to this low carbon future, there is no silver bullet," emphasized Lineburger. "Several technologies under development today aren't yet economically viable and won't even be the right solution in the future."
The transition will take time, as well, with many factors that need to be taken into consideration such as infrastructure. By starting the work now though, Cummins and other like-minded companies are making it easier to overcome many of the challenges.
Read "Manufacturing a Cleaner Planet" to learn more about what companies in the heavy-duty equipment industry are doing to reduce carbon emissions.
Companies in this article