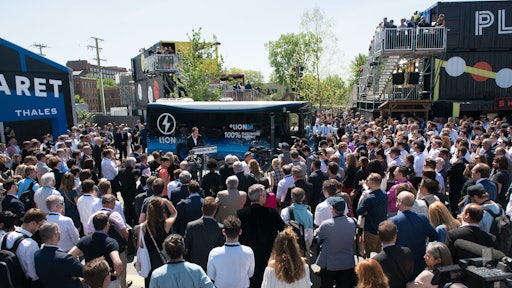 Michelin Group
The 2018 edition of Movin'On by Michelin once again provided attendees the opportunity to learn about the latest trends in sustainable mobility. All modes of transport were covered during the event—from passenger cars to public transit buses, and beyond.
See images from the show in our Media Gallery.
During the show, Michelin announced that by 2048 it plans to manufacture all tires using 80% sustainable materials and have all tires be 100% recycled. Cyrille Roget, Michelin Group Technical & Scientific Communication Manager, said during the announcement the company will partner with various companies to achieve this goal.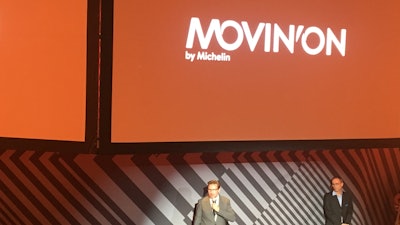 One such collaboration is with Lehigh Technologies—a specialty chemicals company that produces highly engineered, versatile raw materials called micronized rubber powders (MRP) that can replace oil- and rubber-based feedstocks which became a part of the Michelin Group in 2017. By working together, the two companies can each bring their expertise to achieve the goal of producing tires from sustainable materials.
Roget said that today, 70% of tires in the world are recovered and 50% of those are recycled into other things such as soles of shoes and construction materials. Meanwhile, only 14% of plastic is recovered worldwide. If the company can achieve its 2048 goal, he said the savings could be huge. It would be the equivalent of saving 33 million oil barrels every year.
Electrification was a topic for many during the three-day event. At the show The Lion Electric Co. unveiled its newest electric bus, the eLIONM. The all-electric 26 ft. midi/minibus is designed to travel 150 miles (250 km) on a single charge. The company also said it plans to start manufacturing a line of all-electric trucks in 2019 which utilize technology the company has developed over the last several years. Lion is specifically looking at medium- to heavy-duty urban truck (Class 5-8) applications.
In a session on alternative energy technologies, Senior Advisor for the Ministry of the Environment of Japan Shigemoto Kajihara spoke of the increasing adoption of battery technology in Japan, and how energy storage will likely increase three times within the next few years as further advancements continue to be made. However, he also noted the need to develop a reuse and recycle system for batteries to help mitigate the harmful environmental effects they can have once their useful life is over.
Kajihara also spoke on the benefits of hydrogen as a possible fuel source, also being investigated by many companies. One of the benefits he noted was the fuel's ability to be produced from many sources. On the topic of natural gas, he said it should be considered as a transitional fuel because "it is better than coal, but still a fossil fuel."
Read about some of the recent hydrogen-fuel projects taking place in our industry in the article "Hydrogen Proves its Potential in Heavy-Duty Applications."
To help the energy transition, Kajihara said government's should not choose one specific technology, but be prepared to support the private sector and the various alternatives it develops. In addition, he said new technologies should be supported by customers, an aspect companies should be sure to keep in mind when developing alternative energy technologies. If they're not supported by customers, then they will not be able to provide the environmental impacts for which they're intended.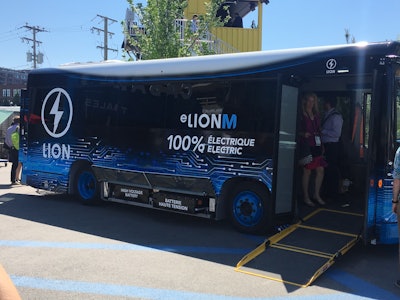 Infrastructure and range will continue to be challenges to wider spread adoption of alternative energy technologies noted panelists at the alternative energies session. Fast charging capabilities will be an important, as well, to make recharging times faster for consumers and fleets.
It was also noted that to help achieve emissions reduction goals faster—and more feasibly and in a way consumers are more familiar with—it will be necessary to develop other kinds of alternative energies which make use of traditional powertrains, such as electrified diesel vehicles.
With so many companies, organizations and industries focused on improving the sustainability of the transportation sector, it will be interesting to see how it will progress, and what technologies will be discussed at next year's event.
The next edition of the show, newly renamed Movin'On Summit, will take place June 4-6, 2019.