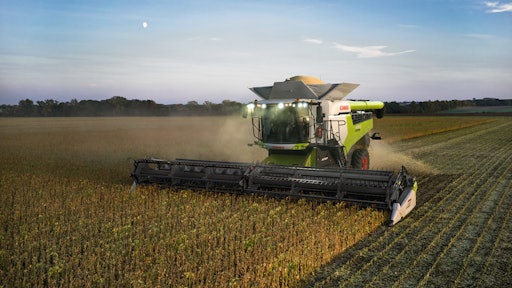 CLAAS of America
CLAAS of America has launched the all-new LEXION 6000 Series straw walker combines. These new machines feature a variety of advanced technologies which work together to provide increased harvesting efficiency and productivity. Two new models are included in this series, the LEXION 6900 and 6800.
The company says it set out to increase throughput, reduce downtime, elevate operator convenience and maintain straw quality when developing the combines. They feature more power and capacity, as well as smart technology that takes the guesswork out of harvest adjustments, says Erin Atkins, Marketing Specialist at CLAAS.
Available with tires or tracks—specifically the company's TERRA TRAC system—the LEXION combines can achieve road speeds up to 25 mph (40 kph) to decrease the amount of time it takes to move from field to field.
A clutch-engaged drive system is utilized on the new combines which makes for smoother, quieter operation than previous engaging systems. New on these machines is a four-link rear axle which provides a tighter turning radius for improved maneuverability through fields. There is an option for a POWERTRAC rearwheel drive, a planetary drive system that offers a lot of tractive power, says Patrick Arnold, Product Specialist at CLAAS.
The combines are built on the company's 67 in. (170.2 cm) chassis, meaning crop comes into the feeder house at 67 in. wide and maintains that same width throughout the machine which helps to improve harvesting productivity. The feeder house is available with a belt feeder conveyor and a chain; it operates more quietly which helps to improve comfort for operators.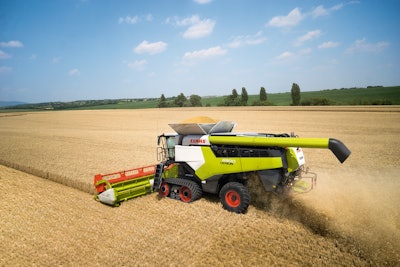 Advanced technology integration
According to Arnold, the core of these machines is the APS SYNFLOW WALKER threshing and separation system. It features an accelerator drum which balances crop flow and optimizes the capacity of the threshing cylinder. Because of this, Arnold says the crop feeds more evenly into the threshing cylinder, even in wet conditions and produces higher centrifugal force for more effective separation and can achieve higher throughput. Up to 25% more acres per hour can be harvested than the LEXION 670.
As crop flows through the system, it first engages with the APS cylinder and then the main threshing cylinder which helps to improve threshing capacity. The threshing cylinder measures 30 in. (76.2 cm) in diameter, up from 24 in. (61 cm) on the previous machine, to help improve crop flow and grain quality. After that is a new separation cylinder which aids with capacity improvements as it actively separates the crop before it goes onto the straw walker.
Straight-line crop flow through the APS allows for smooth acceleration of the crop material through the threshing area. It also provides smooth transition of the crop between cylinders in order to use less power and deliver less stress and twisting on the crop mat that can over thresh grain and deteriorate straw quality.
Underneath the APS system is a new JET STREAM cleaning system to enable the machine to better handle the increased harvesting capacity. As material comes off the straw walker return pan, it's hit by a cascade pre-cleaner which blows most of the straw and chaff out the back of the machine before it touches the upper sieve. This helps to keep the machine clean and operating efficiently.
The addition of DYNAMIC POWER to the system aids with the combine's fuel efficiency benefits. DYNAMIC POWER automatically adjusts engine output to harvest conditions, for 10% more savings when the combine does not need to run at peak load.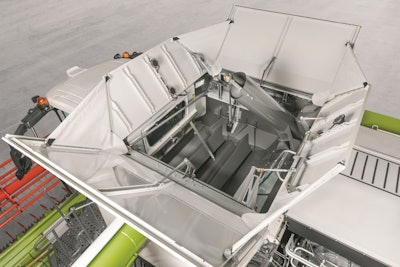 Like many of the company's combines, the new LEXION series features CEMOS AUTOMATIC which automatically makes real-time, in-field adjustments in response to crop conditions. The company says the system is capable of doing so with more precision and speed than a seasoned operator, resulting in minimal grain loss. "By utilizing existing machine components and sensors, CEMOS AUTOMATIC allows operators to gain up to a 10% increase in machine throughput, up to a 32% cleaner grain sample and improved grain retention up to 58%," says Greg Frenzel, Product Specialist at CLAAS. It does so "by continuously and autonomously making machine adjustments and optimizing machine performance."
Operators have the ability to fine tune threshing settings to ensure optimal straw quality, further aiding with customers' farming operations. "High straw quality can add many benefits to machine performance that are not normally considered," says Frenzel.
He explains that straw quality is typically compromised in the threshing area because that is where the most aggressive action happens in a machine. This means separation and cleaning are affected by the straw quality created in the threshing area. Small pieces of straw and high levels of chaff make separation and cleaning more difficult. "By maintaining high quality straw, separation and cleaning are able to work more efficiently, leading to higher throughput and cleaner grain samples," says Frenzel.
Larger grain tanks and faster unload rates aid with the combines' productivity gains. The standard grain tank size has a 385 bushel capacity, and customers have the option of choosing a 425 bushel capacity tank. With these larger tank sizes farmers can harvest longer before unloading, thus increasing productivity.
Auger size increased from 12 to 18 in. (30.5 to 45.7 cm) in diameter to hold higher capacities of crop. The loading tube on these combines unloads at a rate of 5.1 bushels per second, further improving productivity says Arnold.
New in-cab features aid operator comfort
Within the cab, the 6000 series includes many of the same features as the CLAAS 8000 and 7000 series machines. Among these are the new CEMOS touch monitor and updated armrest control system.
The CEMOS monitor features a large touchscreen display which enables operators to easily see machine functions and change settings. Menus can be customized to show information of most value to the operator.
On the armrest is a new operator panel with pushbutton controls for certain machine functions as well as quick-change toggles allowing operators to easily change machine functions such as the threshing drum and concave. Radio controls with Bluetooth are included on the armrest, as well.
A CMOTION handle on the armrest is similar to those used in previous generations; it allows operators to easily access machine controls without much hand movement, aiding with their overall comfort. New to the CMOTION handle is a favorites menu which allows users to customize up to seven different functions which can be controlled with the toggle switch on the front side of the handle.
Various in-cab controls make it quick and easy to switch between the types of crops being harvested, increasing productivity for farmers. These include:
dual range threshing speed adjustment,
residue management speed adjustment, and
residue size control to adjust particle size.
According to CLAAS, these in-cab adjustment features can reduce the amount of time needed for crop conversion by over 50%.
Just to the side of the armrest is a new auxiliary mounting post that has been positioned so operators can easily see the full width of the header while still ensuring accessibility to information on the external monitors mounted on the post.
Behind the operator seat CLAAS has put a new grain tank window that is larger to make it easier and more comfortable for operators to view crop as it enters the grain tank.
An updated PROFICAM system and windshield wipers on the right- and left-hand doors add to the visibility enhancements CLAAS has made on these new LEXION combines. The ergonomic steering column can easily be adjusted, allowing operators to fine tune its position to ensure comfort and help reduce fatigue.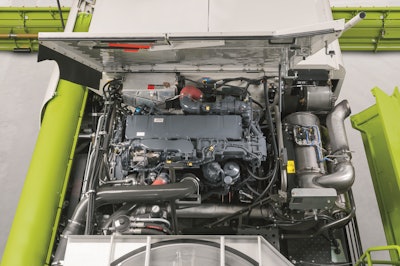 Easier maintenance and reduced downtime
Convenience features included on the machine to aid maintenance and ensure optimal machine performance include an automatic lubrication system. It continuously provides grease to 74 different points around the machine.
The engine cover on the new LEXION combines splits open to provide easy access to the grain tank. The grain tank has been increased to a capacity of 8,000 bushels per hour and incorporates a yield mass flow sensor which is more accurate and easier to calculate.
Opening the engine cover allows for easy access to maintenance points such as coolant and oil. In the 6900 model there is a 12.8L MAN engine with up to 466 hp (348 kW) and in the 6800 model a 10.7 L Mercedes-Benz engine offering up to 402 hp (299 kW). Both include the new DYNAMIC POWER feature which Frenzel says optimizes fuel and power consumption to give power when necessary while saving on fuel consumption when not as much power is needed.
The CLAAS DYNAMIC COOLING package is also included which pulls in fresh, clean air from the top of the machine. This helps increase maintenance intervals and prevents dirt from being pulled into the air filter. Instead, air is pulled into the engine compartment and pressurized to keep the engine running cooler and cleaner. This also creates an air blanket which is pushed down into and outside of the side panels of the combines to keep dirt kicked up by the tires from getting into the machine and causing potential performance issues.
"LEXION combines have built a reputation for delivering increased harvest efficiency and productivity, saving fuel and grain, and driving down the cost of harvest for more than 20 years," concludes Blake McOllough, Product Manager – Combines, CLAAS of America. "Designed with efficiency in mind, the LEXION 6000 Series straw walker combine does that and more with new cutting-edge technology to keep operators harvesting acres in record time."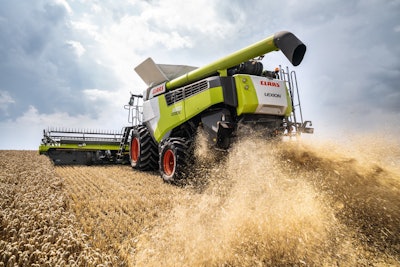 Companies in this article