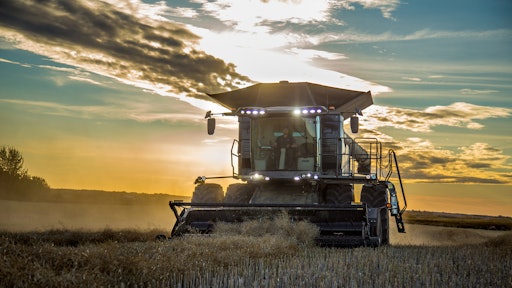 AGCO Corporation, a worldwide manufacturer and distributor of agricultural equipment, will introduce the IDEAL combine to North American growers during the 2018 Canada Farm Progress Show in Regina, Saskatchewan, June 20-22. This will be the first public appearance for the combine in North America, and growers may see it at the AGCO lot, #8103.
With the introduction of the IDEAL combine, AGCO brings to market the first "clean sheet" design of a combine in 30 years and the culmination of 6 years of vigorous testing in a wide range of crops and harvest conditions. At the Canada Farm Progress Show, growers can learn how the IDEAL combine will deliver superior performance and exceptional uptime plus radically simple operation and maintenance.
"AGCO's global research and development team started with a clean sheet and held extensive interviews around the world with growers about their harvesting needs and priorities before developing the IDEAL combine. The IDEAL combine is a direct result of those interviews," says Caleb Schleder, Tactical Marketing Manager for Combines. "Nearly 50 prototypes were built and tested in the lab, in the field and around the globe in challenging conditions to develop this unique, common platform combine. IDEAL has been an immense project. The result is a machine that is designed to harvest all grain crops and operate in nearly all conditions."
IDEAL is a high capacity combine with an efficient, first-in-the industry approach to its processing system that excels in productivity yet is gentle on grain and maintains valuable straw quality. The IDEAL also features unprecedented grain unloading volume and speed; simple, efficient use of power and the capacity to harvest high-yielding crops day in and day out. The combine's all new approach to automation blends harvesting performance benchmarks and necessary combine settings, enhancing ease of harvest for expert operators and improving efficiency of new operators. The combine will be available in Class 7, 8 and 9, ensuring the right capacity to maximize harvest for all operations.
"Taking a global approach when developing products ensures AGCO's equipment delivers the best solutions that truly take crop production practices to the next step for growers worldwide," says Schleder. "The introduction of IDEAL represents AGCO's commitment to furthering our customers operations and builds upon the success we've achieved with our 1000 Series tractors and RoGator C Series row crop applicators. We're anxious for our customers to experience it in the field."