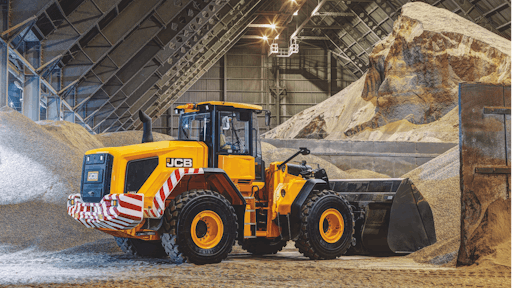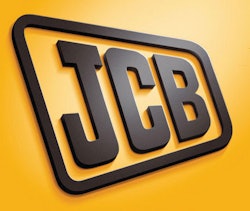 A new powertrain for the JCB 457 AGRI is among the upgrades for the latest versions of JCB's three biggest bulk handling agricultural loading shovels unveiled at Agritechnica.
While introducing engines equipped to meet more stringent European Stage V emissions rules for the 3.5cu m 457 AGRI, 2.7cu m 437 Agri and 2.4cu m 427 AGRI, JCB has taken the opportunity to fit previously optional powershift transmissions as standard and upgrade certain features to further improve operator comfort and day-to-day usability.
JCB 457 Agri
The new powertrain for JCB's flagship agricultural bulk handling loading shovel not only delivers greater performance but also up to 10% fuel savings.
In its latest form, the JCB 457 AGRI displayed at Agritechnica is powered by a 6.7-L Cummins B-series engine (in place of the 7.7-L MTU unit installed previously) equipped with additional aftertreatment technology in a single, compact module to meet European Stage V exhaust emissions requirements.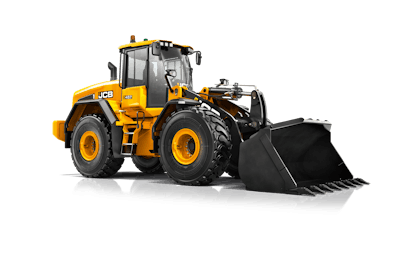 JCB 437 AGRI and 427 AGRI
A five-speed powershift transmission is now standard on the JCB 437 AGRI loading shovel, providing an extra speed and closer ratios for added efficiency in channelling increased power output from its 6.7-L Cummins engine, with a torque converter lock-up version available as an option. 
Peak output is now 145 kW (195 hp) – an increase of 16 kW (12 hp) or 6.5% – over the previous model for a performance boost but there is also a second power curve topping out at 127 kW (171 hp) that can be selected for greater fuel economy when the loader is engaged in lighter loading or handling duties.
The JCB 427 AGRI retains its six-speed powershift transmission and 6.7-LCummins engine with 133 kW (179 hp) but a second power curve for more economical light-duty working peaks at 125 kW (168 hp). 
Both models now have automatic engine shut-down after an operator-adjustable delay at tick-over to minimize fuel consumption and unproductive engine hours. 
In addition, the new forward-facing camera option is available for the Command Plus cab on these loaders and both benefit from the fit and finish improvements.