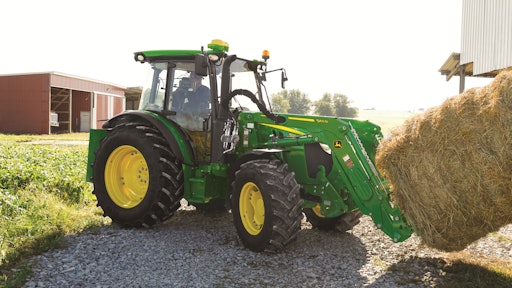 John Deere Ag and Turf Division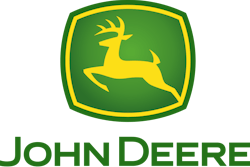 For model year 2022, John Deere has added new technology and transmission options to its line of 5M Series tractors. In addition, a new 125-hp tractor has been introduced to the lineup to provide more horsepower options. These added capabilities and features will appeal to hay, livestock, and commercial customers, along with anyone doing work on a large property.
A large-tractor feature making its way to the 5M Series through a built-in display on the tractor dash is integrated AutoTrac guidance. This factory-installed option is only available for 5M Tractors equipped with PowrQuad transmissions. AutoTrac provides straight-line guidance to help operators reduce implement overlap, make fewer passes through the field, decrease fatigue, and save fuel. "No other utility tractor on the market offers this level of integrated guidance on a mid-spec utility tractor, making the productivity potential of the 5M Series unmatched," said Greg Christensen, marketing manager for John Deere. "This low-cost, entry-level guidance system, can later be upgraded by plugging in a premium display for mapping and prescription-based applications."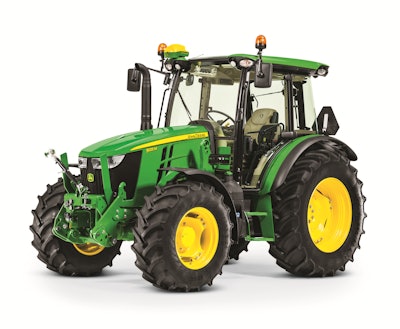 Christensen says customers are looking for updated transmission options to make tractor operation easy. "Now, John Deere makes the PowrQuad transmissions available on the 5090M, 5100M, 5115M cab versions and includes it in base equipment on the newly added 125-hp 5125M, which is only available with a cab. PowrQuad transmissions make it easy for operators to find the right speed with clutchless, push-button shifting between gears, allowing them to focus on their work."
John Deere also increased the hitch-lift capacity on 5M Tractors equipped with PowrQuad transmissions to better handle large implements and offers an optional panoramic roof for improved visibility from the cab. These features are especially beneficial when lifting and moving large objects such as hay bales and can increase operator productivity.
Additionally, the John Deere Smart Connector, available as a parts kit, is compatible with select 5 Series Tractors. The Smart Connector is an entry-level connectivity solution that makes it easy for customers who are not using their tractor in a production setting to monitor their tractor through a Bluetooth® connection that sends them data so they can track maintenance intervals and tractor performance. Information from Smart Connector is accessed through the TractorPlus app from a mobile device.
The MY22 5M Tractors with PowrQuad transmissions are now available to order, with PowrReverser options being available to order later this year.