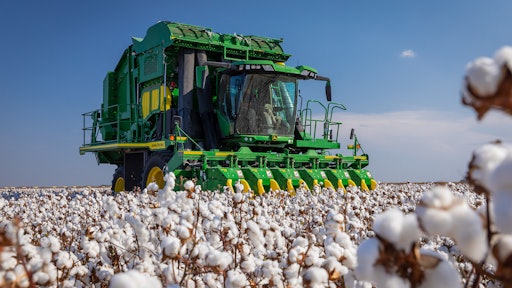 John Deere Ag and Turf Division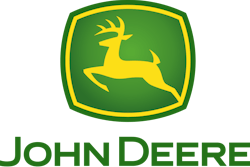 John Deere has introduced several new pieces of equipment in recent weeks aimed at helping improve farmers' productivity and efficiency while planting and harvesting crops.
New 6155MH Tractor gives high-value crop growers more options
The new 6155MH Tractor includes many of the features and benefits of John Deere's M Series Tractors but in a high-crop configuration.
"The 6155MH is ideal for growers of high-value crops in California and Arizona, and for sugarcane producers in Louisiana and Florida," said Dennis Ogle, marketing manager for John Deere, in the company's press release announcing the release of the 6155MH Tractor. "It's especially effective for field operations such as cultivating, harrowing or spraying, or for pulling harvest trailers."
The rear drop axle provides additional crop clearance under the axle and greater drawbar clearance when compared to tractors equipped with a standard axle and high-clearance tires. The 6155MH can be equipped with several options, including:
PowrQuad PLUS 16F/16R, AutoQuad PLUS 20F/20R or CommandQuad PLUS 20F/20R transmission
Factory-installed creeper speed
Closed-center hydraulic system with electronic selective control valves (SCVs)
Front hitch with hydraulic SCVs
Draft link with hooks
"We are constantly improving our tractors by listening to feedback from our customers and then responding to their needs," Ogle said. "The 6155MH gives high-value crop growers the performance they expect, with more options to choose from, at a competitive price."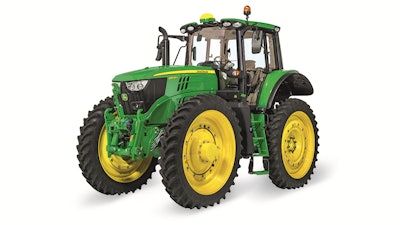 6120EH Tractor for high-clearance, low-speed applications
John Deere has added the 6120EH Tractor to its lineup to meet the needs of high-value crop growers who require high clearance and reduced speeds to match the speed of field workers.
"High-value crop production requires the ability to pull implements and conduct harvesting operations over rows of varying widths without damaging the crop," said Dennis Ogle, marketing manager for John Deere, in the company's press release announcing the launch of the new 6120EH Tractor.
"The 6120EH provides up to 30 in. of drawbar ground clearance to avoid damaging the plant or roots during applications such as cultivating, spraying, transplanting and harvest."
In addition, specialty operations that include vegetables and fruit farms demand extra-slow tractor speeds that traditional transmissions may not be able to attain. The creeper transmission allows for speeds as low as .14 mph to accommodate hand harvesting operations.
New features on the 6120EH include:
High-crop axle maximum clearance of 33 in.
Multiple tread spacings of 72, 76, 80 or 84 in.
Creeper transmission minimum of 14 mph at rated engine speed
LED lighting package
Precision ag components (John Deere AutoTrac Universal 300, 4240 Universal Display, StarFire 6000 Receiver and JDLink)
Less drawbar and draft link option
"Input costs for growing high-value crops continue to rise each year," Ogle said. "The 6120EH, with its high clearance, helps protect crops and maximize production and quality on every acre, while also improving harvesting efficiency."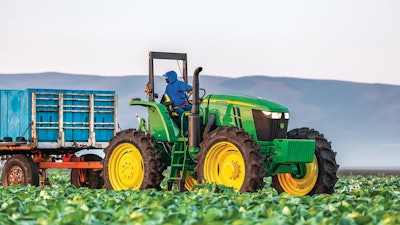 New cotton pickers and strippers boost harvesting capacity
John Deere has introduced two new cotton harvesters – the CP770 Cotton Picker and CS770 Stripper. These machines can help farmers harvest every pound of seed cotton possible while preserving cotton quality from the field to the gin floor. John Deere says in its press release announcing the launch of the machines the they are the most productive cotton harvesters the company has ever built.
"These cotton harvesters are mostly all-new from the ground-up and represent a strong platform John Deere should be able to utilize for many years," said Christopher Murray, John Deere product marketing manager in the company's press release. "An all-new mainframe provides a solid foundation for each machine and includes an all-new cab and power module. John Deere also increased the size of the new round module builders on the picker and stripper, making it possible to harvest more acres per hour."
The CP770 is ideal for large to extra-large farmers and custom cotton harvesters who need to harvest the maximum number of acres per hour possible. When compared to its CP690 predecessor the CP770 can reduce harvesting costs by up to $1.50 per bale through reduced wrap, fuel, labor, and hauling costs.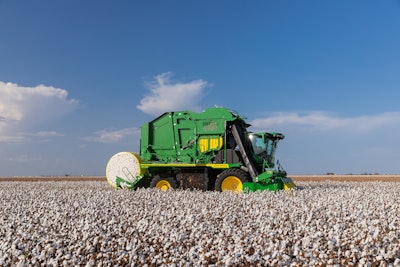 John Deere's CP770 carries features a new round module builder capable of making modules 2% larger and 5% more dense. Once the cotton is collected, the CP770 wraps and ejects the module in just over 30 seconds, providing the ultimate experience in non-stop cotton harvesting.
Part of the CP770's increase in harvesting productivity can be attributed to the all-new John Deere PRO16 HS Row Unit fitted with high-speed stalk lifters and ultra-fast cotton-grabbing spindles.
Operators who work long days harvesting will benefit from the all-day comfort of the CP770's new cab. The cab is noticeably larger, quieter and more comfortable than previous cabs, and provides operators with outstanding visibility to all the right places thanks to strategically placed cameras, mirrors and lighting.
To document and capture harvesting data and for traceability purposes, John Deere offers integrated technology for the CP770 and the CS770 by equipping each with a Generation 4 Display. JDLink Connectivity is also included at no additional charge, making it easy for famers to connect to their machines while enabling automatic data flow between their equipment and the John Deere Operations Center.
"Cotton is one of the only crops that can be fully traced from where it came from in a given field, through the gin, to the mill. Exclusive John Deere Harvest Identification Cotton Pro technology makes this possible," Murray said. "Although the industry does not yet mandate this level of traceability, it's likely to become common in the future and both the CP770 and CS770 are fully prepared to meet those needs."
Field-proven TamaWrap+ provides 360 degrees of coverage to protect and conserve fiber quality and prevent degradation from the field to the gin.
A new John Deere 13.6 L PowerTech engine and hydraulic power module improve fuel efficiency by up to 20% for the CP770 and up to 15% for the CS770, while reducing maintenance requirements and costs. When combined with the updated crop handling components, these systems work together to help farmers harvest more pounds of cotton per hour at faster speeds than previous models.
The John Deere CS770 Cotton Stripper provides a 2-point increase in turnout with its new field cleaner and packs up to 5% more cotton into a module while harvesting up to 10 more acres per hour than previous models.
"The CS770 delivers increased turnout, maximum uptime, improved wrap economy and most importantly, optimal productivity during harvest," Murray said.
When equipped with the new SH12F – 12-row folding header, the CS770 is up to 48% more productive in harvesting dryland cotton compared to the CS690 8-row harvester. "This productivity increase helps customers harvest up to 100 more acres per day in a 10-hour day than they previously could with prior 8-row strippers," Murray said. "These new 770s with their integrated technology raise the bar yet again in cotton harvesting while demonstrating our continued commitment to the cotton industry."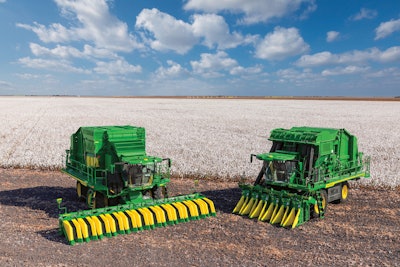 W200 Series M and R Windrowers designed to boost harvest speed and efficiency
New John Deere W200 Series Self-Propelled Windrowers help farmers harvest their crop quickly and efficiently, while promoting quick dry down for high-quality hay.
"The W200M and W235M Self-Propelled Windrowers offer a cost-effective option for farmers to consider with an all-new cab and a new lower horsepower option," said Chase Milem, John Deere hay and forage marketing manager, in the company's press release announcing the release of the windrowers. "Beef and dairy producers will benefit from the W235R and W260R, thanks to a new premium cab loaded with integrated technology and innovative features that let them easily make in-cab adjustments to improve windrow formation and dry down."
The new windrowers provide:
R Windrowers offer 10% wider windrows than previous models.
24 mph transport speed that reduces time spent moving between fields.
Easy in-cab adjustments of swath flap and forming shields, with tilt and height resume.
JDLink enabled machines help to ensure peak operation performance and keep the owner connected to their machine at any time from anywhere.
The W200M and W235M are available with optional Starfire™ receivers and a Generation 4 CommandCenter with AutoTrac. Optional TouchSet controls allow operators to quickly adjust windrow width, and tilt from the cab while cutting. Using the TouchSet settings library presets and resume function, operators can move between settings with ease. This level of control makes it easy to optimize the windrowers to accommodate for varying field and crop conditions. Operators can electronically adjust windrow formation from the cab to optimize the crop being cut, to promote fast dry down. Thanks to a maximum transport speed of up to 24 mph and improved fuel consumption compared to previous models, time and money are saved when moving between fields.
"Every minute the crop stays in the field after cutting, reduces tonnage and decreases hay quality," Milem said. "John Deere W200 Series M and R Windrowers provide customers with the unmatched ability to get the most from every acre, at reduced acquisition and operating costs."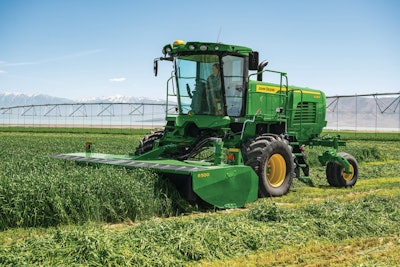 Expanded track offering for 8RX four-track tractors
John Deere has expanded its track offerings for 8RX Four-Track Tractors to better meet producer needs by including optional 16.5-in. wide tracks for both front and rear.
"These new tracks are specifically designed for John Deere 8RX Four-Track Tractors and utilize the same established design and engineering that we currently use on our 18-, 24- and 30-in. 8RX tracks," said Ryan Jardon, John Deere product marketing manager, in a press release from the company announcing the expanded track offering. "These new tracks are an important option for customers who operate in sugar beet and select high-value crops. These narrower tracks fit between the rows easier, minimizing impact to the seedbed during planting and crop during harvest."
Due to their narrow width, these specialty crop tracks have different transport speed restrictions and reduced warranty. The new tracks will be available for 8RX Tractors built after June 1, 2022 with ordering beginning this fall.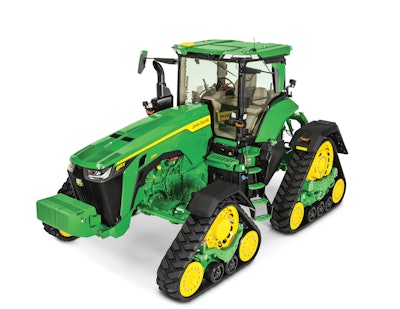 800R Floater with air boom, updated dry spinner-spreader and liquid systems
For model year 2022, John Deere has introduced the new 800R Floater for ag-service providers and customers, that can be equipped with air boom, updated dry spinner-spreader and liquid systems. Compared to the previous John Deere F4365, the 800R helps operators cover more acres per day with less fatigue and improves serviceability by reducing attachment changeover times.
"The 800R delivers best-in-class ride quality and operator comfort," said Franklin Peitz, John Deere product marketing manager, in the company's press release announcing the launch of the 800R Floater. "In the field, an 800R can be driven up to 25 mph when utilizing John Deere AutoTrac™ guidance, making it the most productive high-capacity nutrient application system available."
The new cab on the 800R is larger and quieter than previous models and surrounds operators in all-day comfort and outstanding visibility. Operators will appreciate the extra 2 in. of headroom and 24% wider entry path. Two comfort and convenience, and visibility packages are available – Premium and Ultimate.
The Ultimate comfort and convenience package includes a heated, ventilated leather seat that can swivel up to 24 degrees to the left or right, plus the ActiveSeat II suspension for an ultra-smooth ride. The Ultimate package also includes a 6.5-in. touchscreen satellite- and smartphone-ready radio, five USB ports, a 12V outlet, footrests, refrigerator, carpeted floor mat and dual-tilt steering column with leather-wrapped steering wheel.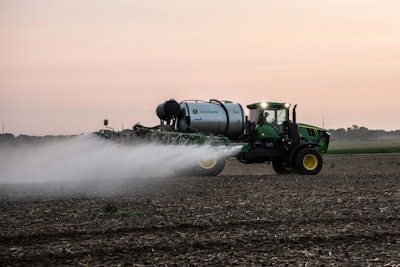 The Ultimate visibility package includes factory-installed LED work lights and beacons, along with eight strategically placed service lights on the cab. On the vehicle, the Ultimate comes with factory-installed LED work lights and a single beacon on the rear of the floater. A backup camera and harness for left- and right-hand side view cameras is also factory-installed and included in the Ultimate package.
Every John Deere 800R comes equipped with integrated precision-ag solutions, factory-installed Generation 4 Display, and a 4G JDLink MTG (modem). Once JDLink is activated, owners can stream their machine and field data to their John Deere Operations Center account free of charge. This lets farmers stay ahead of logistics by monitoring their equipment via the Operations Center mobile app in near real-time from anywhere. And ag-service providers can use the AgLogic app to make efficient scheduling decisions, assign work orders, and analyze machine performance. The JDLink connection also enables John Deere Connected Support with proactive machine health monitoring tools via the customer's John Deere dealer.
Three John Deere DS35 Dry Box options are available and include the NL 4500G4 Edge Box, NL5000G5 Box and the new N4500G4 HP Lime Box.
The NL4500G4 Edge Box makes it possible for the floater to spread product across the field edges without applying it into waterways or ditches and is backed by a two-year New Leader warranty. Previously, to achieve this level of control, operators had to manually flip switches on a New Leader controller mounted in the cab. These controls have now been replaced with ISO compatible, touch-screen controls that are integrated into the Generation 4 Display.
For lime applications, John Deere is offering a new HP Lime Box, the high-performance option from New Leader. Compared to previous models the HP Lime Box helps operators cover more acres per day by applying higher rates at higher speeds – up to 16-18 mph. The higher application rates and speeds are possible thanks to the wider conveyor speed range, optional conveyor chain and larger gate opening of the HP Lime Box.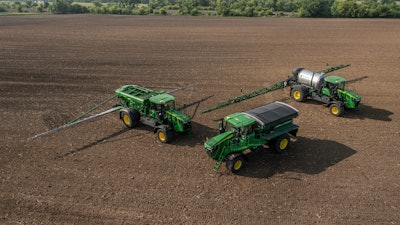 Another improvement John Deere made to the 800R was the addition of new common hydraulic pumps that significantly decrease the amount of changeover time required to switch between wet and dry systems. All New Leader dry-bin configurations, Hagie Liquid Systems and Air Boom attachments can now all use the same hydraulic pumps. "Previously changing from wet to dry was a 10- to 12-hour job," Peitz said. "Now, the changeover can be done in about half the time, saving time and money."
To help reduce cab clutter and give operators better storage options, John Deere increased the size of the storage box located under the platform of the 800R, making it three times larger than previous models.
The LS20 Liquid System of the 800R offers more options than the previous LS475. Optional front fill and side fill will now be offered for the liquid system. The new LS20 is available with 30-in. turrets and 60-in. cams, or 60-in. on-center cam locks with 15-in. on-center high-flow five-way nozzle bodies.
The 800R comes equipped with a field-proven 90-ft. boom and 2,000-gal. solution tank that delivers best-in-class floater ride quality and operator comfort.
*Editor's Note: All information is from press releases provided by John Deere and compiled/edited by Sara Jensen.