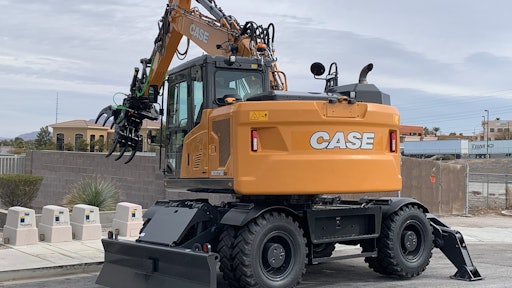 Case CE
This week, CASE Construction Equipment will exhibit several new machines at the Utility Expo, which takes place Sept. 26-28, 2023 in Louisville, Kentucky.
In a recent press conference, Terry Dolan, vice president, North America, CASE Construction Equipment, pointed out that there are millions of dollars of construction projects coming online during the next several years, at a time when many construction workers are expected to retire. With that in mind, CASE is designing its latest machines to be more sustainable, able to work in compact, urban jobsites and can do more work with fewer people.
Some of the machines are uniquely suited for utility work, he said. Wheeled excavators, for example, can move from jobsite to jobsite with ease. CASE re-introduced its wheeled excavator to the North American market at CONEXPO-CON/AGG in March and plans to exhibit the machines at the Utility Show, as well. CASE's new Construction King backhoe models have center pivot and side shift. Other equipment on display will be improved dozers with electrohydraulic (EH) blade control, and a sneak peek of one of its newest electric vehicles (EV), a 2.5 metric ton mini excavator.
"The construction industry faces a unique inflection point with historic levels of government investment, yet a resource-constrained labor market," Dolan said. "That's why we're launching the next generation of our swift, smooth, smart machines this year to help contractors get more work done smarter, faster and easier than ever."
To share the benefits of these latest models, CASE experts will host special launch presentations throughout the show.
According to CASE:
This fall, CASE re-enters the wheeled excavator market to help crews who need more maneuverable machines for today's constricted urban jobsites. With the ability to travel up to 25 mph, the new E Series wheeled excavators give contractors the ability to self-deploy from jobsite to jobsite, while minimizing the time and expense involved with transporting by trailer.
Offering the same powerful hydraulic performance and massive attachment flexibility as their steel-track counterparts, these fully featured rubber-tired excavators also offer significantly lower total cost of ownership than machines with a steel track and undercarriage, allowing utilities contractors to improve their bottom line.
"The new CASE wheeled excavators bring a whole new dimension to our E Series excavator lineup, offering invaluable benefits in terms of flexibility, performance, efficiency and serviceability," said Diego Butzke, product manager, North America, CASE Construction Equipment. "These five new wheeled models give utility teams the versatility, agility and power they need to take on the toughest jobsite challenges."
Construction King Backhoe Loaders
Another booth highlight for Utility Expo attendees are the new CASE Construction King backhoe models – the original two-in-one tool-carrying machines.
Particularly useful for utility crews is the side-shift backhoe, which lets operators shift the boom left or right to give them the visibility they need to work safely and efficiently — a critical improvement when digging around active gas lines or an electrical box. The expanded CASE backhoe offering is also compatible with numerous attachments, giving crews a big toolkit for improving productivity, speed and accuracy on highly varied jobs.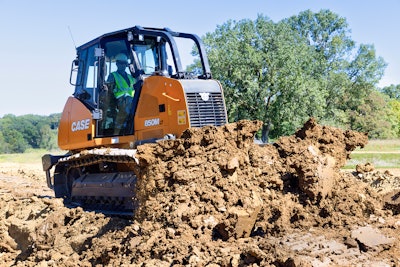 Operator-First Improvements on Dozers
CASE will also showcase its latest round of dozer enhancement to the CASE M Series, bringing contractors more precision, reliability and control than ever before.
New electro-hydraulic controls allow the operator – of any skill level – to set steering and shuttle settings to smooth, moderate or aggressive to better dial that machine to their preference, which simultaneously reduce operator fatigue and increase productivity. CASE Universal Machine Control is also available with these machines, which allows them to be outfitted with machine control solutions from any of the three major suppliers of precision construction technology. Each dozer is also available with factory-fit solutions from Leica Geosystems (who will be on-site at the booth) that simplify the ordering and setup process.
"When we set out to make our strong dozer offering even stronger, we did so with an operator-first mindset," said Jeremy Dulak, product manager, North America, CASE Construction Equipment. "With these latest enhancements, CASE M Series dozers are more comfortable, more precise and more intuitive to operate than ever, making it easier for operators to dominate the jobsite all day long."
CASE

Electric Models Meet Changing Needs of Contractors

Because government and municipalities are early adopters of electrification, CASE will also have a sneak peek of one of its latest electric models – the CX25EV all-electric mini excavator launching in 2024. With the same power and performance as diesel-powered machines, new CASE EV equipment is easy to charge, transport and service, while providing the additional value of zero on-site emissions, minimal noise and reduced maintenance costs.

"Like all our machines, we designed these new and enhanced models with practical innovation based on contractors' needs today and where we see the industry evolving," Dolan said. "We've done this so utility teams and construction contractors are best prepared to tackle their toughest jobsite challenges and improve their business with the right machines, with the right attachments, at the right time."