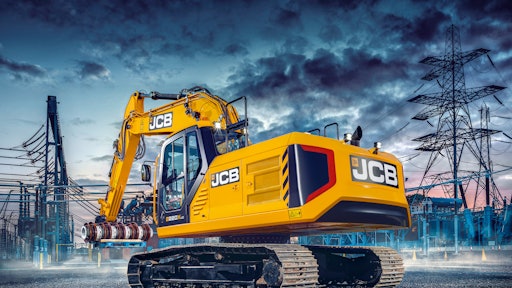 JCB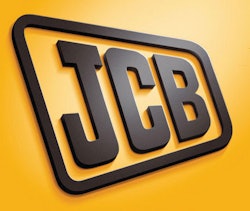 JCB has announced updates to several construction equipment models. The machines have been equipped with engines which meet Stage V emissions regulations in Europe. JCB has also taken the opportunity to make additional updates, as well, including to operator comfort and machine performance.
The updated machines include:
3CX ECO backhoe loader
140X, 150X and 220X crawler excavators
Loadall telescopic handlers
35Z-1 zero tailswing and conventional rear-end 36C-1 compact excavators
4-6 tonne Series 2 Stage V compact excavators
Teletruk telescopic boom lift trucks
3CX, 4CX and 5CX PRO backhoe loaders
New 55 kW 3CX ECO backhoe loader
According to JCB, its new Stage V compliant 3CX ECO backhoe loader provides improved operator comfort and ease of use, as well as increased productivity and a reduced total cost of ownership.
The backhoe loader is powered by the latest version of JCB's 3.0 L diesel engine. It provides a 55 kW (73.8 hp) of power and 440 Nm (324.5 ft.-lb.) of torque, which is a 10% increase over the previous model. JCB says in its press release announcing the new machine that the smaller capacity and increased efficiency of the engine provides a 7% increase in fuel savings compared to the Stage IV 55 kW engine.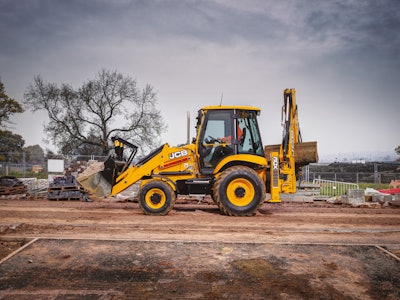 JCB says its 3.0 L engine is able to meet EU Stage V emissions regulations without the need for diesel exhaust fluid (DEF) or other exhaust additives. The engine features a combined diesel oxidation catalyst (DOC) and diesel particulate filter (DPF) with an 8,000-hour operating life to meeting emissions standards. Regeneration is controlled automatically and monitored through JCB's LiveLink telematics system.
Several automation features are included on the new backhoe loader, says JCB, to help reduce operator fatigue and improve productivity. These include:
Auto Stop – automatically detects when machine is no longer in use and shuts down the engine to eliminate idling and reduce fuel consumption as well as emissions.
Auto Seat Select – automatically recognizes which direction the seat is facing to eliminate the need for selecting functions when operators change from front- to rear-facing positions.
Auto Drive – allows operators to automatically select an engine speed when traveling on roadways
Auto 2WD – switches the transmission from four-wheel drive (4WD) to two-wheel drive (2WD) when additional traction is no longer necessary, helping to reduce tire wear and fuel consumption.
Cab enhancements
The new 3CX ECO backhoe loader includes a revised Command Plus cab which aims to improve comfort for operators. It does so through the inclusion of a new seat and interior design which provides a more spacious feel to the cab.
A new three-spoke steering wheel improves operators' view of a new front display screen that is now standard on the 3CX, says JCB. On this screen operators can see the speedometer, all warning lights and selected gears on Powershift models of the backhoe loader.
There is also a new 7 in. (17.8 cm) side display screen which includes audio and telephone functions. Also included for the first time is a factory-fit radio with Bluetooth telephone as well as USB and AUX card capabilities. An automotive style rotary switch is used for many of the machine display functions which JCB says provides operators with quick, easy control to further aid their comfort and productivity.
Visibility has been enhanced through the inclusion of four LED beacon lights integrated into the cab roof, which comes standard from the factory. This eliminates the need for customers to manually place or attach lighting. Larger mirrors on the backhoe loader also help to improve visibility, especially behind the machine to aid maneuverability and safety.
Updated 140X, 150X and 220X crawler excavators
JCB has updated its 140X, 150X and 220X crawler excavators to now be powered by Stage V compliant engines. All three machines are equipped with a JCB DieselMax 448 engine which in the 140X and 150X excavators provides an increase in torque compared to previous versions.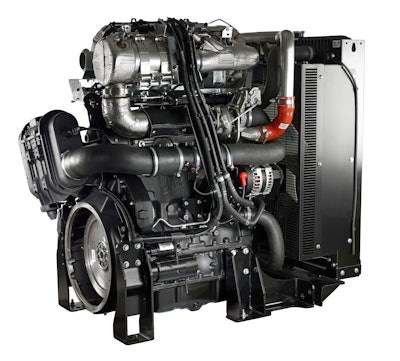 Per JCB's press release announcing the new machine models, the Tier 4 Final (T4F) JCB EcoMAX 444 engine from the previous 140X and 150X has been replaced by a Stage V, 4.8 L JCB DieselMax 448 which delivers the same 81 kW (108 hp) power output, but with 516 Nm (380.6 ft.-lb.) of torque, a rise of 135 Nm (99.6 ft.-lb.). The 220X moves from the EcoMAX 448 in T4F trim, to a new JCB DieselMax 448 Stage V engine, offering the same 129 kW (172 hp) and 690 Nm (508.9 ft.-lb.) of torque. The X Series hydraulic system delivers speed and controllability, while the machines now feature automatic engine shutdown, to reduce fuel consumption and emissions when the excavator is not in use.
Included on the engines is a new selective catalytic reduction filter (SCR-F) combining SCR, DPF and DOC technologies. This removes the need for EGR, providing a cleaner burning engine says JCB.
The company says the updated machines include many of the same features as its other X-Series models including a 15% larger cab, improved HVAC (heating ventilation and air conditioning) and reduced noise levels.
Standard features in the cab include a deluxe Grammar heated air-suspension seat, climate control air conditioning and Bluetooth radio. Front, rear and side blinds as well as a refueling pump are also included.
All three crawler excavators can be supplied GPS-ready from the factory, enabling customers to get to work quickly once they receive their machine.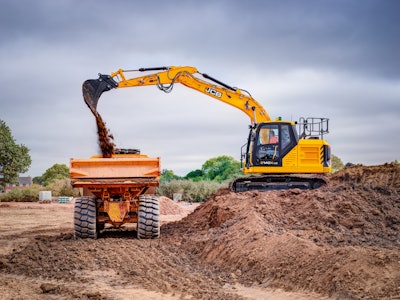 Loadall telescopic handlers with Stage V engines
JCB has announced its construction range of Loadall telescopic handlers for European markets are now available with Stage V compliant engines. This includes models from the 531-70 through to the 540-200. The company says its full line of handlers can be equipped with the JCB 448 DieselMAX engine.
The engines provide a power output of 81 kW (109 hp). To meet Stage V emissions standards, JCB is using a compact one-can aftertreatment solution which combines DOC, DPF and SCR technologies and eliminates the need for EGR. The single-can system enables four types of regeneration:
Passive
Active
Manual
Service.
JCB says both Passive and Active regeneration can take place while the machine is in use without impacting performance. Manual regeneration does require the machine to be parked, but is only done when Active regeneration has been stopped 20-30 times or if soot build up levels require it, says JCB.
Other features of the Stage V engine include use of a simpler, electronically-controlled Proportional Wastegate Turbocharger in place of a Variable Geometry Turbocharger. JCB says new injectors increase the number of pulses per cycle and the engines benefit from improved cold-start performance. Larger capacity fuel filters and increased water trap capacity to five times that of T4F engines help improve performance further. Service regeneration is a setting which can be activated by a local JCB dealer if necessary based on DPF soot levels that can be monitored by JCB's telematics system.
The Stage V engine features the same footprint as previous versions, ensuring machine dimensions can remain the same. The handler will retain its turning circles and bonnet lines so as not to negatively impact operators' maneuverability or visibility. JCB notes that right-hand visibility over the engine pod is actually slightly improved because the exhaust pipe is no longer visible; instead it passes through a new integrated vent grille.
JCB's compact Loadalls, the 516-40 and 520-40, also now meet Stage V emissions regulations. These machines are equipped with a mechanical, naturally-aspirated indirect injection diesel engine from Perkins. The 1.7 L engine delivers 19 kW (25 hp) with 98 Nm (72.3 ft.-lb.) of torque in both machines.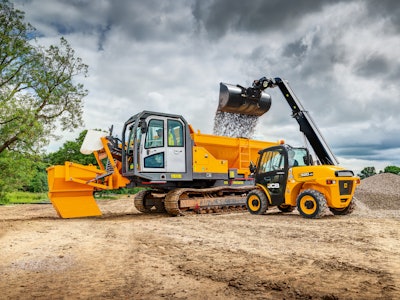 Expanded compact excavator line
JCB is launching a 3.5-tonne zero tailswing compact excavator and a new 3.6-tonne conventional model. The new 35Z-1 zero tailswing model is a replacement for the previous generation 8035ZTS while the conventional rear-end 36C-1 is a totally new model in the JCB range.
Both excavators are powered by a three-cylinder Stage V/T4F Perkins engine which provides power output of 18.4 kW (24.6 hp). The engine uses mechanical fuel injection, eliminating the need for DPF and other forms of exhaust aftertreatment. In addition to meeting EU and U.S. emissions regulations, the engine is also suited for use in global Tier 3 equivalent regions.
Also included on both machines is the latest Bosch Rexroth variable displacement, load-sensing, electro-proportional hydraulic pump which helps to eliminate stalling and use all of the engine's output. Meanwhile, a closed-center valve block improves flow to provide smoother, more precise operation.
JCB notes high-flow, electro-proportional, double-acting auxiliary hydraulics are now standard on both excavators, delivering 70 lpm (18.5 gpm) of flow. Auxiliary flow can be controlled using a proportional thumb roller on the right-hand joystick in the operator cab.
Read the full press release to learn more about the new compact excavators.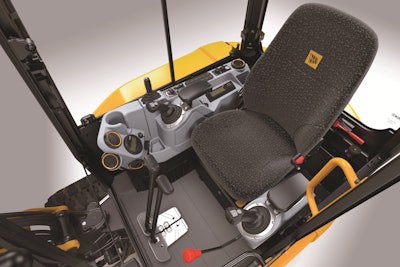 Three new Series 2 Stage V compact excavators
JCB announces it has upgraded its 4-6 tonne compact excavator line-up with the launch of three Series 2 Stage V models. The zero-tailswing 50Z-2 replaces both the previous 48Z-1 and 51R-1 models, the 56Z-2 takes over from the 55Z-1 and the conventional tailswing 60C-2 replaces the 57C-1.
The company says all three machines are powered by a 1.7 L turbocharged three-cylinder common-rail Perkins diesel engine. It provides 34 kW (45.6 hp) and is equipped with a DOC and DPF to meet emissions regulations without the need for DEF.
JCB notes in its press release announcing the new machines that the engine is matched to the hydraulics system and comes with programmable auto stop, programmable auto idle and one-touch idle functions, all of which will help to improve performance and productivity for machine operators.
Operator cab enhancements
A new cab is included on all three machines which features a revised front screen design to improve forward visibility. The excavators are equipped standard with LED working lights featuring a follow-me-home function to improve safety on work sites.
There is an improved layout inside the cab, as well, says JCB. A 7 in. color screen common in other larger machines is now included in these new compact excavators. It enables operators to program auxiliary hydraulic flows for up to 10 attachments which the company says helps reduce downtime when swapping between work tools. An integrated rear-view camera can be routed through the main screen of the display, as well, providing enhanced visibility and eliminating the need for a secondary monitor which might otherwise clutter up the cab interior.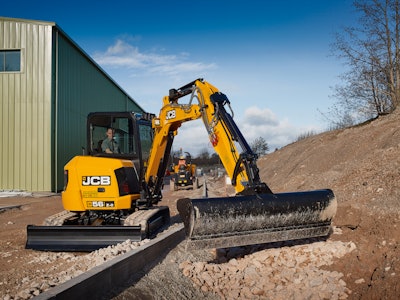 Teletruk telescopic boom lift trucks
JCB has introduced a revised range of Teletruk telescopic boom lift trucks with a 46 kW (62 hp) JCB by Kohler Stage V compliant engine.


Improved operator cab design
Per JCB's press release announcing the new Teletruk models, the JCB by Kohler Stage V engine comes with a new Auto Stop feature which automatically detects when the machine is not being used and shuts down the engine to reduce fuel consumption and cut emissions. The time period can be pre-set or adjusted manually using a side display screen in the operator cab. The engine is equipped with a combined DPF and DOC, and is capable of completing regeneration while the machine is working.
JCB says the new Teletruk range includes a Command Plus cab with new styling to help enhance the operator experience. The cab is ROPS/FOPS certified and provides a 12% increase in space. A Grammar seat is included, and one with heating and air suspension is available as an option to further improve operator comfort.
According to JCB, the seat has an operator presence interlocking seatbelt function and there is a new arm rest pod for improved comfort. The seat's position has been revised to increase forward visibility by 13%, providing better fork tip vision. Angled ROPS roof bars improve visibility, as well, when loading at height.
There is a one-piece Command Plus control panel placed to the right of the seat for easy access to control functions. A new eye-level head-up display makes it easier for operators to reach information on the display while still keeping their eye on the work in front of them at the job site.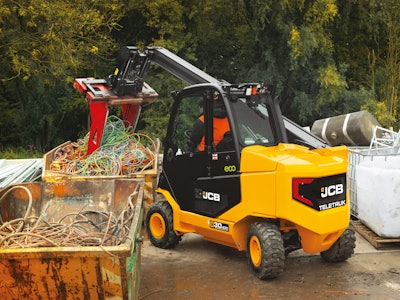 PRO backhoe loaders with Stage V engines
JCB introduces the 3CX, 4CX and 5CX PRO backhoe loaders with Stage V compliant. The 3CX PRO is a two-wheel steer machine, the 4CX PRO features all-wheel steer for increased all-terrain performance, and the four-wheel steer 5CX PRO is optimized for bulk earthmoving.
In the new Stage V backhoe loaders, JCB has replaced the previously used 4.4 L engine with a more powerful 4.8 L JCB 448 engine. It provides more power at 81 kW (108 hp) as well as 516 Nm (380.6 ft.-lb.) of torque.
Emissions standards are met using a DOC combined with an SCR/DPF with an 8,000-hour operating life. JCB's telematics system monitors DPF regeneration which can be performed automatically to minimize downtime. The company says there is no need for an EGR valve as part of the aftertreatment system, and that valve clearance adjustments have been increased to 4,000 hours, reducing downtime over the life of the machine.
Like many of the other newly updated machines, the 3CX, 4CX and 5CX PRO models include various automation features such as Auto Stop, Auto Seat Select, Auto Stabilizers and Auto Drive. The PRO range also includes an ECOROAD six-speed Autoshift transmission that can cut travel time and fuel use by up to 25%, aiding operators who spend a lot of time driving the machine on the road.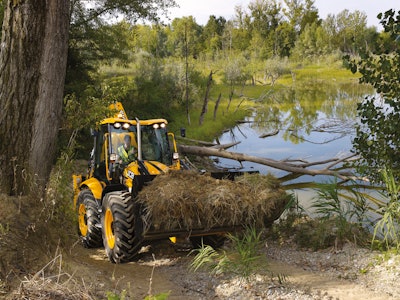 Operator cab features
LED beacons are integrated into the corners of the roof structure to provide improved visibility and eliminating the need to manually attach any lighting.
The Command Plus cab includes a revised operator seat which can be heated and air suspended to improve comfort. There is also a new steering wheel with enhanced grain to reduce wear; it features a three-spoke design for easier visibility of the display screen behind it. Heating and ventilation controls have been placed on the B-pillar to make them easier to reach no matter how the seat is positioned.
A new 7 in. LCD side display screen is included now in the updated backhoe loaders. JCB says it allows for more information to be displayed. Various menus, including help files and 'How To' videos on key functions, can be toggled through using a rotary switch which allows for easy navigation.
Through all of these new machine updates, JCB is ensuring it continues to meet the needs of its customers in the construction and other related heavy-duty industries.
*Editor's Note: Information based on press releases provided by JCB which were compiled and edited by editor Sara Jensen.
Companies in this article