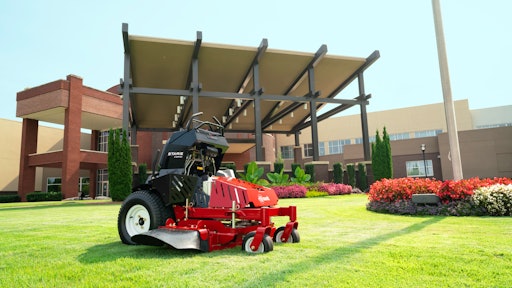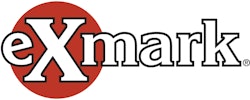 Exmark introduces the 2019 Staris stand-on zero-turn mower. Reinvented from the ground up, Staris delivers the commercial performance, durability, ergonomics and ease of service landscape professionals need to maximize productivity and profitability.
Staris models deliver increased stability, traction and maneuverability in a wide range of cutting conditions. Optimized for a low center of gravity, the engine placement, operator position, fuel tanks and tower structure are all designed to enhance weight distribution for improved stability and overall performance. The Staris frame is constructed of high-strength tubular steel with the same wall thickness as the industry-standard Exmark Lazer Z zero-turn riding mower.
Staris is available in E-Series models, with a choice of 32-, 36- and 44-in. UltraCut Series 3 cutting decks, and large-frame S-Series models, with a choice of 48-, 52- or 60-in. UltraCut Series 4 cutting decks. Exmark optimized the frame design and caster wheel positioning for each cutting deck width to deliver a superior quality of cut. The side-discharge UltraCut cutting decks also offer the ability to mulch or bag clippings when equipped with the appropriate accessories from Exmark.
Staris offers smooth control with drive speeds of up to 7.5 mph on E-Series, and up to 10 mph on S-Series models, thanks to Exmark's proven hydro pump and wheel motor combination. The drive system also utilizes hard hydraulic lines, reducing potential leak points and improving durability and hydro oil cooling.
Staris E- and S-Series models position the operator between the drive tires, and provide an adjustable suspension system for increased comfort. Additionally, Staris S-Series is designed with a large open platform and non-slip rubber mat, which allows operators to easily change stance or position, for maximum comfort throughout the day.
The intuitive controls make operating Staris easy, and Staris S-Series models feature Exmark's innovative Smart Controller, which reduces downtime with maintenance reminders, on-screen machine health diagnostics, as well as engine and PTO hours. The Smart Controller also includes an enhanced LCD screen for increased visibility in any light.
With the ability to fit through gates as narrow as 36-in., the compact design of the 32-in. Staris E-Series model gives landscape professionals access to more yards, more quickly, without fatigue.
Staris E-Series models feature proven Kawasaki V-twin commercial engines. Staris S-Series models offer a choice of carbureted Kawasaki or Kohler EFI V-twin powerplants. All Staris models feature a flip-up front cover, giving operators easy, tools-free access for routine maintenance and cleaning. The rear cover also lifts and locks into place, providing easy access to fill and change engine oil or hydro fluid.
Visit Exmark.com or visit booth #7080 at the 2018 GIE+EXPO show to learn more about the new Staris.