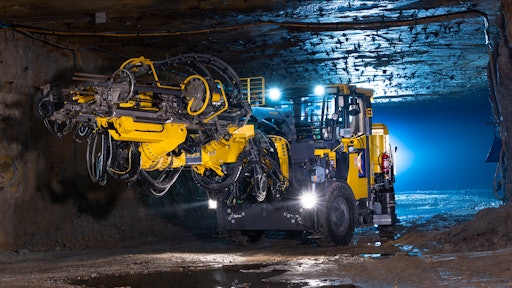 Epiroc
Epiroc's new Boltec M10 and Boltec E10 are the answer if you are unwilling to compromise on safety and require increased productivity in mining and civil tunneling. Good quality rock reinforcement equals increased safety for everyone in the mine and tunnel, not just the operator. Epiroc's latest generation of rock reinforcement drill rig, which will be showcased at MINExpo, comes in two versions: Boltec M10 and its bigger version Boltec E10. Together they are fully mechanized rock bolting rigs for medium- and large sized tunnels. They are designed to increase productivity and bolt installation quality thanks to intelligent options and compatibility with different bolt types. 
Automated features for safety and higher productivity 
"As mining operations move ever deeper underground, the difficulty in bolting and securing increasingly fragmented rock is rising," said Peter Bray, Global product manager rock reinforcement equipment with Epiroc's Underground division. "The Boltec M10 and Boltec E10 introduce previously unavailable autonomous functionality, this is the benchmark in underground rock reinforcement." With self-drilling anchor bolts (SDA) in combination with pumpable resin, the Boltec M10 and Boltec E10 can perform single bolt and multi-bolt installation automatically. These new functions work hand in hand with teleremote bolting and offer bolting potential during shift changes or other situations where off-board control during bolting is needed. 
Extensive bolt, mesh and installation flexibility 
With inbuilt flexibility, the Boltec M10 and E10 have the ability to handle several different types of bolts, mesh and installation methods as well as radial, face bolting and extension drilling capability. The boom bolter concept ensures that the operator stays at a safe distance from the working area of the machine during the bolting process. The new Boltec rigs come with an optional battery-electric driveline, which brings additional advancements for operator health, maintenance, ventilation and cooling. 
Operator ergonomics on new levels 
The Boltec M10 and Boltec E10 introduce a completely redesigned operator station. The optional ROPS and FOPS certified cabin sets new standards for operator safety and comfort thanks to significantly reduced noise levels down to only (65 dB(A)), HEPA air filtration and better visibility. The air-conditioning system also features automatic temperature adjustment, further boosting operator comfort.