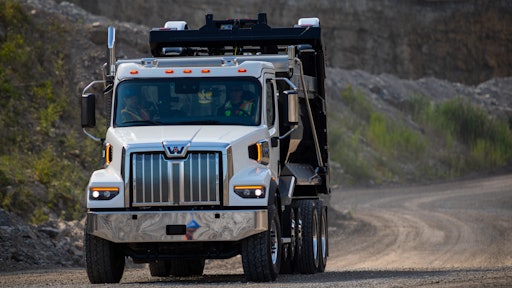 Daimler Trucks North America
With a standard 111.6-in. BBC or optional 110.8-in. BBC – which is 10-in shorter than the 49X – the Western Star 47X is well suited to applications that require a shorter overall vehicle length to meet federal or local bridge law requirements, such as mixers or super dumps. A short hood and a wheel cut up to 50 degrees optimizes maneuverability for work on tight construction sites or in congested urban environments. The new model comes in a set-forward or set-back axle configuration.
The 47X incorporates all of the key technologies first introduced on the 49X last year, although there are some unique features, such as the hood. The 47X hood offers forward visibility of 24.8 ft., an 11-in. improvement over the 49X, while utilizing the same composite construction and ISO Tech suspension system. The ISO Tech system behaves similar to a typical coil-over shock suspension system with spring and damper. It isolates, absorbs and dissipates vibrations from the chassis when driving over uneven terrain to protect the hood from bending and cracking. "It is the only active suspension on a hood in a vocational truck today," says Samantha Parlier, vice president of vocational market development, Daimler Trucks North America (DTNA).
When the 49X was introduced, the purpose-built vocational cab was a key highlight. This cab finds its way onto the 47X. It was designed specifically for vocational applications and provides additional vehicle weight savings while delivering long-term durability and operator comfort.
The X-Series steel-reinforced cab reduces mass by up to 8% while offering up to 13% more space than competitors. An optional two-person bench seat is available for applications demanding a large on-site crew. A new space-optimized in-cab battery box affords additional legroom to the driver. An optional roof-mounted condenser offers maximum airflow through the radiator for stationary applications such as construction and mining while keeping operators comfortable.
All X-Series models come with a wraparound dash that provides easy access to the driver command center and B-panel. On the B-Panel, a Flex Panel can be prepped for a tablet or configured for an additional 12 switches or 10 gauges. There are removable plugs to access connection points on the top of the dash. "They are on every single truck," says Parlier. "The customer doesn't have to drill through the top of the dash anymore."
With the X Series, ingress and egress was a major design consideration. "Slips and falls are the No. 2 cause of jobsite injuries," Parlier notes. "The engineering team devoted a couple of years into creating access steps that are more like a staircase than a ladder. Truck operators get in and out of their trucks in mixer operations up to 50 times a day."
This is not only a safety issue; it can create a lot of wear and tear on the driver. The staircase design alleviates stress on the driver and optional bright yellow grab handles remind operators where to grab.
Dual-stage headlights are standard with a heated headlamp. "It is called dual stage because not only does it melt thick ice in a matter of minutes, but it also de-fogs in humid climates, and it is all automatic," says Parlier. "It is being controlled based on the temperature setting and the sensors outside."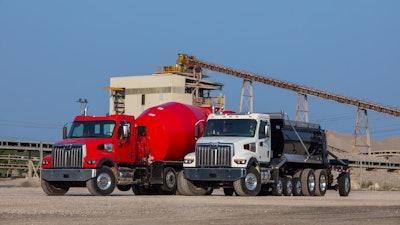 Weight Reduction Became a Priority
"A key priority was to consider how to reduce mass without compromising strength," says Tracy Mack-Askew, chief engineer of chassis, propulsion and vocational engineering, Daimler Trucks North America. "From the cab to the frame rails, to powertrain and battery configurations, we examined all features to deliver weight savings to our customers for greater productivity and profitability."
The 47X is approximately 200 lbs. lighter than the 49X in like-for-like spec. This makes it the best choice for weight-sensitive applications such as mixers and bulk haul.
The X-Series offers single-channel frame rail options with a resisting bending moment of up to 3.8 million in.-lbs. A new 9.5mm single-channel rail option features comparable strength as today's 11mm rail. "It got a little taller, but it actually saved 120 lbs. over the course of the rail," says Parlier. Standard high-strength aluminum forward, rear and end-of-frame crossmembers further reduce mass.
The 47X will accommodate a full array of rear suspension options. "We also added the Hendrickson UltiMaax suspension into both X Series products," says Parlier.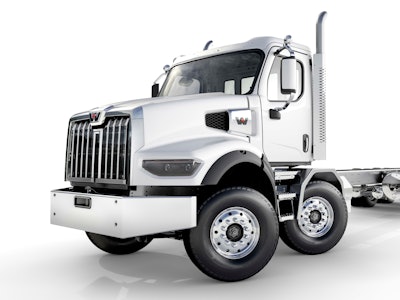 Power to Meet Any Job
The standard engine on the 47X will be the Detroit DD13 Gen 5 diesel, which features higher compression ratios and a new swirl piston design that further improves combustion and efficiency. ThermoCoasting in the DD13 Gen 5 engine prevents aftertreatment cool down during a driving regen to keep the system at its optimum temperature and significantly reduce the need for parked regens.
Cummins L9 and X12 engines are available for weight-sensitive applications.
When equipped with the DD13 Gen 5, the 47X comes standard with the Detroit Assurance suite of active safety systems. This includes active brake assist, side guard assist, adaptive cruise control and other features to keep operators and workers safe at the jobsite while protecting pedestrians and other motorists.
Optional front engine power take-off (FEPTO) is offered on Detroit DD13 and Cummins engine offerings. Rectangular fuel tanks and a raised aftertreatment system mounting are offered with Cummins engines for better clearance for belly plows in snow removal applications.
The available DT-12-V automated manual transmission includes three work-ready mode applications: Rock-free, Off-road and Paver for the challenges of specific vocations.
Built for Upfit
Western Star partnered with leading truck equipment manufacturers (TEMs) to ensure the X-Series supports fast and efficient upfits.
A QuickFit Interface System offers ready access to the electrical architecture and was designed for easy TEM interface, programming and access to power. A CHEC Tool from DTNA enables TEMs and dealers to view and modify electrical configurations, giving them the power to customize inputs and outputs and change parameters within minutes.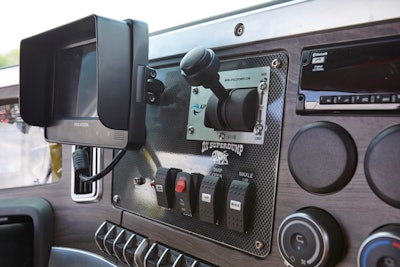 "With the power of QuickFit and CHEC, you can take things that were once considered to be complex, expensive or impossible to do and accomplish them more easily and efficiently," says David Carson, senior vice president, sales and marketing, Daimler Trucks North America.
A Flex Panel located in the dash B-panel of the truck gives TEMs the ability to mount body controllers. This eliminates the common practice of compromising space between the seats. The Flex Panel can also accommodate additional gauges, switches or a RAM Mount prep, depending upon customer needs.
"It is a time saver for the TEMS," says Parlier. "They can have the Flex Panel pre-built up and when the truck shows up, they pop it in."
A Truck for Every Application
"With the 47X and the 49X, we can offer our vocational customers different options that will give them the right tool for their specific job needs," Carson states. "The vocational segment is a broad segment covering many different applications, and our Western Star X-Series reflect that reality."
The trucks each fill their own unique niches. The 49X is a good fit for heavy-haul and logging, and both models – depending upon the spec – are ready to handle oilfield, towing & recovery, bulk haul, crane and dump applications.
"With the addition of the 47X to the X-Series lineup, Western Star is offering fresh, modern trucks with purposeful technologies to enable all vocational customers' success," says Carson. "The wide breadth of segment coverage means there is a Star for every need."
The 47X is available for order now and delivery to customers will begin in early 2022.