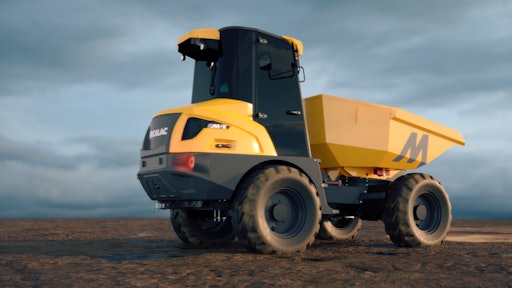 With the growth of urban construction sites and the associated challenges of confined space, and environmental impact, dumpers have returned to the forefront of city building sites even supplanting trucks – that are more polluting, more bulky and less agile – on some sites.
With the acquisition of Terex Construction Equipment UK, based in Coventry, England, in 2017 and the creation of Mecalac Construction Equipment UK, the Mecalac Group has added dumpers to its construction plant range. True to its DNA and its reputation as a "seeker for simple solutions" and as a visionary with a focus on "practical innovation", Mecalac is working on the development of a new 6-tonne version with the aim to create one of the most effective tools in the urban construction sites of today and tomorrow.
Re-imagining dumpers: a major challenge in urban construction projects
Dumpers evolved as a mechanical complement to excavators and loaders, dedicated to repetitive tasks of loading and unloading the bucket all day long. The driver is permanently exposed and therefore has to mount and dismount from the machine as much as 50 times a day, depending on the application, especially when he also has to handle an excavator in parallel to the dumper. Falls entering and exiting the machine are the most frequent causes of accidents on a construction site and even more serious is the risk that the machine rolls over due to an imbalanced load or is unknowingly working on an uneven soil ground.
So whilst the dumper is an essential tool which is compact and easy to drive, in certain site applications there are additional considerations to take into account and Mecalac have developed it's solution to meet these needs in an effort to minimise accidents on construction sites. 
6MDX and 9MDX: 2 new Mecalac dumpers, combination of safety and design
For Mecalac, there is no such thing as small machines or small challenges. In the development of its dumpers, the safety of the users was non negotiable – whatever the cost. With its know-how in terms of practical innovation and common sense strategy, the R&D department has transformed the 6- and 9-tonne dumpers of the existing range by incorporating the added value that is Mecalac's strength, which is taking a fresh look at a machine, and now the keystone of urban projects.
How? By imagining a cab that "changes everything", with no equivalent on the market and that fits perfectly into the existing design of its dumpers. By also taking into account the latest innovations in the other machines produced by the group, such as the new MWR excavators, to adapt the dumpers to the compactness of these mini construction machines. Objective of the group's R&D: to upgrade the dumpers as quickly as possible into the category of machines with "Made by Mecalac" design, with the safety of users as the primary credo.
"On the new Mecalac cab dumpers 6MDX and 9MDX each action of the driver is simplified and secure, each of his movements is facilitated and the protection of all persons on site is optimized. In terms of relevant innovation, 'less is more' is one of the secrets to Mecalac's success. Even if behind this apparent simplicity there is an enormous amount of time invested in R&D and in adaptation of manufacturing processes," says Patrick Brehmer, Marketing Manager Groupe Mecalac
Putting the human-being first and foremost, technologies to enhance the quality of his work, XXL comfort for their well-being and safety
Unparalleled integration of the cab in the design

The best accessibility of any machine on the market thanks to a comfortable ladder to make climbs and descents safe and to limit driver fatigue

"Butterfly" side doors creating a wide access space

Excellent direct field of vision complemented by a radar, a camera and two flashing lights, the green one issues an alert if the driver still has to put on his seatbelt

The addition of a cast metal rear shield for optimum shock protection

Excellent ground clearance for optimum access on all terrain

A spring-mounted cab to limit noise and vibrations

Fuel tank and a service hatch in lower section of the machine

An advanced dashboard integrating as standard the camera screen

Air-conditioning and heating