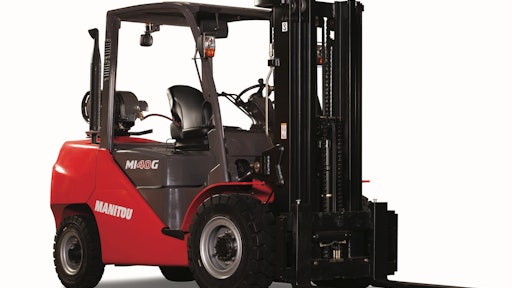 Three new propane-powered industrial forklift models from Manitou deliver heftier lift capacities for a diverse range of applications. The Manitou MI 40G, MI 50G and MI 70G provide lift capacities that range from 8,000-15,400 lbs. (3,650-7,000 kg) and are equipped with a 99 hp engine, the highest horsepower offered in the Manitou MI industrial forklift series.
Manitou is in the process of expanding its North American presence; introducing new equipment such as the MI forklift to the market is part of this initiative. Read more about the company's expansion plans in the article "Growing Rental, MEWP Market Brings New Opportunities for Equipment Manufacturer."
"With these new machines, Manitou now has an aggressive offering of 13 MI industrial forklift models for North America, with six of those being propane," says Jeff Weido, Senior Director of Product Management and Marketing, Manitou Group. "The new MI 40G, MI 50G and MI 70G are robust, reliable forklifts that deliver exceptional performance in heavy duty applications within manufacturing, factories, lumber, paper mills, general warehousing and distribution centers."
The simple design of a Manitou MI forklift keeps the machine highly efficient with a limited number of electrical components and easy access for maintenance. The new models are equipped with the standard safety features seen across the MI offering, including a panoramic rear view mirror, optimized hose routing in the mast and a honeycomb roof for added visibility and protection. In addition, the models have working lights on the cab, front and rear headlights with blinkers and a backup alarm. Operators can also safely enter the cab with a low, wide anti-slip step on each side of the forklift.