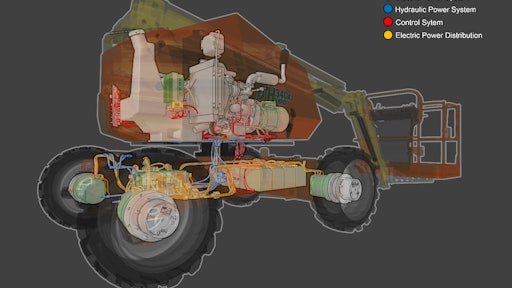 JLG Industries Inc.
The Toyota Prius automobile first brought hybrid powertrain technology to the public's attention and is considered the first commercial application in the automotive industry, but it is surprisingly not truly the first.
History goes back to the early decades of the 20th century when Ferdinand Porsche (the same man who is behind the original VW Bug vehicle and Porsche company as we know it today) developed hybrid cars with all the elements of series hybrid technology – an engine powered generator supporting batteries which supply power to the electric motors driving the car. The car even had an in-wheel electric motor, showing just how truly advanced Porsche's thinking was.
Like the automotive world, there is a misconception about the history and application of hybrid technology in the construction equipment industry.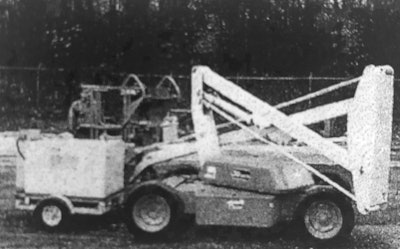 Most of us identify hybrid technology in the construction equipment industry with a wave of announcements: ambitious plans and concept/prototype machines that came to public attention in the 2007-2009 timeframe, culminating in big statements.
Unfortunately, most of these initiatives fizzled out as they were buried by the financial crisis. A redirection of resources was needed to meet the looming emissions  regulation laws and there was still a lack of solutions that would allow cost-effective answers.
However, there is a lesser known type of application where hybrid technology became accepted much earlier and developed into a meaningful market niche. This application that received hybrid technology earlier than the rest of the industry was on aerial work platforms (AWPs).
Hybrid technology is understood as the presence of two separate energy sources – like fuel and electric batteries – that can be used independently and combined to achieve different operating characteristics for the machine. What makes this technology especially applicable to AWPs?
It really is related to what we can call "hybrid requirements" resulting from the different jobs to be done that AWPs are hired to do. Both boom and scissor lifts are used to allow work at height for specialists of various construction related trades at different phases of the construction process.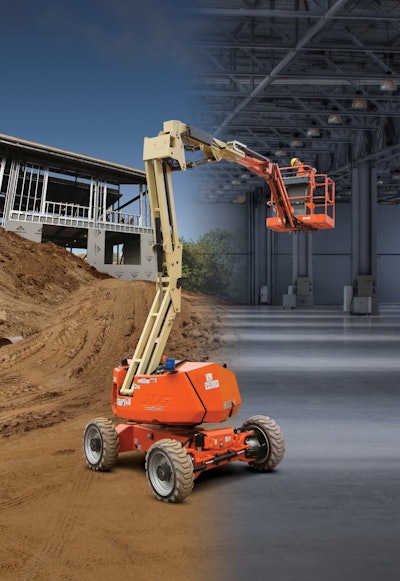 As early as the structure of a building begins rising above the ground, AWPs are brought in to allow work at height. In this condition, when dealing with outdoor conditions, the use of an engine powered machine is acceptable and still preferred over a machine that is fully electric.
Progressing through the construction process, once the building envelope is semi-closed, some AWPs are used partially outside and partially inside for installation and finishing work. As the construction advances even further and the building becomes more closed, even sealed completely from the outside environment, the use of battery powered electric machines gain a huge advantage as these machines provide a clean, quiet power source for such conditions.
Of course, the simplest solution is to use different machines for outside (engine powered) and inside (electric powered) construction phases of the building. But there are some shortcomings of such an approach.
The first solution to this dilemma was the introduction of the Bi-Energy machines in the early '90s. These machines were especially prominent in Europe where the cost of transportation is much higher, job sites are much more compact, and owners of these machines recognized the opportunity to be able to rent one machine as either an engine powered or battery powered unit for different jobs and customer requirements.
Bi-Energy machines have two fully independent power sources and related powertrain components installed. Most AWPs have a hydraulic drive and functions and manufacturers installed one set of hydraulic pumps powered by an internal combustion (IC) engine and a second set of pumps powered by the electric motor. Operators had to then choose what power pack they wanted to utilize during the job or a phase of the job.
The idea of the hybrid had been born based on a battery-operated boom lift with a direct electric drive. The electric machine was modified by adding an engine powered generator sized to supply the average energy consumption of the machine in normal use.
Machines designed like this follow the pattern of a series hybrid, where the engine powered generator supplies electric energy that is connected in series with batteries. These batteries supply power to electric motors powering the drive and functions of the machine.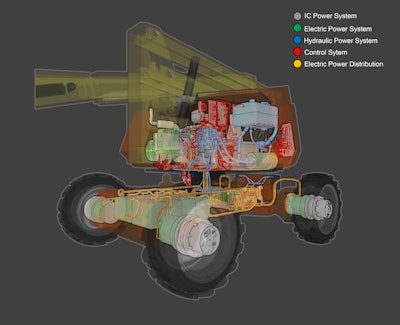 In the case of AWPs, a series hybrid is more efficient (compared to a hydraulically powered drive system) and provides additional environmentally friendly features, most importantly a reduction in the risk of hydraulic spills. This is due to an elimination of the high flow hydraulic circuit that in case of failure can discharge large amounts of hydraulic fluid in a short period of time.
There was also an evolution of machines and their adaptation to "hybrid" work environment.
First, Bi-Energy machines were based on AWPs designed for industrial application – with small, narrow solid tires, a low ground clearance and limited traction performance parameters. Some of these machines have evolved to become more universal with wider tires and improved traction characteristics. An example of this trend is the JLG E450 boom lift, which was available in an all-around version that could be used inside the building but also had improved traction capability with the narrow, specialized industrial version. This machine became the base for the first series hybrid in JLG Industries Inc.'s offering, with the release of the M450A.
Adoption of the hybrid powertrain allowed for a further evolution of the universal "hybrid" application of booms and scissor lifts. The JLG M600 machine was released, which combined a direct electric drive in the rear wheels with hydraulic front wheel drive assist, providing short term "bursts" of additional traction.
The next step would be the development of a direct electric wheel drive. After a period of experimentation, JLG released the H340AJ during an APEX show – the first series hybrid with direct electric four-wheel drive in the industry. This machine was not an adaptation or expansion of electric, mostly industrial machines to outdoor applications. The design is based on a typical construction boom lift and has operational characteristics like what has been adopted by Genie in its larger 60-ft. (18.3 m)  class machines and recently by Haulotte.
The AWP industry developed a second branch of hybrid powertrain technology in the form of parallel hybrid systems. Parallel hybrid was first commercialized by NiftyLift (a U.K.-based AWP company) and then by Holland Lift. Recently, JLG Industries introduced a H800AJ model that features a parallel hybrid. 
In the parallel hybrid layout adopted by the AWP industry, the drive powertrain remains hydraulic – either hydrostatic (used by Holland Lift and JLG) or open circuit hydraulic (used by Niftylift) – and a common hydraulic pump system is powered by a smaller engine (compared with standard machine of a similar gross vehicle weight) combined with an electric motor/generator. With the use of an appropriate clutch, the engine can be powered by either an engine or electric motor or by a combination of both power sources.
This system is less efficient than a series hybrid, but it minimizes the electrical power system of the machine and supports a high level of common components, service, and maintenance procedures and requirements between hybrid versions and conventional machines in customer fleets.
In the current market offering, there is no clear winning technology. Genie and Haulotte offer series hybrid systems, and Niftylift and Holland Lift promote parallel hybrid technology. JLG is one of the only companies offering both, with the parallel system reserved for an 80-ft. (24.4 m) class machine where cost and availability of electric powertrain components is presenting a significant barrier for direct electric drive solutions.
Characteristic features of the designs are the fact that they target a reduction of horsepower in installed engines below the 25 hp range, thus offering very simple engines with simplified aftertreatment solutions (as allowed by regulations) and mechanical fuel injection.
What is the future of hybrid powertrains with AWP? Hybrid technology makes a very strong use case for AWPs resulting from the use of machines and very specific duty cycle. In contrast to other pieces of construction equipment, AWPs are the most "productive" when stationary, i.e. allowing construction specialists to complete tasks, resulting in relatively short periods of activity followed by longer periods of idle and relatively rare usage of full installed power during the most challenging terrain conditions. This is the ideal duty cycle for hybrids, allowing time to recover and recharge the batteries.
We can expect an increased trend toward fully electric powered machines, but hybrids can offer a transitional role until the several barriers still present for electric machines are conquered.
This article is contributed by Ignacy Puszkiewicz, Senior Director, Advanced Technology and Industrial Design, JLG Industries Inc. Puszkiewicz joined JLG in 1996, where he began as a manager for hydraulics engineering. Bringing with him nearly 15 years of experience, with a focus in advanced technology, he has led the development of electronic and electrical systems. Puszkiewicz holds a master's degree in mechanical engineering from Lublin University of Technology (Lublin, Poland). 
Companies in this article